Note: Supplemental materials are not guaranteed with Rental or Used book purchases.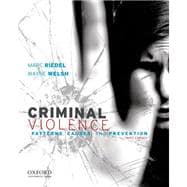 Questions About This Book?
What version or edition is this?
This is the 3rd edition with a publication date of 9/20/2010.
What is included with this book?
The Used copy of this book is not guaranteed to include any supplemental materials. Typically, only the book itself is included.
Related Products
Summary
Criminal Violence: Patterns, Causes, and Prevention, Third Edition, provides a current, comprehensive, and highly accessible overview of major topics, theories, and controversies within the field of criminal violence. Using lively, straightforward language, Marc Riedel and Wayne Welsh consider diverse theoretical perspectives and present state-of-the-art prevention and intervention methods. In their discussions of various types of violence, the authors employ a consistent and coherent three-part framework that allows students to see the important relationships between research, theory, and application: * "Patterns" describe the characteristics of victims, offenders, and offenses; places where violence occurs frequently; and trends over time. * "Explanations" look at the major theories that are used to understand each type of violence. * "Interventions" propose solutions for each type of violence, including diverse legal and social strategies--both proactive (e.g., prevention) and reactive (e.g., punishment). Supplemented by an Instructor's Manual with Test Bank, the thoroughly revised and updated third edition: * Now integrates theory into each chapter, allowing students to better understand how theory relates to various types of violence * Integrates a comparative perspective where appropriate * Adds additional examples, boxes, bullet points, review questions, and case studies throughout
Author Biography

Marc Riedel is Professor of Sociology at Southeastern Louisiana University.

Wayne Welsh is Professor of Criminal Justice at Temple University.

Table of Contents

Preface
Foreword
About the Authors

SECTION I: INTRODUCTION

CHAPTER 1. VIOLENCE AND CRIMINAL VIOLENCE
Defining Violence
Turning Violence into Criminal Violence
Perspectives on Criminal Violence
--- A Criminological Perspective
--- A Criminal Justice Perspective
--- Public Health Perspectives
How Is Criminal Violence Studied?
--- Theoretical Perspectives
--- Research Methods
--- Challenges of Violence Research
What Lies Ahead?
--- A Tripartite Approach to Understanding Violence
Conclusions

SECTION II: TOOLS

CHAPTER 2. MEASURES OF VIOLENCE
The Application of Measures of Violence
Overview
Crime Rates
Uniform Crime Reports
--- Collecting Violent Crime Data
National Incident-Based Reporting System (NIBRS)
--- Comparing the UCR and the NIBRS
National Crime Victimization Survey
--- The Redesign of the NCVS

CHAPTER 3. VIOLENCE IN OTHER TIMES AND PLACES
Violence in the Early United States
White and Native American Warfare
--- The Trail of Tears
Slavery, African Americans, and Violence
--- Lynching
Social Banditry
Prohibition
--- The Role of Organized Crime
Contemporary Trends in Violence
--- Violence in Other Places
--- Transnational Comparisons
Conclusions

SECTION III: TYPES OF CRIMINAL VIOLENCE

CHAPTER 4. HOMICIDES AND ASSAULTS
Homicides and Assaults in the United States
--- Patterns
--- Other Characteristics
--- Arrest Clearances
--- Serial Homicides
Trends
--- Arrest Clearances
--- Explanations
--- Interventions
--- Increasing Clearance Rates
--- Apprehending Serial Killers
Conclusions

CHAPTER 5. ROBBERY
Patterns and Trends
Explanations
--- Strain Theory and Differential Opportunity Theory
--- Control Theory
--- Differential Association Theory
--- Symbolic Interaction Theory
--- Routine Activities Theory
Interventions
--- Criminal Justice Approaches
--- Opportunity Reduction Strategies
Conclusions

CHAPTER 6. RAPE AND SEXUAL ASSAULTS
Definitions, Patterns, and Trends
Characteristics of Victims, Offenders, and Offenses
Explanations
--- Psychoanalytic Theories
--- Feminist Theories
--- Social Learning Theories
Interventions
--- Rape Law Reform
--- Incarceration and Recidivism
--- Sex Offender Notification and Registration Laws
--- Victim Resistance
--- Victim Counseling and Assistance
--- Sex Offender Treatment Programs
Conclusions

CHAPTER 7. HATE CRIMES
Definitions
--- Patterns and Trends
Explanations
--- Group Conflict Theories
--- Strain Theory
--- Social Learning Theory
Interventions
--- Police Bias Investigation Units and Conflict Prevention Units
--- Hate Crimes Legislation
--- Civil Remedies
--- Teaching Tolerance
Conclusions

SECTION IV: VIOLENCE IN SPECIFIC SETTINGS AND CONTEXTS

CHAPTER 8. FAMILY VIOLENCE
"People Hit Family Members Because They Can"
Patterns and Risks
--- Intimate Violence
--- Violence Towards Other Family Members
Trends
--- Intimate Partners
--- Child Killings
Explanations
--- Intimate Partner Violence
--- Violence Towards Children
Interventions
--- Reducing Intimate Partner Violence
--- Reducing Family Violence
Conclusion: Is It Time for Another Look?

CHAPTER 9. WORKPLACE VIOLENCE
Introduction
--- Multiplier Effects
Patterns and Trends
--- Types of Workplace Violence
--- Workplace Homicide
--- Nonfatal Workplace Violence
--- "Going Postal"
Explanations
--- Routine Activities
--- Rational Choice and Aggression in the Workplace
Interventions
--- Prevention Policies and Strategies
--- Empirical Evidence

CHAPTER 10. SCHOOL VIOLENCE
Patterns and Trends
--- Fear and Avoidance
--- School Security Responses
--- School Disciplinary Data
--- Student Victimization
--- Student and Teacher Perceptions of School Violence
--- Self-Reported School Violence
Explanations of School Disorder
--- Individual Explanations
--- School-Level Theories
--- Community and Multilevel Explanations of School Disorder
Interventions
--- The National Study of Delinquency Prevention in Schools
School-Based Violence Prevention: What Works?
--- Conflict Resolution
--- Peer Mediation
--- Changing School Organization and Climate
Conclusions

CHAPTER 11. GANGS AND GANG VIOLENCE
Patterns and Trends of Gang Violence
--- A Problem of Definition
--- Focusing the Definition
--- Growth and Change in Gangs
--- Gang Organization and Violence
Explanations
--- Strain Theories
--- Cultural Deviance
--- Social Control
Interventions
--- Reducing Gang Violence in Boston
--- Pulling Levers in Other Jurisdictions
Conclusions

CHAPTER 12. THE ROLE OF FIREARMS IN VIOLENCE
Patterns and Trends
--- Crimes Involving Firearms
--- Victims
--- Characteristics of Offenders
--- Firearm Acquisition, Ownership, and Use
Explanations
--- Symbolic Interaction Theory
--- Routine Activities and Illegal Markets
--- Cultural Theories and Firearm Availability
Interventions
--- Disrupting Illegal Gun Markets
--- The Boston Gun Project and Operation Ceasefire
--- Gun Control Legislation
--- Right-to-Carry Laws
Firearm Injury Prevention Programs
Conclusions

CHAPTER 13. THE ROLE OF DRUGS AND ALCOHOL IN VIOLENCE
Patterns
Explanations
--- Biological and Psychological Effects
--- Routine Activities
--- Cultural Explanations
--- Structural Explanations
--- Situational Explanations
Interventions
--- Criminal Justice Approaches
--- Public Health Approaches
Conclusions

CHAPTER 14. TERRORISM
Definitions
Patterns and Trends
--- A Brief History of Terrorism
--- State-Sponsored Terrorism
--- Terrorist Tactics
--- Types of Terrorists
--- Terrorist Incidents
Explanations
Strain Theory
Social Learning Theory
Conflict Theory
Interventions
--- The 9/11 Report: A Global Strategy
--- The Patriot Act
--- Military Action
--- Diplomacy and International Cooperation
Conclusion

SECTION V: CONCLUSION

CHAPTER 15. PREVENTION AND PUNISHMENT: A DELICATE BALANCE
Criminal Justice Approaches
--- Criminal Justice Goals
--- The Death Penalty
--- Three-Strikes Laws
--- The Limits of Punishment
Public Health Approaches
--- The Multilevel Risk Approach
--- OJJDP's Comprehensive Strategy for Serious, Violent, and Chronic Juvenile Offenders
--- Community-Based Approaches
--- Blueprints for Violence Prevention
When Violent Crime Goes Down, Do We Know Why?
Conclusion

Author Index
Subject Index