Note: Supplemental materials are not guaranteed with Rental or Used book purchases.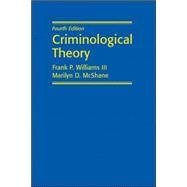 Summary
For undergraduate courses in Introduction to Criminological Theory, Theories of Crime & Delinquency, Criminology, Criminal Justice, and Introduction to Criminology found in Departments of Sociology, Criminology and Criminal Justice. This concise book, acclaimed by students as easy to read and understand, covers all the major sociological theories of crime, views the development of these theories, and shows the connections between them over time.
Table of Contents
Preface
Introduction
The Classical School
The Positive School
The Chicago School
Differential Association Theory
Anomie Theory
Subculture Theories
Labeling Theory
Conflict Theory
Social Control Theory
Social Learning Theory
Rational Theories
Gender-Based Theories
The Future of Criminological Theory
Index
Table of Contents provided by Publisher. All Rights Reserved.
Excerpts
As its title implies, this book is about the major sociological theories of crime. While there are other approaches to the study of crime, since the 1920s criminology has been oriented toward sociology. There are, however, some comments on biological and psychological theories of crime and delinquency in the chapter on Positivism. Those comments have been expanded, in response to instructors' requests. However, we still intend the book to be representative of what criminological theory hasbeen,because a course in criminological theory is mainly a course in history. When we first developed the concept of this text, we wanted to provide undergraduates with a brief but clear description of the most popular criminological theories. We continue to hear from students and colleagues who have used the first three editions that many graduate students find the text valuable as a primer or as a study guide in their theory classes. With this in mind, we have expanded the chapter bibliographies so that they may prove useful to the graduate student writing a research paper. As before we have included an update of current theory. The intent of the first edition was to focus on traditional theories, and we only briefly mentioned contemporary versions in the concluding chapter. In the second and third editions we added chapters that summarized a number of new theoretical directions. However, as time goes on and theory testing and integration continues, we have found it necessary to split some of these concluding chapters into their own distinct theoretical areas. New to this edition, Chapter 14 covers modern strain theory, new directions in social control, and contemporary developmental approaches. Chapter 15 discusses the broader context of integrative and subjective theories as well as metatheory and also includes peacemaking criminology and postmodernism. The future of criminological theory is covered in the final chapter, Chapter 16, and offers the student a summative view of both the heritage of contemporary theory and new ways of looking at theory production. The basic format of the first three editions has been retained in most chapters. We include a discussion of the social and intellectual heritage of the theory, highlight and explain the perspective and major concepts of the theory, and summarize and list the theory's major points. The lists of major points are intended to clarify earlier commentary and to demonstrate the logical connections among the various elements of each theory. The chapter summaries may also serve as review material for examinations. Graduate students may find the major points helpful in determining the background assumptions of the theories, comparing theories, and locating hypotheses for empirical testing. As in the earlier editions, we attempt in most chapters to provide a classification of the theoretical perspective. These areas of the book continue to draw the most discussion. In one sense, we find this appropriate. There are so many methods of classifying theories that it is inevitable that instructors and others who use the text would find some conflict with their own positions. Rather than hide such conflicts, we believe it is more instructive to bring them out into the open for students. Thus, we continue to provide theory classifications and encourage instructors to tell students how their approaches differ from ours. As always, we welcome any feedback on the book. The numerous versions of each theory make critical commentary inevitable. Since this book is designed primarily to be used, we invite readers, students, and teachers alike to provide us with their ideas on how to make it even more useful. We feel very fortunate that we were able to acquire firsthand the comments and advice of some of the original authors of the theories. Our gratitude and appreciation are due to Freda Adler, Ron Akers, A1 Cohen, Ray Jeffery, the late Ed Lemert, Walter Miller, L