Note: Supplemental materials are not guaranteed with Rental or Used book purchases.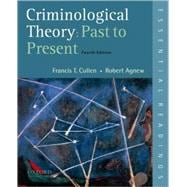 Questions About This Book?
What version or edition is this?
This is the 4th edition with a publication date of 3/19/2010.
What is included with this book?
The New copy of this book will include any supplemental materials advertised. Please check the title of the book to determine if it should include any CDs, lab manuals, study guides, etc.
The Used copy of this book is not guaranteed to include any supplemental materials. Typically, only the book itself is included.
Related Products
Summary
In the thoroughly updated fourth edition of this anthology, Francis T. Cullen and Robert Agnew take readers on an excursion from past to present, reviewing classic and contemporary theories of crime. The editors frame each individual reading with a brief introduction, providing students with auseful "road map" as they explore the ongoing intellectual developments, diverse views, and continuing debates in the field of criminology.
Author Biography

Francis T. Cullen is Distinguished Research Professor in the School of Criminal Justice at the University of Cincinnati, where he also holds a joint appointment in Sociology. He has published more than 200 works in the areas of criminological theory, corrections, white-collar crime, public opinion, and the measurement of sexual victimization. Professor Cullen has also served as President of the Academy of Criminal Justice Sciences and of the American Society of Criminology.

Robert Agnew is Samuel Candler Dobbs Professor of Sociology in the Department of Sociology at Emory University. He is noted for his development of "general strain theory," a perspective that has attracted considerable theoretical and empirical attention. In recognition of his scholarly accomplishments, he was honored as a Fellow of the American Society of Criminology. He also was elected to serve as an Executive Counselor of ASC and as President of the Georgia Sociological Association.

Table of Contents

* New to the Fourth Edition

A brief introduction opens each Section. An introduction also precedes each individual reading.

INTRODUCTION: Understanding Criminological Theory: A Guide for Readers, Francis T. Cullen and Robert Agnew
SECTION 1. IN SEARCH OF THE CRIMINAL "MAN"
Part I. The Origins of Modern Criminology
1. An Essay on Crimes and Punishments, Cesare Beccaria
2. The Criminal Man, Cesare Lombroso
Part II. Individual Traits and Crime
3. Genes, Evolution, and Crime, Lee Ellis and Anthony Walsh
4. Does the Body Tell? Biological Characteristics and Criminal Disposition, David C. Rowe
5. Personality and Crime: Are Some People More Crime Prone?, Avshalom Caspi, Terrie E. Moffitt, Phil A. Silva, Magda Stouthamer-Loeber, Robert F. Krueger, and Pamela S. Schmutte
* 6. The Development of Antisocial Behavior: An Integrative Causal Approach, Benjamin B. Lahey, Irwin D. Waldman, and Keith McBurnett
SECTION 2. THE RISE AND GROWTH OF AMERICAN CRIMINOLOGY
Part III. The Chicago School: The City, Social Disorganization, and Crime
7. Juvenile Delinquency and Urban Areas, Clifford R. Shaw and Henry D. McKay
8. A Theory of Race, Crime, and Urban Inequality, Robert J. Sampson and William Julius Wilson
9. Collective Efficacy and Crime, Robert J. Sampson, Stephen W. Raudenbush, and Felton Earls
Part IV. Learning to Be a Criminal: Differential Association, Subcultural, and Social Learning Theories
10. A Theory of Differential Association, Edwin H. Sutherland and Donald R. Cressey
11. A Social Learning Theory of Crime, Ronald L. Akers
12. Code of the Street, Elijah Anderson
Part V. Anomie/Strain Theories of Crime
13. Social Structure and Anomie, Robert K. Merton
14. Delinquent Boys: The Culture of the Gang, Albert K. Cohen
15. Crime and the American Dream, Richard Rosenfeld and Steven F. Messner
16. Pressured Into Crime: General Strain Theory, Robert Agnew
Part VI. Varieties of Control Theory
17. Techniques of Neutralization, Gresham M. Sykes and David Matza
18. Social Bond Theory, Travis Hirschi
19. A General Theory of Crime, Michael R. Gottfredson and Travis Hirschi
SECTION 3. RETHINKING CRIMINOLOGY
Part VII. Labeling, Interaction, and Crime: Societal Reaction and the Creation of Criminals
20. Primary and Secondary Deviance, Edwin M. Lemert
21. Crime, Shame, and Reintegration, John Braithwaite
22. Defiance Theory, Lawrence W. Sherman
Part VIII. Critical Criminology: Power, Peace, and Crime
23. Criminality and Economic Conditions, Willem Bonger
24. Crime in a Market Society, Elliott Currie
25. Crime and Coercion, Mark Colvin
26. Peacemaking Criminology, Richard Quinney
Part IX. Feminist Theories: Gender, Power, and Crime
27. Sisters in Crime, Freda Adler
28. A Feminist Theory of Female Delinquency, Meda Chesney-Lind
29. The Gendering of Violent Delinquency, Karen Heimer and Stacy De Coster
30. Masculinities and Crime, James W. Messerschmidt
31. A Gendered Theory of Female Offending, Darrell Steffensmeier and Emilie Allan
SECTION 4. CHOICE, OPPORTUNITY, AND PUNISHMENT
Part X. Reviving Classical Theory: Deterrence and Rational Choice Theories
32. Reconceptualizing Deterrence Theory, Mark C. Stafford and Mark Warr
33. Crime as a Rational Choice, Derek B. Cornish and Ronald V. Clarke
Part XI. Environmental Criminology
34. Routine Activity Theory, Lawrence E. Cohen and Marcus Felson
35. Situational Crime Prevention, Ronald V. Clarke
36. Broken Windows, James Q. Wilson and George L. Kelling
SECTION 5. KEY DEVELOPMENTS IN CRIMINOLOGY
Part XII. Developmental Theories of Crime: Crime and the Life Course
37. Unraveling Juvenile Delinquency, Sheldon Glueck and Eleanor Glueck
38. Pathways in the Life Course to Crime, Terrie E. Moffitt
39. A Theory of Persistent Offending and Desistance From Crime, John H. Laub and Robert J. Sampson
* 40. Cognitive Transformation and Desistance from Crime, Peggy C. Giordano, Stephen A. Cernkovich, and Jennifer L. Rudolph
Part XIII. Theories of White-Collar Crime
* 41. White-Collar Criminality, Edwin H. Sutherland
* 42. Denying the Guilty Mind, Michael L. Benson
* 43. Choosing White-Collar Crime, Neal Shover and Andy Hochstedler
Part XIV. Pulling It All Together: Integrated Theories of Crime
44. Toward an Interactional Theory of Delinquency, Terence P. Thornberry
45. Control Balance Theory, Charles R. Tittle
46. Social Support and Crime, Francis T. Cullen
47. Why Criminals Offend: A General Theory of Crime and Delinquency, Robert Agnew
Part XV. Putting Theory to Work: Guiding Crime Control Policy
* 48. Imprisoning Communities, Todd R. Clear
* 49. Preventing Crime in Everyday Life, Marcus Felson
* 50. Saving Children from a Life in Crime, David Farrington and Brandon C. Welsh