Note: Supplemental materials are not guaranteed with Rental or Used book purchases.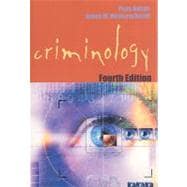 Questions About This Book?
What version or edition is this?
This is the 4th edition with a publication date of 8/5/2005.
What is included with this book?
The Used copy of this book is not guaranteed to include any supplemental materials. Typically, only the book itself is included.
Summary
The Fourth Edition of Criminology is Piers Beirne and James W. Messerschmidt's well-respected and comprehensive introduction to the study of crime and criminological theory. The authors take a critical sociological approach that emphasizes the relationship between four different sociological variables (gender, class, race, age) and crime. Thoroughly revised and updated, the new edition features numerous additions, both empirical and theoretical, including globalization, cyberstalking, computer crime, animal abuse, the latest corporate scandals (Enron, Worldcom, etc.), violence by college athletes, election fraud, and terrorism. One of the main strengths of this text is the way in which the authors trace the historical development of criminological theory and place the development of each theory in a historically specific set of social, economic, and political circumstances. Definitions of crime and the measurement of crime are subjected to a critical analysis that focuses on the social construction of crime and crime rates. The authors explore a wide range of research on property crimes and interpersonal violence as well as syndicated, white-collar, and political crimes. The chapter on the study of crime and victimization in a cross-national context helps students understand the importance of viewing crime through a culturally relative lens, as well as the problems associated with making cross-national generalizations regarding crime. Throughout the text, Beirne and Messerschmidt address historical, feminist, and comparative perspectives highlighting the major types of crime and victimization patterns. Their introduction addresses two key questions: "What is crime?" and "How is it measured?" The authors then debunk the major crime myths that are recreated daily and the notion that the most serious crimes are committed by the urban underclass. Written in student-oriented, accessible language, Criminology increases understanding through the abundant use of relevant illustrations, examples, and case studies. End-of-chapter key terms, discussion questions, additional readings, a glossary, and suggested websites further support student learning.
Table of Contents
Introduction to Criminology
The Problem of CrimeImages of CrimeCrime, Criminal Law, and Criminalization
Crime as a Sociological Problem
The Measurement of CrimeCaution: Data Do Not Speak for Themselves
Official Crime DataUnofficial Crime Data
Inequality, Crime, and Victimization
Class and Crime Gender and Crime Race and Crime Age and Crime
Types of Crime
Property Crime Robbery and Burglary Varieties of Larceny Dealing and Damage
Interpersonal ViolenceMurder, Assault, Hate Crimes, and Rape
Interpersonal Violence in the FamilyInterpersonal Violence in the Workplace
Syndicated CrimeA History of Syndicated Crime
Syndicated Crime TodayPrincipal Forms of Syndicated Crime
White-Collar CrimeOccupational CrimeCorporate CrimeTransnational Corporate Crime
Political CrimePolitical Crimes Against the State Domestic
Political Crimes by the StateTransnational Political Crimes by the State
Criminological Theory
The Origins of Criminological Theory
The Enlightenment and Classical Criminology
The Emergence of Positivist Criminology
Criminal Anthropology: Lombroso's "Born Criminal"Neoclassical Criminology
The Emergence of Sociological Criminology
Toward a Social Psychology of Crime: Gabriel Tarde
Toward a Sociology of Law and Crime: Emile Durkheim
Classical Marxism: Marx and Engels on State, Law, and Crime
The Emergence of Criminology in the United States
The Early History of Criminology in the United States, 1895-1915
Crime and Social Ecology
Social Structure, Anomie, and Deviance
The Criminology of Edwin Sutherland
Delinquent Subcultures and Subcultures of Delinquency
Delinquent Subcultures Matza's Delinquency and Drift (1964) Control Theory
Theoretical DiversitySocial Learning Theory
The Labeling Perspective Conflict Theory
Radical and Feminist Criminology
New Directions in Criminological Theory
Routine Activities and CrimeSelf-Control and Control Balance
Revised Strain TheoryCritical Criminologies
Comparative Criminology Approaching Comparative Criminology
Comparative Crime and Victimization Data
Cross-National Generalizations Regarding Crime
U.S. Crime in Comparative Perspective
Glossary
Name Index and Subject Index
Table of Contents provided by Publisher. All Rights Reserved.