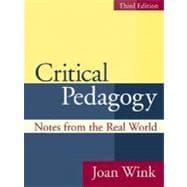 Critical Pedagogy : Notes from the Real World
by
Wink, Joan
Questions About This Book?
What version or edition is this?
This is the 3rd edition with a publication date of 1/1/2005.
What is included with this book?
The New copy of this book will include any supplemental materials advertised. Please check the title of the book to determine if it should include any CDs, lab manuals, study guides, etc.
Related Products
Summary
This text is an accessible analysis of critical pedagogy and articulates multiple ways of applying its principles in various contexts. This powerful analysis of the often difficult rhetoric of critical pedagogy argues that critical pedagogy opens the door to a broader and deeper perspective on teaching and learning in the classroom and the community. The text strongly encourages teachers to continuously adapt teaching beliefs and strategies to meet the needs of today's classrooms.Critical Pedagogy, 3/e,offers thoughtful examination of the theoretical models of critical pedagogy in an engaging, understandable writing style.
Table of Contents
Preface
xiii
1
(13)

| | |
| --- | --- |
| | Some of What Was Not Said in Previous Editions |

4
(1)
4
(1)

| | |
| --- | --- |
| | Literacy: Jonathan to Wyatt |

5
(2)
7
(3)
7
(1)
8
(1)

| | |
| --- | --- |
| | Captain Underpants to the Rescue |

9
(1)

| | |
| --- | --- |
| | Contradictions and Change |

10
(2)

| | |
| --- | --- |
| | Looking Ahead for Elusive Answers |

12
(1)

| | |
| --- | --- |
| | Practicing Pedagogy Patiently: Home Run Reading |

13
(1)
13
(1)

| | |
| --- | --- |
| | How in the World Did I Get into This? |

14
(8)

| | |
| --- | --- |
| | The Benson Kids: Teaching Is Learning |

14
(3)

| | |
| --- | --- |
| | Learn, Relearn, and Unlearn Your Way to Critical Pedagogy |

17
(4)

| | |
| --- | --- |
| | To Learn: Difficult Learning Experiences |

18
(1)

| | |
| --- | --- |
| | To Relearn: Difficult Relearning Experiences |

18
(1)

| | |
| --- | --- |
| | To Unlearn: Difficult Unlearning Experiences |

19
(2)

| | |
| --- | --- |
| | Looking Ahead for Your Stories of Relearning and Unlearning |

21
(1)

| | |
| --- | --- |
| | Practicing Pedagogy Patiently: Tanesha Hits a Home Run |

21
(1)
21
(1)

| | |
| --- | --- |
| | What in the World Do You Think It Is? |

22
(43)
22
(1)

| | |
| --- | --- |
| | Dawn Does Critical Pedagogy |

23
(6)
24
(1)
25
(2)
27
(2)

| | |
| --- | --- |
| | Language of Possibility, Language of Critique |

29
(1)

| | |
| --- | --- |
| | Vygotsky: Reaching Back to Move Forward |

30
(1)
30
(2)

| | |
| --- | --- |
| | Banking Model of Education |

32
(1)
32
(6)
33
(2)

| | |
| --- | --- |
| | Rainey Doesn't---Well, Didn't |

35
(3)
38
(1)
38
(1)
39
(2)
41
(1)
41
(2)
43
(2)
45
(1)
46
(1)
47
(3)

| | |
| --- | --- |
| | Critical Literacy: Reading the Word and the World |

48
(1)

| | |
| --- | --- |
| | Orate and Literate Communities |

49
(1)
50
(1)
50
(1)
51
(1)
52
(3)
55
(1)
55
(1)
56
(1)
57
(1)
58
(1)
59
(2)

| | |
| --- | --- |
| | Looking Ahead for Your Thoughts and Language in Critical Pedagogy |

61
(1)

| | |
| --- | --- |
| | Practicing Pedagogy Patiently |

62
(2)
62
(1)
63
(1)
64
(1)

| | |
| --- | --- |
| | What in the World Do I Think It Is? |

65
(18)

| | |
| --- | --- |
| | So What Is Critical Pedagogy? |

67
(1)

| | |
| --- | --- |
| | How I Came to These Understandings of Critical Pedagogy |

68
(4)

| | |
| --- | --- |
| | My Journey: First, Spanish; Next, Bilingual; Finally, Critical Pedagogy |

68
(4)
72
(1)

| | |
| --- | --- |
| | History Helps: Three Perspectives |

72
(7)
73
(1)
74
(1)
74
(1)

| | |
| --- | --- |
| | Transmission to Transformative: An Example |

74
(2)
76
(3)

| | |
| --- | --- |
| | Practicing Pedagogy Patiently |

79
(2)

| | |
| --- | --- |
| | Corri Does Dialectives in Secondary Science |

79
(1)
80
(1)
81
(2)

| | |
| --- | --- |
| | Where in the World Did It Come From? |

83
(37)
83
(10)
83
(2)

| | |
| --- | --- |
| | Freire's Voice: A Transcription of an Audiotape |

85
(8)
93
(10)
94
(1)
95
(1)

| | |
| --- | --- |
| | The Frankfurt School of Critical Theory |

96
(1)
97
(6)
103
(2)

| | |
| --- | --- |
| | Reflections from the East |

104
(1)
104
(1)
105
(13)
106
(1)
107
(1)
108
(1)
109
(1)
110
(2)
112
(4)
116
(1)

| | |
| --- | --- |
| | The Historical Evolution of Critical Pedagogy |

117
(1)
117
(1)

| | |
| --- | --- |
| | Looking Ahead for New Leaders: You! |

118
(1)

| | |
| --- | --- |
| | Practicing Pedagogy Patiently: Civics, ESL, and the New Immigrants |

118
(1)
119
(1)

| | |
| --- | --- |
| | How in the World Do You Do It? |

120
(31)
120
(3)

| | |
| --- | --- |
| | Carla: Reflecting on Her Practice |

121
(1)
122
(1)

| | |
| --- | --- |
| | So How Do You Do Critical Pedagogy? |

123
(6)

| | |
| --- | --- |
| | Problem Posing: Jonathan and Wyatt, Examples from the Community |

123
(1)

| | |
| --- | --- |
| | Problem Posing: Miss Johnson, and Example from Secondary Schools |

124
(1)

| | |
| --- | --- |
| | Principles of Problem Posing |

125
(1)

| | |
| --- | --- |
| | The Teacher's Role in Problem Posing |

125
(1)

| | |
| --- | --- |
| | Problem Posing: Stephanie, an Example from the Primary Grades |

126
(1)

| | |
| --- | --- |
| | Problem Posing: Codification |

126
(1)

| | |
| --- | --- |
| | Problem Posing: Reggie, an Example from Postsecondary |

127
(2)

| | |
| --- | --- |
| | The Essence Is in the Experience |

129
(2)
131
(1)
131
(1)
132
(1)
132
(1)
132
(1)
132
(1)
133
(1)
133
(1)
133
(1)
133
(1)
133
(1)
133
(1)

| | |
| --- | --- |
| | Teaching and Learning in the Desert |

134
(1)
134
(2)
134
(1)
134
(2)

| | |
| --- | --- |
| | The Messenger and the Scribe |

136
(1)
136
(1)
136
(1)

| | |
| --- | --- |
| | Comprehending/Comprehension |

136
(2)
137
(1)
137
(1)

| | |
| --- | --- |
| | Problem-Posing Activity: Literacy |

138
(2)
138
(1)
138
(1)
138
(1)
139
(1)
139
(1)
140
(7)
142
(1)

| | |
| --- | --- |
| | NCLB Calls Us to the Mess |

142
(1)

| | |
| --- | --- |
| | The Proof Is in the Pudding |

143
(1)

| | |
| --- | --- |
| | The Principal: Doing Critical Pedagogy |

144
(3)

| | |
| --- | --- |
| | Practicing Pedagogy Patiently: In the University |

147
(2)

| | |
| --- | --- |
| | Looking Ahead for Elusive Methods |

149
(1)
149
(2)

| | |
| --- | --- |
| | How in the World Do You Do It with Families? |

151
(14)
152
(2)

| | |
| --- | --- |
| | Models of Parental Involvement |

154
(1)
155
(4)

| | |
| --- | --- |
| | Putting the Home Back in Homework |

159
(1)
160
(2)
162
(1)

| | |
| --- | --- |
| | A Library in the Community: Cow Jumped Over the Moon |

163
(1)

| | |
| --- | --- |
| | Electronic Communities of Families |

163
(1)

| | |
| --- | --- |
| | Galileo: Walking, Observing, Talking, and Recording |

164
(1)

| | |
| --- | --- |
| | Practicing Pedagogy Patiently |

164
(1)
164
(1)

| | |
| --- | --- |
| | Why in the World Does It Matter? |

165
(16)

| | |
| --- | --- |
| | Students of the Twenty-First Century |

166
(1)

| | |
| --- | --- |
| | The Pedagogy of a Caring Heart and Critical Eyes |

167
(2)
167
(1)
168
(1)

| | |
| --- | --- |
| | Pedagogy of Courage and Patience |

169
(1)
170
(1)
171
(2)
173
(1)
174
(1)
174
(3)
175
(1)
176
(1)

| | |
| --- | --- |
| | Looking Ahead for More Elusive Answers |

177
(1)

| | |
| --- | --- |
| | Practicing Pedagogy Patiently: Dayna |

178
(2)

| | |
| --- | --- |
| | The Lesson of Dayna: One Size Does Not Fit All |

178
(1)

| | |
| --- | --- |
| | Three Perspectives on Pedagogy: The Artist's Notes |

179
(1)
180
(1)
Bibliography
181
(8)
Index
189