Note: Supplemental materials are not guaranteed with Rental or Used book purchases.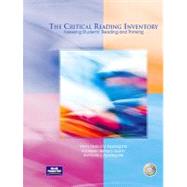 Related Products
Summary
This is the only reading inventory on the market to support the treatment of reading as athinking process through questions and assessments that measure not only readers' ability to recall facts, but also whether they can draw logical conclusions about those facts and respond critically to those conclusions. This book includes both narrative and expository readers' passages for use with pre-K readers through readers in grade 9; and is written in an accessible, inviting style. Through the use of longer passages, multi-level assessments, and case studies, the authors provide a truly effective means to secure a differential analysis of a child's reading comprehension performance. Three distinct levels of comprehension questions: text-based, inferential, and critical--assist in grouping readers by ability levels, from simple recall to critical engagement with text. Case studies of three levels of diagnostic analysis helps instructors understand the difference between readers who are having genuine difficulty and readers who are simply reluctant. Rubrics for retelling and for fluency stress that word recognition must be assessed within the context of comprehension. Inclusion of the simplified miscue analysis technique highlights both the reader's strategies and his/her orientation. For future pre-K through grade 9 teachers.
Table of Contents
1. Introduction to the Critical Reading Inventory. 2. Description of the Critical Reading Inventory. 3. Administration and Scoring of the Critical Reading Inventory. 4. Interpretation of Test Results. 5. Technical Features of the CRI: Development and Validation. 6. Case Studies. Test Materials: Reader's Copy. Test Materials: Examiner's Copy. References. Appendix A: Sample Scoring of Comprehension Questions. Appendix B: Sample Retellings and Scoring Rubrics. Appendix C: Passage Length and Readability Data. Appendix D: Directions for Using the ASII System. Appendix E: Directions for Using the Demonstration CD.