Note: Supplemental materials are not guaranteed with Rental or Used book purchases.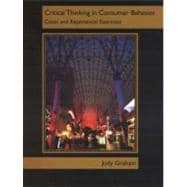 Critical Thinking in Consumer Behavior : Cases and Experiential Exercises
ISBN13:
9780131133228
by
Graham, Judy F.
Summary
Designed to be used alone or as a FREE supplement TO ANY core texts in consumer behavior.This unique casebook applies consumer behavior theory to practice via 21 cases and activities. To package FREE with Solomon's Consumer Behavior text use ISBN 0131850563 or to package FREE with Schiffman and Kanuk's Consumer Behavior text use ISBN 0131172239. For other FREE package ISBNs-contact your Prentice Hall representative.
Table of Contents
Perception, Learning and Memory
Information Overload
Operant and Classical Conditioning
Memory Models and Promotional Strategies
Consumer Motivation and Personality
The Great Debate
Appealing to the Id, Superego, and Ego
Means-End Analysis
Consumer Attitudes and Attitude Change
Multiattribute Model of Attitude Measurement
Theory of Reasoned Action
Attitude Change Strategies and the ELM
Consumer Decision Making
Post-purchase: Customer Satisfaction/Retention
Group/Family Decision Making
Decision Rules: Choosing a Digital Camera
Cultural, Personal, and Group Influences
Reference Groups I: Forms of Influence
Reference Groups II: Types of Groups
Culture and Consumer Behavior
Researching Consumer Behavior
The Diversity of Consumer Behavior
Information Display Board
Motivation Research Projective Techniques
Segmenting, Targeting, Positioning, and the Diffusion of Innovation
Positioning Strategies
Diffusion of Innovations
VALS Segmentation Categories
Table of Contents provided by Publisher. All Rights Reserved.
Excerpts
Students of Consumer Behavior: In the business world, the importance of what is known as "customer focus" cannot be overstated. It is widely recognized as a key to success in the marketplace. Governmental agencies utilize it as a primary criterion when assessing organizations that apply for sought-after awards that recognize excellence in business. The world's largest companies use it as a vital dimension in employees' performance evaluations. These same companies attempt to assess candidates on the "customer focus" standard as they apply for a job. Customer focus has become, in effect, a crucial doctrine in the world of business. And more than any other course in a business curriculum, a course in consumer behavior offers this essential knowledge. In the study of business, most learning objectives involve the attainment of two types of knowledge--understanding and competency. Anunderstandingof the concepts and theories of consumer behavior is typically attained through the textbook and assigned readings as well as classroom discussions.Competencywith these concepts, or the ability to effectively use and apply these concepts to unfamiliar situations, is traditionally more difficult for students to attain. The cases and exercises included in this book are designed to give students the opportunity to critically analyze the fundamental principles of consumer behavior, and experience some of the complexities inherent in the application of these principles within realistic business contexts. As you complete these cases and exercises, there will be times when you feel confident in your ability to apply the consumer behavior concepts you are learning to the task at hand, and there will be other times when it seems that you could not possibly have enough knowledge to complete the task successfully. Although you may sometimes feel that you are being "thrown to the wolves," remember that it is when the wolves are nipping at your heels that you discover how fast you can run. When you are working on those cases that seem particularly challenging, remember to review the relevant concepts in your class notes and your textbook, then trust your creativity and resourcefulness--this is what great business people are made of. Lastly, have some fun with the cases. The study of consumer behavior is not quite like the study of any other topic in business. Enjoy these opportunities to gain a true customer focus. After all, this is what business is all about. Acknowledgements I wish to thank those who have helped make this book possible. My editor, Wendy Craven, and the rest of the people at Prentice Hall were a joy to work with. The reviewers of the text, especially Mike Solomon and David Bakken, offered valuable comments and encouragement. My colleagues at St. John Fisher College cheered on my progress and provided inspiration through their dedication to teaching. My friends and family gave me their love and patience through the ups and downs of the creative process. Most importantly, I wish to thank my students. I learn from them every day.