Note: Supplemental materials are not guaranteed with Rental or Used book purchases.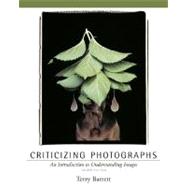 Criticizing Photographs : An Introduction to Understanding Images
ISBN13:
9780072977431
by
BARRETT
Related Products
Summary
This brief text is designed to help both beginning and advanced students of photography better develop and articulate thoughtful criticism. Organized around the major activities of criticism (describing, interpreting, evaluating, and theorizing),Criticizing Photographsprovides a clear framework and vocabulary for students' critical skill development. The fourth edition includes new black and white and color images, updated commentary, a completely revised chapter on theory that offers a broad discussion of digital images, and an expanded chapter eight on studio critiques and writing about photographs, plus examples of student writing and critique.
Author Biography
Terry Barrett is Professor of Art Education, with a joint appointment in the Department of Art, at The Ohio State University
Table of Contents
Preface
viii
1
(15)
2
(2)
4
(2)
6
(1)

| | |
| --- | --- |
| | The Backgrounds of Critics |

7
(2)
9
(1)

| | |
| --- | --- |
| | Relations Between Critics and Artists |

10
(2)
12
(2)
14
(2)

| | |
| --- | --- |
| | Describing Photographs: What Do I See? |

16
(22)
16
(1)

| | |
| --- | --- |
| | Describing an Exhibition: Avedon's ``In the American West'' |

17
(4)

| | |
| --- | --- |
| | Describing Subject Matter |

21
(5)
26
(3)
29
(2)
31
(1)

| | |
| --- | --- |
| | Comparing and Contrasting |

32
(1)

| | |
| --- | --- |
| | Internal and External Sources of Information |

33
(1)

| | |
| --- | --- |
| | Description and Interpretation |

34
(1)

| | |
| --- | --- |
| | Description and Evaluation |

35
(1)

| | |
| --- | --- |
| | The Importance of Description to Readers |

36
(1)

| | |
| --- | --- |
| | Principles for Describing Photographs |

36
(2)

| | |
| --- | --- |
| | Interpreting Photographs: What Does It Mean? |

38
(22)

| | |
| --- | --- |
| | An Exemplary Interpretation |

38
(3)
41
(2)
43
(2)

| | |
| --- | --- |
| | The Objects of Interpretations |

45
(2)

| | |
| --- | --- |
| | Interpretive Claims and Arguments |

47
(1)

| | |
| --- | --- |
| | Interpretive Perspectives |

48
(6)

| | |
| --- | --- |
| | Three Interpretations of Eleanor |

48
(3)

| | |
| --- | --- |
| | Other Interpretive Strategies |

51
(3)

| | |
| --- | --- |
| | Combinations of Interpretive Approaches |

54
(1)

| | |
| --- | --- |
| | ``Right'' Interpretations |

54
(2)

| | |
| --- | --- |
| | Interpretations and the Artist's Intent |

56
(2)

| | |
| --- | --- |
| | Interpretations and Feelings |

58
(1)

| | |
| --- | --- |
| | Interpretation, Meaning, and Personal Significance |

58
(1)

| | |
| --- | --- |
| | The Community of Interpreters |

59
(1)
60
(46)

| | |
| --- | --- |
| | Categories of Photographs |

61
(2)
63
(2)
65
(2)
67
(11)
78
(5)

| | |
| --- | --- |
| | Ethically Evaluative Photographs |

83
(8)

| | |
| --- | --- |
| | Aesthetically Evaluative Photographs |

91
(9)
100
(6)
106
(21)
106
(1)
107
(2)
109
(2)

| | |
| --- | --- |
| | External Contexts and Connotations |

111
(2)

| | |
| --- | --- |
| | Interpreting Barbara Kruger's Untitled (``Surveillance''), with Contextual Information |

113
(8)

| | |
| --- | --- |
| | ``Surveillance'' and Internal Context |

114
(1)

| | |
| --- | --- |
| | ``Surveillance'' and Original Context |

114
(5)

| | |
| --- | --- |
| | ``Surveillance'' and External Context |

119
(2)

| | |
| --- | --- |
| | Barbara Kruger's Untitled (``Surveillance''), and the Categories |

121
(3)
121
(1)
122
(1)
122
(1)

| | |
| --- | --- |
| | Ethically Evaluative Photographs |

122
(1)

| | |
| --- | --- |
| | Aesthetically Evaluative Photographs |

123
(1)
124
(1)

| | |
| --- | --- |
| | The Interpretive Process: A Summary |

124
(3)

| | |
| --- | --- |
| | Judging Photographs: Is It Good? |

127
(26)

| | |
| --- | --- |
| | Examples of Judgmental Statements |

128
(2)
128
(1)
129
(1)
129
(1)
129
(1)
130
(1)
130
(1)
131
(2)
133
(6)
133
(2)
135
(1)
136
(1)
137
(1)
138
(1)
139
(1)
140
(1)
140
(1)
141
(1)

| | |
| --- | --- |
| | Judgments and Preferences |

141
(1)

| | |
| --- | --- |
| | Intentionalism and Judgments |

142
(1)
143
(1)

| | |
| --- | --- |
| | Judgments of Robert Mapplethorpe's Photographs |

143
(8)

| | |
| --- | --- |
| | Hilton Kramer's and Grace Glueck's Views of Mapplethorpe's Work |

144
(3)

| | |
| --- | --- |
| | Other Critics' Views of Mapplethorpe's Work |

147
(4)
151
(1)

| | |
| --- | --- |
| | Principles for Judging Photographs |

152
(1)

| | |
| --- | --- |
| | Photography Theory: Is It Art? Is It True? Is It Moral? |

153
(56)

| | |
| --- | --- |
| | Photography Theory and Practice |

154
(4)

| | |
| --- | --- |
| | Ontological Concerns: What Is a Photograph? |

158
(4)

| | |
| --- | --- |
| | Digital Images and Ontology |

160
(2)

| | |
| --- | --- |
| | Epistemological Concerns: Are Photographs True? |

162
(11)
162
(3)
165
(2)
167
(6)

| | |
| --- | --- |
| | Aesthetic Concerns: Is Photography Art? |

173
(16)

| | |
| --- | --- |
| | Modernism and Postmodernism |

180
(7)

| | |
| --- | --- |
| | Digital Images and Aesthetic Concerns |

187
(2)

| | |
| --- | --- |
| | Ethical Concerns: Are Photographs Moral? |

189
(19)

| | |
| --- | --- |
| | Marxist Theory and Ethical Photography |

191
(1)

| | |
| --- | --- |
| | Feminist Theory and Ethical Photography |

192
(5)

| | |
| --- | --- |
| | Multicultural Theory and Ethical Photography |

197
(3)

| | |
| --- | --- |
| | Queer Theory and Ethical Photography |

200
(4)

| | |
| --- | --- |
| | Postcolonial Theory and Ethical Photography |

204
(4)
208
(1)

| | |
| --- | --- |
| | Writing and Talking About Photographs |

209
(55)

| | |
| --- | --- |
| | Writing About Photographs |

209
(27)

| | |
| --- | --- |
| | Observing and Taking Notes |

210
(1)

| | |
| --- | --- |
| | Quick-Writes and Careful-Writes |

211
(3)

| | |
| --- | --- |
| | Students' Interpretive Writings |

214
(5)

| | |
| --- | --- |
| | Building Visual Interpretations |

219
(1)
219
(4)
223
(2)

| | |
| --- | --- |
| | Writing Criteria Statements |

225
(1)

| | |
| --- | --- |
| | Three Student Views of Immediate Family by Sally Mann |

226
(5)
231
(5)

| | |
| --- | --- |
| | Writing Artists' Statements |

236
(3)
239
(3)

| | |
| --- | --- |
| | Talking About Photographs |

242
(2)
244
(20)
253
(7)

| | |
| --- | --- |
| | Conducting Successful Critiques |

260
(2)

| | |
| --- | --- |
| | Principles for Effective Critiques |

262
(2)
Notes
264
(15)
Bibliography
279
(12)
Index
291