Note: Supplemental materials are not guaranteed with Rental or Used book purchases.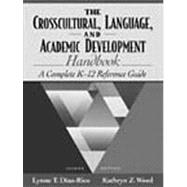 Summary
The second edition of this popular handbook brings together theories, ideas, and resources for promoting crosscultural awareness, language development, and academic progress. This handbook also ties together culture and language in a comprehensive format and delves deeply into the educational challenges faced by classroom teachers. Written specifically for the mainstream teacher, the guide clearly shows the effects of cultural differences on learning and presents an excellent treatment of cultural diversity and learning styles. It comes at a time when more than two million students nationwide with limited English proficiency fill our classrooms a time when today's teachers desperately need practical, effective resources to help these students succeed in school.
Table of Contents
I. LANGUAGE ACQUISITION AND STRUCTURE.
1. Second Language Acquisition and Learning: Theory and Practice.
2. Second Language Acquisition: Psychological and Sociocultural Factors.
3. Language Structure and Use.
II. ENGLISH LANGUAGE DEVELOPMENT, CONTENT INSTRUCTION, AND BILINGUAL EDUCATION.
4. English Language Development.
5. Content Area Instruction.
6. Theories and Methods of Bilingual Education.
7. Language and Content Area Assessment.
III. CULTURE AND CULTURAL DIVERSITY.
8. The Nature of Culture and Cultures In Contact.
9. Cultural Diversity in The United States.
10. Manifestations of Culture: Learning About Students.
IV. LANGUAGE POLICIES, PROGRAMS, AND ISSUES.
11. The Role of Educators in Language Planning and Policy.
12. English Learners and Special Education.