Note: Supplemental materials are not guaranteed with Rental or Used book purchases.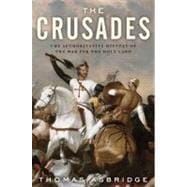 The Crusades: The Authoritative History of the War for the Holy Land
ISBN13:
9780060787288
by
Asbridge, Thomas
HarperCollins Publications
Summary
From a renowned historian who writes with "maximum vividness" (The New Yorker) comes the most authoritative, readable single-volume history of the brutal struggle for the Holy Land. Nine hundred years ago, a vast Christian army, summoned to holy war by the Pope, rampaged through the Muslim world of the eastern Mediterranean, seizing possession of Jerusalem, a city revered by both faiths. Over the two hundred years that followed, Islam and Christianity-both firm in the belief that they were at God's work-fought for dominion of the Holy Land, clashing in a succession of chillingly brutal wars: the Crusades. For the first time, this book tells the story of that epic struggle from the perspective of both Christians and Muslims. A vivid and fast-paced narrative history, it exposes the full horror, passion, and barbaric grandeur of the Crusading era, leading us into a world of legendary champions-such as Richard the Lionheart and Saladin-shadowy Assassins, poet-warriors, and pious visionaries; across the desert sands of Egypt to the verdant forests of Lebanon; and through the ancient cities of Constantinople, Cairo, and Damascus. Drawing on painstaking original research and an intimate knowledge of the Near East, Thomas Asbridge uncovers what drove Muslims and Christians alike to embrace the ideals of jihad and crusade, revealing how these holy wars reshaped the medieval world and why they continue to influence events today.
Table of Contents
List of Maps
p. ix
Introduction
p. 1
The Coming of the Crusades
Holy War, Holy Land
p. 33
Syrian Ordeals
p. 62
The Sacred City
p. 89
Creating the Crusader States
p. 115
Outremer
p. 163
Crusading Reborn
p. 197
The Response of Islam
Muslim Revival
p. 225
The Light of Faith
p. 238
The Wealth of Egypt
p. 265
Heir or Usurper
p. 285
The Sultan of Islam
p. 316
Holy Warrior
p. 337
The Trial of Champions
Called to Crusade
p. 367
The Conqueror Challenged
p. 391
The Coming of Kings
p. 428
Lionheart
p. 456
Jerusalem
p. 477
Resolution
p. 498
The Struggle for Survival
Rejuvenation
p. 519
New Paths
p. 550
A Saint at War
p. 577
Victory in the East
Lion of Egypt
p. 611
The Holy Land Reclaimed
p. 638
Conclusion: The Legacy of the Crusades
p. 657
Acknowledgements
p. 683
Chronology
p. 685
Notes
p. 687
Index
p. 743
Table of Contents provided by Ingram. All Rights Reserved.