Note: Supplemental materials are not guaranteed with Rental or Used book purchases.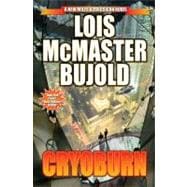 Summary
Kibou-daini is a planet obsessed with cheating death. All well and good, so long as they kept to themselves.#xA0; But now the Kibou-daini are attempting to franchise out their Fountain of Youth wares to the rest of the galaxy and the Barrayar#xA0; Galactic Empire is none too pleased with the implications.#xA0; Cue Miles Vorkosigan, malformed royal troublemakerbut also heir and savior of empire. On Kibou-daini, Miles unearths a war of generations as the oldsters in charge refuse to die and their descendants threaten outright patricide, matricide and maybe even genocidethe prize being a big fat slice of the immortality pie.#xA0; Bribery, corruption, conspiracy, kidnappingsomething is rotten on Kibou-daini, and Miles is up to his neck in trouble and adventure once more. About Cryoburn: #x1C;Fans have been clamoring for Hugo winner Bujold to pen a new Vorkosigan Saga novel. . . her deft and absorbing writing easily corrals the complex plot.#x1D; Publishers Weekly About Lois McMaster Bujold#x19;s Vorkosigan Saga: #x1C;Bujold mixes quirky humor with action [and] superb character development&[E]normously satisfying.#x1D; Publishers Weekly. #x1C;One of sf#x19;s outstanding talents . . . an outstanding series.#x1D; Booklist #x1C;. . . an intelligent, well-crafted and thoroughly satisfying blend of adventure, sociopolitical commentary, scientific experiments, and occasional perils . . . with that extra spicing of romance. . . .#x1D; Locus About Vorkosigan series entry Diplomatic Immunity: #x1C;Bujold is adept at world-building and provides a witty, character-centered plot, full of exquisite grace notes. . . fans will be thoroughly gripped and likely to finish the book in a single sitting.#x1D; Publishers Weekly
Author Biography
A science fiction legend, Lois McMaster Bujold has won six Hugo Awards and three Nebula Awards. Her Miles Vorkosigan saga is a hugely-popular science fiction mainstay with multiple New York Times bestsellers including previous entry, Diplomatic Immunity. The mother of two, Ms. Bujold lives in Minneapolis.