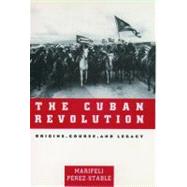 Questions About This Book?
What version or edition is this?
This is the 2nd edition with a publication date of 12/3/1998.
What is included with this book?
The Used copy of this book is not guaranteed to include any supplemental materials. Typically, only the book itself is included.
Summary
This timely and provocative study provides a reexamination of the achievements and failures of the Cuban revolution, placing it firmly within the context of twentieth century Cuban history. Beginning with the inauguration of the republic in 1902 and addressing Castro's triumphant entry intoSantiago de Cuba in 1959, The Cuban Revolution highlights the factors which made Cuba susceptible to revolution, including its one-crop (sugar) economy and U.S. interference in Cuban affairs. While identifying nationalism and the struggle for social justice as the legitimate forces behind therevolution, Perez-Stable also provides insight into the problems facing Castro's Cuba. Arguing that the revolution actually ended in 1970, she blames its defeat on the regime's profitable yet doomed dependence on the Soviet Union. She further charges that Cuba's leaders failed to diversify thecountry's economy, to sustain development, or to create democratic institutions. Now in its second edition, The Cuban Revolution has been updated to include an entirely new chapter on the changes affecting Cuba's policies and economy since the disintegration of the Soviet Union, and the failure of communism in general. The second edition also includes a new preface, anup-to-date bibliography, and a thoroughly revised concluding chapter summing up the prospects and possibilities of Cuba's future in the twenty-first century. Ideal for advanced undergraduate and graduate courses in Latin American history and politics, The Cuban Revolution offers students freshinsights into the successes and failures of the Cuban Revolution.
Table of Contents
ix
(1)
Preface
x
(3)
Preface to the First Edition
xiii
(3)
Acronyms
xvi
Introduction
3
(11)

| | |
| --- | --- |
| | 1. Mediated Sovereignty, Monoculture, and Development |

14
(22)

| | |
| --- | --- |
| | Classic Dependence in Crisis |

15
(2)

| | |
| --- | --- |
| | Reformism in the Making, 1927-1958 |

17
(7)
24
(3)
27
(5)

| | |
| --- | --- |
| | Women in Prerevolutionary Cuba |

32
(1)

| | |
| --- | --- |
| | The Cuba That Might Have Been |

33
(3)

| | |
| --- | --- |
| | 2. Politics and Society, 1902-1958 |

36
(25)

| | |
| --- | --- |
| | Mediated Sovereignty and Fragile Hegemony |

37
(6)

| | |
| --- | --- |
| | Representative Democracy, the Working Class, and the Emergent Logic |

43
(9)

| | |
| --- | --- |
| | The Batista Dictatorship, the Working Class, and Radical Nationalism |

52
(9)

| | |
| --- | --- |
| | 3. Revolution and Radical Nationalism, 1959-1961 |

61
(21)

| | |
| --- | --- |
| | Reformism, the Clases Economicas, and the Revolution |

62
(5)

| | |
| --- | --- |
| | The Working Class and the Revolutionary Government |

67
(7)

| | |
| --- | --- |
| | Revolutionary Politics and the Clases Populares |

74
(8)

| | |
| --- | --- |
| | 4. Revolution and Inclusive Development |

82
(16)

| | |
| --- | --- |
| | Development Strategies and Economic Performance |

83
(7)

| | |
| --- | --- |
| | Standards of Living after the Revolution |

90
(4)

| | |
| --- | --- |
| | Socialist Visions and Inclusive Development |

94
(4)

| | |
| --- | --- |
| | 5. Politics and Society, 1961-1970 |

98
(23)

| | |
| --- | --- |
| | The Incipient Institutional Order, 1961-1965 |

99
(10)

| | |
| --- | --- |
| | The Formation of a Vanguard Party |

100
(2)

| | |
| --- | --- |
| | Unions, Workers, and Conciencia |

102
(5)

| | |
| --- | --- |
| | The Federation of Cuban Women |

107
(2)

| | |
| --- | --- |
| | The Origins of the Radical Experiment |

109
(2)

| | |
| --- | --- |
| | The Parallel Construction of Communism and Socialism |

111
(10)

| | |
| --- | --- |
| | The Withering Away of Trade Unions |

114
(2)

| | |
| --- | --- |
| | The Politics of Mobilization |

116
(2)
118
(3)

| | |
| --- | --- |
| | 6. Politics and Society, 1971-1986 |

121
(32)

| | |
| --- | --- |
| | Revolution and Institutionalization |

122
(5)

| | |
| --- | --- |
| | The Trade Unions as Mass Organizations |

127
(8)
130
(1)
131
(4)

| | |
| --- | --- |
| | The Federation of Cuban Women and Gender Equality |

135
(7)
139
(3)

| | |
| --- | --- |
| | The PCC as a Vanguard Party |

142
(6)

| | |
| --- | --- |
| | Crossroads at Three Party Congresses |

148
(5)

| | |
| --- | --- |
| | 7. Revolution, Rectification, and Contemporary Socialism |

153
(21)

| | |
| --- | --- |
| | The Process of Rectification |

154
(12)

| | |
| --- | --- |
| | The Economics of Rectification |

155
(5)

| | |
| --- | --- |
| | The Politics of Rectification |

160
(6)

| | |
| --- | --- |
| | The Cuban Communist Party and the Future of Cuban Socialism |

166
(8)

| | |
| --- | --- |
| | The CTC and the FMC in the Rectification Process |

166
(3)

| | |
| --- | --- |
| | The Fourth Party Congress |

169
(5)

| | |
| --- | --- |
| | 8. The Invisible Crisis: Stability and Change in 1990s Cuba |

174
(28)

| | |
| --- | --- |
| | Mobilizational Politics and the Cuban Economy |

176
(3)

| | |
| --- | --- |
| | Political Trends of the Special Period (1992-1998) |

179
(19)

| | |
| --- | --- |
| | The Character of Cuban Elites |

180
(3)

| | |
| --- | --- |
| | The Reform of Popular Power Assemblies |

183
(5)
188
(3)

| | |
| --- | --- |
| | The Dynamics of Popular Support, Quiescence, and Opposition |

191
(6)

| | |
| --- | --- |
| | Transition, Transformation, and Democracy: Comparative Perspectives |

197
(1)

| | |
| --- | --- |
| | Three Settings: Latin America, Eastern Europe, and Asia |

198
(4)
Conclusion
202
(9)
Notes
211
(38)
Select Bibliography
249
(19)
Index
268