Note: Supplemental materials are not guaranteed with Rental or Used book purchases.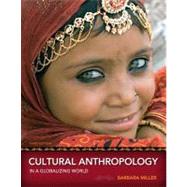 Questions About This Book?
What version or edition is this?
This is the 3rd edition with a publication date of 12/16/2011.
What is included with this book?
The New copy of this book will include any supplemental materials advertised. Please check the title of the book to determine if it should include any CDs, lab manuals, study guides, etc.
The Used copy of this book is not guaranteed to include any supplemental materials. Typically, only the book itself is included.
The eBook copy of this book is not guaranteed to include any supplemental materials. Typically only the book itself is included.
Related Products
Summary
Successfully integrating attention to globalization, gender, class, race and ethnicity, and the environment, this text engages students with compelling ethnographic examples and by demonstrating the relevance of anthropology. Faculty and students praise the book's proven ability to generate class discussion, increase faculty-student engagement, and enhance student learning. This book, based on Miller's full-length Cultural Anthropology text, will generate class discussion, increase faculty-student engagement, and enhance student learning. Material throughout the book highlights the relevance of anthropology to students and how they can apply in their careers. By entwining attention to key theories for understanding culture with an emphasis on relevance of anthropological knowledge and skills, this text is the perfect choice for introductory cultural anthropology courses. Note: MyAnthroLabdoes not come automatically packaged with this text. To purchase MyAnthroLab, please visitwww.MyAnthroLab.comor you can purchase a valuepack of the text + MyAnthroLab(9780205249671)
Author Biography
In This Section:
I. Author Bio
II. Author Letter
I. Author Bio
Barbara Miller is Professor of Anthropology and International Affairs, and Director of the Culture in Global Affairs (CIGA) Research and Policy Program, at The George Washington University. She received her Ph.D. in anthropology from Syracuse University in 1978. Before coming to GW in 1994, she taught at the University of Rochester, SUNY Cortland, Ithaca College, Cornell University, and the University of Pittsburgh.
Barbara's research has focused mainly on gender-based inequalities in India, especially the nutritional and medical neglect of daughters in the northern part of the country. She has also conducted research on culture and rural development in Bangladesh, on low-income household dynamics in Jamaica, and on Hindu adolescents in Pittsburgh.
Her current interests include continued research on India along with attention to the role of cultural anthropology in informing policy issues, especially as related to women, children, and other disenfranchised people.
She teaches courses on introductory cultural anthropology, medical anthropology, development anthropology, culture and population, health and development in South Asia, migration and mental health, and culture and security.
She has published many journal articles and book chapters and several books: The Endangered Sex: Neglect of Female Children in Rural North India, 2nd ed. (Oxford University Press 1997), an edited volume, Sex and Gender Hierarchies (Cambridge University Press 1993), and a co-edited volume with Alf Hiltebeitel, Hair: Its Power and Meaning in Asian Cultures (SUNY Press 1998). In addition to Cultural Anthropology in a Globalizing World, second edition, she is the author of Cultural Anthropology, fifth edition (Pearson 2008) and the lead author of Anthropology, second edition(Pearson 2008).
Barbara launched a blog in 2009 (anthropologyworks.com) which includes her thoughts on important findings and debates in anthropology, a weekly feature covering anthropologists in the mainstream media, and guests posts. You can also follow her via Twitter @anthroworks.
II. Author Letter
Dear Colleague,
Most cultural anthropology textbooks are pretty much the same over the years, with a few new photos and minor tweaks. But culture is changing all the time. Climate change means that longstanding livelihoods are endangered. New states are formed. Through new social media, people have more "friends" than ever before, and perhaps more friends than they can manage to maintain as "friends." Some languages die out, while some groups work hard to keep their languages alive. This is just to name a few.
This message is to let you know about some of the highlights of the 3rd edition of Cultural Anthropology in a Globalizing World. I think you will find it to be the most current, exciting, and engaging cultural anthropology textbook for your students.
Since the publication of the previous edition of Cultural Anthropology in a Globalizing World two years ago, several major events demand attention, including the earthquake in Haiti and the Gulf oil spill. Thanks to anthropologists who study such events and convey their findings to fellow academics and the public, we, as faculty, can better teach about culture in an ever-changing world.
One aspect of this revision that I very much enjoyed was incorporating new material that I learned about through my blog, anthropologyworks.com. I dedicate some time every day to scanning the media for any mention of anthropology to include in my weekly "anthro in the news" feature. Through this commitment, I learn about both "what's new" and "what's important" in anthropology. That learning enlivens Cultural Anthropology in a Globalizing World 3e in every chapter.
Other distinctive "Miller features" of this edition include:
• A thought-provoking box in each chapter called </inst> 'AnthropologyWorks' that<emphasis role="strong"> provides</emphasis> an example of how knowledge in cultural anthropology is used to prevent or solve social problems. For example, your students will be fascinated and inspired by the box describing Paul Farmer's work in providing health care in Haiti.
• Several new photographs arranged in pairs or trios, with linked captions, offer a mini-photo essay for students to ponder.
• Updates based on the latest research about how people seek health advice on the Internet, homelessness in the United States, texting and Textese, and oil-related environmental disasters.
· Several new Key Concepts distinguish my textbook from others and offer students connections with other courses they are taking: asexuality, corporate social responsibility, food security, sectarian conflict, and social justice.
· MyAnthroLibrary, new to this edition, offers selections of current, brief articles on engaging topics listed at the end of each chapter and available at no cost for students through MyAnthroLab.
I know that you want to get your students excited about cultural anthropology and help them see the relevance of it to their lives and careers. Therefore, you should choose my book! I appreciate your interest in the 3rd edition of Cultural Anthropology in a Globalizing World, and I would be grateful for any comments you might have about it.
Sincerely yours,
Barbara Miller
George Washington University
Email: barbar@gwu.edu
Blog: anthropologyworks.com
Twitter: anthroworks.com
Webpage: http://www.gwu.edu/~anth/who/miller.cfm
Table of Contents
BRIEF CONTENTS

PART I INTRODUCTION TO CULTURAL ANTHROPOLOGY
1 ANTHROPOLOGY AND THE STUDY OF CULTURE
2 RESEARCHING CULTURE

PART II CULTURAL FOUNDATIONS
3 ECONOMIC SYSTEMS
4 REPRODUCTION AND HUMAN DEVELOPMENT
5 DISEASE, ILLNESS, AND HEALING

PART III SOCIAL ORGANIZATION
6 KINSHIP AND DOMESTIC LIFE
7 SOCIAL GROUPS AND SOCIAL STRATIFICATION
8 POLITICAL AND LEGAL SYSTEMS

PART IV SYMBOLIC SYSTEMS
9 COMMUNICATION
10 RELIGION
11 EXPRESSIVE CULTURE

PART V CONTEMPORARY CULTURAL CHANGE
12 PEOPLE ON THE MOVE
13 PEOPLE DEFINING DEVELOPMENT

CONTENTS

PREFACE

ABOUT THE AUTHOR

PART I

INTRODUCTION TO CULTURAL ANTHROPOLOGY

1
ANTHROPOLOGY AND THE STUDY OF CULTURE
THE BIG QUESTIONS
INTRODUCING ANTHROPOLOGY
Biological or Physical Anthropology
ANTHROPOLOGY WORKS Orangutan Research Leads to Orangutan Advocacy
Archaeology
Linguistic Anthropology
Cultural Anthropology
Applied Anthropology: Separate Field or Cross-Cutting Focus?
INTRODUCING CULTURAL ANTHROPOLOGY
A Brief History of Cultural Anthropology
The Concept of Culture
Definitions of Culture
Characteristics of Culture
• EVERYDAY ANTHROPOLOGY Latina Power in the Kitchen
Multiple Cultural Worlds
CULTURAMA San Peoples of Southern Africa
Distinctive Features of Cultural Anthropology
Three Theoretical Debates in Cultural Anthropology
CULTURAL ANTHROPOLOGY AND CAREERS
Majoring in Anthropology
Graduate Study in Anthropology
Living an Anthropological Life
THE BIG QUESTIONS REVISITED
Key Concepts
Suggested Readings

2
RESEARCHING CULTURE
THE BIG QUESTIONS
CHANGING RESEARCH METHODS IN CULTURAL ANTHROPOLOGY
From the Armchair to the Field
Participant Observation
AnthropologyWorks: What's for Breakfast in California?
DOING FIELDWORK IN CULTURAL ANTHROPOLOGY
Beginning the Fieldwork Process
CULTURAMA The Trobriand Islanders of Papua New Guinea
Preparing for the Field
Working in the Field
Fieldwork Techniques
• EYE ON THE ENVIRONMENT Inuit Place Names and Landscape Knowledge
Recording Culture
Data Analysis
URGENT ISSUES IN CULTURAL ANTHROPOLOGY RESEARCH
Ethics and Collaborative Research
Safety in the Field
THE BIG QUESTIONS REVISITED
Key Concepts
Suggested Readings

PART II
CULTURAL FOUNDATIONS

3
ECONOMIC SYSTEMS
THE BIG QUESTIONS
MODES OF LIVELIHOOD
Foraging
• EVERYDAY ANTHROPOLOGY: The Importance of Dogs
Horticulture
Pastoralism
Agriculture
Industrialism and the Information Age
MODES OF CONSUMPTION AND EXCHANGE
Modes of Consumption and Exchange
Modes of Consumption
Modes of Exchange
ANTHROPOLOGY WORKS Evaluating Indian Gaming in California
GLOBALIZATION AND CHANGING ECONOMIES
Sugar, Salt, and Steel Tools in the Amazon
Alternative Food Movements in Europe and North America
Continuities and Resistance: The Enduring Potlatch
CULTURAMA The Kwakwaka'wakw of Canada
THE BIG QUESTIONS REVISITED
Key Concepts
Suggested Readings

4
REPRODUCTION AND HUMAN DEVELOPMENT
THE BIG QUESTIONS
MODES OF REPRODUCTION
The Foraging Mode of Reproduction
The Agricultural Mode of Reproduction
CULTURAMA The Old Order Amish of the United States and Canada
The Industrial/Informatics Mode of Reproduction
CULTURE AND FERTILITY
Sexual Intercourse
ANTHROPOLOGY WORKS Studying Sexual Behavior Among MSM in New York City
Fertility Decision Making
Fertility Control
Infanticide
PERSONALITY AND THE LIFE CYCLE
Birth, Infancy, and Childhood
Socialization during Childhood
Adolescence and Identity
• CRITICAL THINKING Cultural Relativism and Female Genital Cutting
Adulthood
THE BIG QUESTIONS REVISITED
Key Concepts
Suggested Readings

5
DISEASE, ILLNESS, AND HEALING
THE BIG QUESTIONS
ETHNOMEDICINE
Defining and Classifying Health Problems
Ethno-Etiologies
Healing Ways
• EYE ON THE ENVIRONMENT Local Botanical Knowledge and Child Health in the
THREE THEORETICAL APPROACHES
The Ecological/Epidemiological Approach
The Interpretivist Approach
Critical Medical Anthropology
GLOBALIZATION AND CHANGE
New Infectious Diseases
Diseases of Development
Medical Pluralism
CULTURAMA The Sherpa of Nepal
Applied Medical Anthropology
ANTHROPOLOGY WORKS Delivering Health Care in Rural Haiti
THE BIG QUESTIONS REVISITED
Key Concepts
Suggested Readings

PART III
SOCIAL ORGANIZATION 123

6
KINSHIP AND DOMESTIC LIFE
THE BIG QUESTIONS
HOW CULTURES CREATE KINSHIP
Studying Kinship: From Formal Analysis to Kinship in Action
Descent
• EVERYDAY ANTHROPOLOGY What's in a Name?
CULTURAMA The Minangkabau of Indonesia
Sharing
Marriage
HOUSEHOLDS AND DOMESTIC LIFE
The Household: Variations on a Theme
Intrahousehold Dynamics
ANTHROPOLOGY WORKS Ethnography for Preventing Wife Abuse in Rural Kentucky
CHANGING KINSHIP AND HOUSEHOLD DYNAMICS
Change in Descent
Change in Marriage
Changing Households
THE BIG QUESTIONS REVISITED
Key Concepts
Suggested Readings

7
SOCIAL GROUPS AND SOCIAL STRATIFICATION
THE BIG QUESTIONS
SOCIAL GROUPS
Friendship
• EVERYDAY ANTHROPOLOGY Making Friends
Clubs and Fraternities
Countercultural Groups
Cooperatives
SOCIAL STRATIFICATION
Achieved Status: Class
Ascribed Status: "Race," Ethnicity, Gender, and Caste
CULTURAMA: The Roma of Eastern Europe
CIVIL SOCIETY
Civil Society for the State: The Chinese Women's Movement
Activist Groups: CO-MADRES
New Social Movements and the New Social Media
THE BIG QUESTIONS REVISITED
Key Concepts
Suggested Readings

8
POLITICAL AND LEGAL SYSTEMS
THE BIG QUESTIONS
POLITICS, POLITICAL ORGANIZATION, AND LEADERSHIP
Bands
Tribes
Chiefdoms
States
SOCIAL ORDER AND SOCIAL CONFLICT
Norms and Laws
Systems of Social Control
Social Conflict and Violence
• CRITICAL THINKING Yanomami: The "Fierce People"?
ANTHROPOLOGY WORKS Anthropology and Community Activism in Papua New Guinea
CHANGE IN POLITICAL AND LEGAL SYSTEMS
Emerging Nations and Transnational Nations
CULTURAMA The Kurds of the Middle East
Democratization
The United Nations and International Peacekeeping
THE BIG QUESTIONS REVISITED
Key Concepts
Suggested Readings

PART IV
SYMBOLIC SYSTEMS 187

9
COMMUNICATION
THE BIG QUESTIONS
THE VARIETIES OF HUMAN COMMUNICATION
Language and Verbal Communication
ANTHROPOLOGY WORKS Narrating Troubles
Nonverbal Language and Embodied Communication
Communicating with Media and Information Technology
LANGUAGE, DIVERSITY, AND INEQUALITY
Language and Culture: Two Theories
Critical Discourse Analysis: Gender and "Race"
LANGUAGE CHANGE
The Origins and History of Language
Historical Linguistics
Writing Systems
Colonialism, Nationalism, and Globalization
CULTURAMA The Saami of Sápmi, or Lapland
Endangered Languages and Language Revitalization
• CRITICAL THINKING Should Dying Languages Be Revived?
THE BIG QUESTIONS REVISITED
Key Concepts
Suggested Readings

10
RELIGION
THE BIG QUESTIONS
RELIGION IN COMPARATIVE PERSPECTIVE
What Is Religion?
Varieties of Religious Beliefs
• EYE ON THE ENVIRONMENT Eagle Protection, National Parks, and the Preservation of Hopi Culture
ANTHROPOLOGY WORKS Aboriginal Women's Culture and Sacred Site Protection
Ritual Practices
Religious Specialists
WORLD RELIGIONS AND LOCAL VARIATIONS
Hinduism
Buddhism
Judaism
Christianity
Islam
CULTURAMA Hui Muslims of Xi'an, China
African Religions
DIRECTIONS OF RELIGIOUS CHANGE
Revitalization Movements
Contested Sacred Sites
Religious Freedom as a Human Right
THE BIG QUESTIONS REVISITED
Key Concepts
Suggested Readings

11
EXPRESSIVE CULTURE
THE BIG QUESTIONS
ART AND CULTURE
What Is Art?
• CRITICAL THINKING Probing the Categories of Art
Studying Art in Society
Performance Arts
Architecture and Decorative Arts
PLAY, LEISURE, AND CULTURE
Games and Sports as a Cultural Microcosm
Leisure Travel
CULTURAMA The Gullah of South Carolina
CHANGE IN EXPRESSIVE CULTURE
Colonialism and Syncretism
Tourism's Complex Effects
• ANTHROPOLOGY WORKS A Strategy on Cultural Heritage for the World Bank
THE BIG QUESTIONS REVISITED
Key Concepts
Suggested Readings

PART V
CONTEMPORARY CULTURAL CHANGE

12
PEOPLE ON THE MOVE
THE BIG QUESTIONS
CATEGORIES OF MIGRATION
Categories Based on Spatial Boundaries
• CRITICAL THINKING Haitian Cane Cutters in the Dominican Republic: A Case of Structure or Human Agency?
Categories Based on Reason for Moving
CULTURAMA The Maya of Guatemala
THE NEW IMMIGRANTS TO THE UNITED STATES AND CANADA
The New Immigrants from Latin America and the Caribbean
The New Immigrants from Asia
The New Immigrants from the Former Soviet Union
• LESSONS APPLIED Studying African Pastoralists' Movements for Risk Assessment and Service Delivery
MIGRATION POLITICS, POLICIES, AND PROGRAMS IN A GLOBALIZING WORLD
Protecting Migrants' Health
ANTHROPOLOGY WORKS Mapping African Pastoralists' Movements for Risk Assessment and Service Delivery
Inclusion and Exclusion
Migration and Human Rights
THE BIG QUESTIONS REVISITED
Key Concepts
Suggested Readings

13
PEOPLE DEFINING DEVELOPMENT
THE BIG QUESTIONS
DEFINING DEVELOPMENT AND APPROACHES TO IT
Two Processes of Cultural Change
ANTHROPOLOGY WORKS The Saami, Snowmobiles, and Social Impact Analysis
Theories and Models of Development
Institutional Approaches to Development
CULTURAMA The Peyizan yo of Haiti
The Development Project
DEVELOPMENT, INDIGENOUS PEOPLE, AND WOMEN
Indigenous People and Development
Women and Development
URGENT ISSUES IN DEVELOPMENT
Life Projects and Human Rights
• EYE ON THE ENVIRONMENT Oil, Environmental Degradation, and Human Rights in the Nigerian Delta
Cultural Heritage and Development: Linking the Past and Present to the Future
Cultural Anthropology and the Future
THE BIG QUESTIONS REVISITED
Key Concepts
Suggested Readings

PHOTO CREDITS

GLOSSARY

REFERENCES

INDEX