Note: Supplemental materials are not guaranteed with Rental or Used book purchases.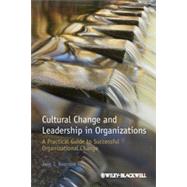 Cultural Change and Leadership in Organizations : A Practical Guide to Successful Organizational Change
ISBN13:
9781118469293
by
Boonstra, Jaap J.
Questions About This Book?
What version or edition is this?
This is the 1st edition with a publication date of 2/18/2013.
What is included with this book?
The New copy of this book will include any supplemental materials advertised. Please check the title of the book to determine if it should include any CDs, lab manuals, study guides, etc.
The eBook copy of this book is not guaranteed to include any supplemental materials. Typically only the book itself is included.
Summary
Cultural Change and Leadership in Organizations discusses ways in which organizations are able to implement successful strategic change; inspirational and conceptual material is combined with practical examples and concrete interventions for planning and implementing cultural change within organizations. Cultural Change and Leadership in Organizations is targeted toward professionals, including organizational psychologists, consultants, senior managers, and human resources professionals, as well as advanced-level business school courses.
Author Biography
Jaap Boonstra is Professor of Organization Dynamics at Esade Business School in Barcelona and Professor of Organizational Change and Learning at the University of Amsterdam. He is involved in strategic change processes of international companies like KLM, Bayer, Ahold and Arcadis. In addition he is a non-executive board member of several organizations including the International Choreographic Arts Centre and the Dutch Immigration Services. He is the co-author of Intervening and Changing: Looking for Meaning in Interactions (with Léon de Caluwé, Wiley, 2004) and author of Dynamics of Organizational Change and Learning (Wiley, 2007).
Table of Contents
About the Author xiv
Preface xv
Introduction 1
Part 1 Cultural Change in Organizations 9
Introduction 11
Essence of this part 11
Structure of this part 12
1 Perspectives on Organizational Cultures 13
Developments in Thinking about Organizational Cultures 13
Culture as the Identity of the Organization 20
Culture as a Source of Conflict and Renewal 24
Culture as a Learning Process 27
Culture and Customer Value Creation 30
Culture and Business Idea 33
Notes and References 35
2 Reasons for Strategic and Cultural Change 37
Surviving Crisis Situations 37
Strengthening Legitimate Position 38
International Expansion 40
Qualifying for the Future 41
Reinventing Business Propositions 42
Appreciating and Valuing Variety 44
Breakthrough Innovation 45
Maximizing Customer Value 46
Reasons for Cultural Change: An Overview 47
Notes and References 51
3 Conclusions of Cultural Change in Organizations 52
Do not Dare to Call it Cultural Change 52
Knowing your Meaning and Business Idea 52
Playing with Urgency and Ambition 53
Innovation and Expansion as Impulses for Strategic Renewal 54
Deep Change 54
Reinventing Business Propositions 55
Balancing Between Identity and Innovation 55
Change Starts with Standstill 55
Discussing the Undiscussable and Playing with Differences 56
Trajectories for Cultural Change in Organizations 56
Part 2 Strategies for Cultural Change 57
Introduction 59
Essence of this part 59
Structure of this part 60
4 Generating energy for change 61
Using crisis as a driver of change 61
Creating a sense of urgency 64
Articulating problems 66
Expressing humiliation and shame 68
Note and Reference 69
5 Envisioning 70
Building Common Ground 70
Clarifying Ambitions 73
Articulating Mission Statements 74
Expressing Levels of Change 76
Note and Reference 78
6 Creating Commitment 79
Being There 79
Bridging Gaps and Distances 81
Building Leading Coalitions 83
Organizing Involvement 85
7 Focusing on Clients 87
Realizing Customer Value 87
Redesigning Business Processes 88
Achieving Horizontal Synergy 90
Note and Reference 92
8 Combining Upwards and Downwards Initiatives 93
Generating Creativity for Renewal 93
Using Power to Force Change 95
Changing Players and Roles 97
9 Playing with Time, Space and Rhythm 99
Playing with Time and Rhythm 99
Reflecting and Learning 101
Creating Peace and Quiet 104
Offering Guidance and Space 105
Notes and References 107
10 Conclusions on Strategies for Cultural Change 108
Basic Principles for Cultural Change 108
No Single Best Way of Changing an Organizational Culture 109
Not Every Change Approach is Effective 109
Step-by-step Change Useful for Cultural Change 113
Building a Vital Coalition 113
Change Based on Own Qualities Without Consultants 114
Notes and References 114
Part 3 Organizational Culture and Leadership 115
Introduction 117
Essence of this Part 117
Structure of this Part 118
11 Authentic Leadership 119
Creating Awareness of the Environment 119
Inquiring and Understanding Streams of Events 121
Crafting Self-Awareness and Social Awareness 123
Walking your Talking 125
Notes and References 127
12 Transformational Leadership 128
Visioning the Future 128
Articulating Core Values 131
Building Vital Coalitions 133
Involving the Outside World 135
Organizing Teamwork 137
Appreciating Contrasting Perspectives 139
Notes and References 140
13 Meaningful Leadership 141
Initiating and Sense-Making 141
Setting Limits and Guiding Change 143
Giving Direction and Space 145
Telling Meaningful Stories 148
Notes and References 150
14 Appreciative Leadership 151
Appreciating the Best There is and Might Be 151
Valuing Differences 154
Building Trust 156
Introducing Fair Process 157
Notes and References 159
15 Learning Leadership 160
Experimenting and Learning 160
Visualizing Results and Sharing Successes 162
Learning from Mistakes 164
Sharing Experiences 166
Notes and References 168
16 Conclusions of Organizational culture and leadership 169
Leaders and Initiators 169
Direction and Space 170
Effective Leadership Styles for Cultural Change 170
Transformational Leadership 171
Meaningful Leadership 172
Authentic Leadership 172
Episodic Cultural Change and Gradual
Cultural Development 172
Notes and References 176
Part 4 Interventions for Cultural Change 177
Introduction 179
Essence of this Part 179
Structure of this Part 180
17 Power Interventions 181
Articulating Urgency 181
Setting Borders 183
Changing Social Networks 185
Appointing New People 186
Rewarding Behaviour 188
Notes and References 189
18 Structural and Instrumental Interventions 190
Intervening in Structure and Technology 191
Designing New Ways of Working 193
Life Cycle Management for Sustainability 194
Supporting Young Turks 196
Providing Risk Capital 198
Changing Reward Systems 199
Developing Monitoring Systems 200
Presenting Facts and Figures 202
Formulating Rules of Conduct 203
Using Behaviour Programmes 205
Notes and References 206
19 Meaningful Interventions 208
Expressing Core Values 209
Visualizing Symbols 210
Fancying Artefacts 211
Imagining Futures 212
Storytelling and Sense-Making 213
Introducing New Language 216
Communication All Round 217
Adopting Cases for Renewal 218
Appreciating Professional Knowledge 220
Notes and References 221
20 Conflict Interventions 223
Valuing Differences 223
Discussing Barriers 225
Mirroring Contradictions and Tensions 226
Regulating Conflicts 228
Mediation by Independent Parties 229
Speaking about the Unspeakable 231
Using Humour that Stimulates Renewal 232
Notes and References 233
21 Interactive Interventions 234
Getting to Know Each Other 235
Paying Attention to Action and Emotion 236
Developing Teams 238
Bridging Cultural Differences 240
Engaging Management in Conferences 242
Initiating Future Conferences 244
Organizing Search Conferences 245
Investing in Formal Participation 248
Supporting Appreciative Inquiry 249
Introducing Appraisal and Assessment 251
Using Monitor Systems 252
Mobilizing Networks 254
Notes and References 255
22 Learning Interventions 257
Creating Learning Environments 257
Investing in Leadership Development 260
Offering Workshops 261
Developing Communities of Practice 263
Activating Learning Circles 264
Initiating Twinning 265
Distributing Learning Experiences 267
Sharing Successes 268
Notes and References 270
23 Conclusions on Interventions for Cultural Change 271
Interactive interventions for Deep Change 271
Meaningful Interventions to Guide Change 272
Structural Interventions to Reinvent Business Processes 272
Learning Interventions for Continuous Change 273
Power and Conflict Interventions to Make Space 273
Combining Interventions 274
Interventions and Change Strategies 274
Effective Intervention Mix 276
Choosing an Effective Intervention Mix 277
Part 5 Successful Cultural Change
in Organizations 279
Introduction 281
Essence of this Part 281
Structure of this Part 282
24 Trajectories for Cultural Change 283
Routes for Cultural Change 283
Surviving Crisis Situations 285
Strengthening Legitimate Position 287
International Expansion 289
Qualifying for the Future 290
Reinventing Business Propositions 292
Appreciating and Valuing Variety 294
Breakthrough Innovation 295
Maximizing Customer Value 297
Inspiration to Change 299
25 E ssentials of Cultural Change and Leadership
in Organizations 300
Don't Dare Call It Culture 300
Principles and Success Factors for Cultural Change
in Organizations 301
Organizational Culture and Leadership 304
Organizing Interactions and Sense-Making 305
Essentials of Cultural Change and Leadership in Organizations 307
Bibliography 309
Index 316