Note: Supplemental materials are not guaranteed with Rental or Used book purchases.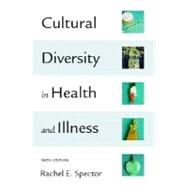 Summary
The sixth edition of this well-respected book continues to promote an awareness of the dimensions and complexities involved in caring for people from diverse cultural backgrounds. Completely revised and updated, it includes the latest information on the health care delivery system in a new organizational format. It examines the differences existing within North America by probing the health care system and consumers, and examples of traditional health beliefs and practices among selected populations. An emphasis on the influences of recent social, political, and demographic changes helps to explore the issues and perceptions of health and illness today. Book jacket.
Table of Contents
I. CULTURAL FOUNDATIONS.
1. Cultural Heritage and History.
2. Diversity: Demographic and Immigration, and Poverty.
3. Health and Illness.

II. HEALTH DOMAINS.
4. Health Traditions.
5. Healing Traditions.
6. Familial Health Traditions.
7. Health-Care Delivery and Issues.

III. HEALTH AND ILLNESS PANORAMAS.
8. Health and Illness in the American Indian and Alaska.
9. Health and Illness in the Asian Population.
10. Health and Illness in the Black Population.
11. Health and Illness in the Hispanic Population.
12. Health and Illness in the White Population.
Epilogue.
Appendix I: Selected Key Terms Related to Cultural Diversity in Health and Illness.
Appendix II: Suggested Course Outline.
Appendix III: Suggested Course Activities.
Appendix IV: Heritage Assessment Tool.
Appendix V: Quick Guide for CulturalCare.
Appendix VI: Data Resources.
Appendix VII: Networks: Selected Health-Related Organizations.
Appendix VIII: Folklife Centers.
Bibliography.
Index.

Excerpts
You don't need a masterpiece to get the idea. -Pablo Picasso In 1977 I wrote the first edition ofCultural Diversity in Health and Illnessand have revised it several times since then; this is the sixth edition. The purpose of each edition has been to increase the reader's awareness of the dimensions and complexities involved in caring for people from diverse cultural backgrounds. I wished to share my personal experiences and thoughts concerning the introduction of cultural concepts into the education of health care professionals. The books represented my answers to the questions: "How does one effectively expose a student to cultural diversity?" "How does one examine health care issues and perceptions from a broad social viewpoint?" As I had done in the classroom, I attempted to bring the reader into direct contact with the interaction between providers of care within the North American health care system and the consumers of health care. The staggering issues of health care delivery are explored and contrasted with the choices that people may make in attempting to deal with health care issues. It is now imperative, according to the most recent policies of the Joint Commission of Hospital Accreditation and the Centers for Medicare & Medicaid Services, that all health care providers be culturally competent. In this context, cultural competence implies that within the delivery of care the health care provider understands and attends to the total context of the patient's situation; it is a complex combination of knowledge, attitudes, and skills. Yet, How do you really inspire people to hear the content? How do you motivate providers to see the worldview and lived experience of the patient? How do you assist providers to really bear witness to the living conditions and life ways of patients? How do you liberate providers from the burdens of prejudice, xenophobia, the "isms"--racism, ethnocentrism--and the "antis"? It can be argued that the development of cultural competency does not occur in a short encounter with cultural diversity; but that it takes time to develop the skills, knowledge, and attitudes to safely and satisfactorily deliver CulturalCare. Features Free Companion Web site at www.prenhall.com/spector with activities, fill-in-the-blanks, multiple choice questions, web links, and more. Online Course Management Systems.Also available are online companions for schools using course management systems. For more information about adopting an online course management system to accompanyCultural Diversity in Health and Illness, Sixth Editionplease contact your Prentice Hall Health Sales Representative www.prenhall.com/mischtm/rep-locator-fr.html or go to the appropriate websites at cms.prenhall.com/webct/index.html or cms.prenhall.com/blackboard/index.html or cms.prenhall.com/coursecompass Health Traditions Imagery.This edition of the book uses symbolic images to create the linkages from chapter to chapter. The HEALTH (HEALTH, when written this way, is defined as the balance of the person, both within one's being-physical, mental, spiritual-and in the outside world-natural, familial and communal, metaphysical) images were selected to awaken you to the richness of a given heritage and the HEALTH/health beliefs, and practices inherent within both modern and traditional cultures. Guidelines for Developing Cultural Competency.A "map" that passes from broad and general dimensions of health and illness to specific images of traditional HEALTH beliefs and practices; at the personal level, the modern health care delivery level, and within traditional dimensions. Three developmental dimensions: Cultural Foundations--an overview of cultural heritag