Note: Supplemental materials are not guaranteed with Rental or Used book purchases.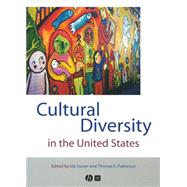 Cultural Diversity in the United States : A Critical Reader
ISBN13:
9780631222132
by
Susser, Ida
;
Patterson, Thomas C.
This title is currently not available.
List Price: $75.95
This ISBN is only available through your Virtual Bookstore. Please visit your school's Virtual Bookstore Website to purchase.
Summary
Cultural Diversity in the United States: A Critical Reader is an unprecedented collection of contemporary writings on the central issues of cultural diversity in the United States by some of anthropology's most notable scholars. Comprised of over 20 newly commissioned chapters and other pieces, and sponsored by the American Anthropological Association, this volume offers a wide range of perspectives from anthropologists as a means of understanding how the discipline can provide critical contexts for the exploration of cultural diversity in the United States. Moreover, the breadth of anthropological inquiry collected here represents a remarkable opportunity for those studying or teaching this vital issue. The contributors to this landmark reader rethink diversity, identity politics, and multiculturalism, and provide tools for the analysis of critical political issues in the United States today. Important areas of discussion include: re-examining U.S. social and political history; establishing a framework for the understanding of inequality; and confronting simplistic images of diversity in an effort to enrich and deepen understanding of difference.
Author Biography
Ida Susser
is Professor of Anthropology at Hunter College and the Graduate Center of the City University of New York, and was the founding President of the Society for the Anthropology of North America. Her books include
AIDS in Africa and the Caribbean
(edited with George Bond, Joan Vincent, and John Kreniske, 1997),
Medical Anthropology and the World System
(co-authored with Merrill Singer and Hans Baer, 1997), and
Norman Street: Poverty and Politics in an Urban Community
(1982).
Thomas C. Patterson is Professor of Anthropology at University of California, Riverside. His books include Change and Development in the Twentieth Century (1999), Inventing Western Civilization (1997), Making Alternative Histories (edited with Peter R. Schmidt, 1995), and Race, Racism, and the History of U.S. Anthropology (edited with Lee Baker, 1994).
Table of Contents
Foreword
ix
Preface
xi
Acknowledgments
xii
Notes on Contributors
xiii
Part I Introduction

| | |
| --- | --- |
| | Cultural Diversity in the United States |

3
(13)

| | |
| --- | --- |
| | Class and Historical Process in the United States |

16
(13)
Part II The Biology of Difference?

| | |
| --- | --- |
| | Biological Diversity and Cultural Diversity: From Race to Radical Bioculturalism |

29
(17)

| | |
| --- | --- |
| | The Peoplings of the Americas: Anglo Stereotypes and Native American Realities |

46
(11)

| | |
| --- | --- |
| | Diversity in the Context of Health and Illness |

57
(19)

| | |
| --- | --- |
| | Health, Disease, and Social Inequality |

76
(27)
Part III Historical Development of Contemporary Diversity
103
(17)

| | |
| --- | --- |
| | Racialized Identities and the Law |

120
(20)

| | |
| --- | --- |
| | Diversity and Archaeology |

140
(15)

| | |
| --- | --- |
| | The Roots of U.S. Inequality |

155
(20)
Part IV Diversity: Where Are We Now?

| | |
| --- | --- |
| | Contemporary Native American Struggles |

175
(15)

| | |
| --- | --- |
| | The Complex Diversity of Language in the United States |

190
(16)

| | |
| --- | --- |
| | Labor Struggles: Gender, Ethnicity, and the New Migration |

206
(23)

| | |
| --- | --- |
| | Poverty and Homelessness in U.S. Cities |

229
(21)

| | |
| --- | --- |
| | Ethnic Enclaves and Cultural Diversity |

250
(17)

| | |
| --- | --- |
| | Perspectives on U.S. Kinship |

267
(14)

| | |
| --- | --- |
| | Ethnicity and Psychocultural Models |

281
(21)

| | |
| --- | --- |
| | Aging in the United States: Diversity as a Late-Life Concern |

302
(20)

| | |
| --- | --- |
| | Sexual Minorities and the New Urban Poverty |

322
(21)
Part V Theorizing Diversity

| | |
| --- | --- |
| | Studying U.S. Cultural Diversity: Some Non-Essentializing Perspectives |

343
(22)

| | |
| --- | --- |
| | Diversity in Anthropological Theory |

365
(26)
Part VI Teaching Diversity

| | |
| --- | --- |
| | Building Bridges and Empowerment: Anthropological Contributions to Diversity and Educational Practices |

391
(14)

| | |
| --- | --- |
| | Teaching Ethnicity and Place in the United States |

405
(9)

| | |
| --- | --- |
| | An Archaeological Approach to Teaching U.S. Cultural Diversity |

414
(20)

| | |
| --- | --- |
| | Against Culturalist Essentialism |

434
(23)
Afterword: Understanding U.S. Diversity - Where Do We Go From Here?
457
(8)
Index
465