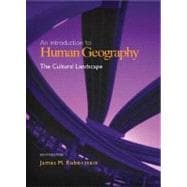 Questions About This Book?
What version or edition is this?
This is the 8th edition with a publication date of 1/1/2008.
What is included with this book?
The Used copy of this book is not guaranteed to include any supplemental materials. Typically, only the book itself is included.
Summary
Trusted for its timeliness and readability, this book introduces geography by emphasizing the relevance of geographic concepts to human problems. Two years after Rubenstein's Update Edition was created to encompass the events of September 11, 2001, this revision also begins the careful process of putting those events into perspective. Provides new "Global Forces and Local Impacts" boxes in each chapter that explore in depth an issue related to chapter material, focusing on particular regions of the world. Includes new material on medical geography, terrorism, mineral resources, sustainable development, conservation, and biodiversity. Presents new information on gender differences in development . Expands material on Ethnicity, relating ethnicity problems to political conflict; also incorporates material previously found elsewhere in the book, such as U.S. urban patterns and South Africa's history of apartheid. For anyone interested in learning more about world geography.
Author Biography
Dr. James M. Rubenstein received his Ph.D. from Johns Hopkins University in 1975. His dissertation on French urban planning was later developed into a book entitled The French New Towns. In 1976 he joined the faculty at Miami University, where he is currently Professor of Geography and Chair of the Department of Geography. Besides teaching courses on Urban and Human Geography and writing textbooks, Dr. Rubenstein also conducts research in the automotive industry and has published two books on the subject
Table of Contents
Thinking Geographically
Population
Migration
Folk and Popular Culture
Language
Religion
Ethnicity
Political Geography
Development
Agriculture
Industry
Services
Urban Patterns
Resource Issues Conclusion
Table of Contents provided by Publisher. All Rights Reserved.
Excerpts
What is geography? Geography is the study of where things are located on Earth's surface and the reasons for the location. The word geography, invented by the ancient Greek scholar Eratosthenes, is based on two Greek words. Geo means "Earth," and graphy means "to write." Geographers ask two simple questions: where and why. Where are people and activities located across Earth's surface? Why are they located in particular places? Geography as a Social Science Recent world events lend a sense of urgency to geographic inquiry. Geography's spatial perspectives help to relate economic change in Africa, the Middle East, and other regions to the distributions of cultural features such as languages and religions, demographic patterns such as population growth and migration, and natural resources such as energy and food supply. Does the world face an overpopulation crisis? Geographers study population problems by comparing the arrangements of human organizations and natural resources across Earth. Given these spatial distributions, geographers conclude that some locations may have more people than can be provided for, whereas other places may be underpopulated. Similarly, geographers examine the prospects for an energy crisis by relating the distributions of energy sources and consumption. Geographers find that the users of energy are located in places with different social, economic, and political institutions than the producers of energy. Geographers seek first to describe the distribution of features such as the production and consumption of energy, and then to explain the relationships between these distributions and other human and physical phenomena. The main purpose of this book is to introduce students to the study of geography as a social science by emphasizing the relevance of geographic concepts to human problems. It is intended for use in college-level introductory human or cultural geography courses. The book is written for students who have not previously taken a college-level geography course and have had little, if any, geography in high school. A central theme in this book is a tension between two important themes--globalization and cultural diversity. In many respects we are living in a more unified world economically, culturally, and environmentally. The actions of a particular corporation or country affect people around the world. This book argues that after a period when globalization of the economy and culture has been a paramount concern in geographic analysis, local diversity now demands equal time. People are taking deliberate steps to retain distinctive cultural identities. They are preserving little used languages, fighting fiercely to protect their religions, and carving out distinctive economic roles. Divisions within Geography Because geography is a broad subject, some specialization is inevitable. At the same time, one of geography's strengths is its diversity of approaches. Rather than being forced to adhere rigorously to established disciplinary laws, geographers can combine a variety of methods and approaches. This tradition stimulates innovative thinking, although students who are looking for a series of ironclad laws to memorize may be disappointed. Human versus Physical Geography.Geography is both a physical and a social science. When geography concentrates on the distribution of physical features, such as climate, soil, and vegetation, it is a natural science. When it studies cultural features, such as language, industries, and cities, geography is a social science. This division is reflected in some colleges, where physical geography courses may carry natural science credit while human and cultural geography courses carry social science credit. While this book is concerned with geography from a social science perspective, one of the distinctive features of geography is its use of natural science concepts to help under