Note: Supplemental materials are not guaranteed with Rental or Used book purchases.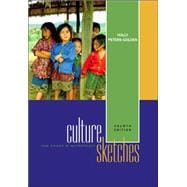 Culture Sketches : Case Studies in Anthropology
ISBN13:
9780072876086
by
Peters-Golden, Holly
McGraw-Hill Humanities/Social Sciences/Languages
Summary
Ideal for any Cultural Anthropology course, this brief and inexpensive collection of ethnographic case studies introduces students to fifteen cultures and exposes them to ethnography without overwhelming them with excessive reading material. Each sketch, or chapter, was selected for its relevance to students and for its ability to reflect the basic concepts found in introductory courses. Each sketch concludes with critical thinking questions that enable students to test their understanding of how and why this mini-ethnography illuminates the anthropological theory presented in their textbook. All sketches follow a logical, consistent organization as they introduce students to major themes such as geography, myth creation, history, sociopolitical systems, and belief systems.
Table of Contents
| | | | |
| --- | --- | --- | --- |
| Preface | | vii | |
| WORLD MAP: Location of Cultures Numbered by Chapter | | xii | |
| CHAPTER 1 The Azande: Witchcraft and Oracles in Africa | | 1 | (16) |
| CHAPTER 2 The Aztecs: Ancient Legacy, Modern Pride | | 17 | (20) |
| CHAPTER 3 The Basseri: Pastoral Nomads on the il-Rah | | 37 | (20) |
| CHAPTER 4 Haiti: A Nation in Turmoil | | 57 | (21) |
| CHAPTER 5 The Hmong: Struggle and Perseverance | | 78 | (19) |
| CHAPTER 6 The Jul'hoansi: Reciprocity and Sharing | | 97 | (20) |
| CHAPTER 7 The Kaluli: Story, Song, and Ceremony | | 117 | (19) |
| CHAPTER 8 The Kapauku: New Guinea "Capitalists"? | | 136 | (16) |
| CHAPTER 9 The Minangkabau: Merantau and Matriliny | | 152 | (16) |
| CHAPTER 10 The Nuer: Cattle and Kinship in Sudan | | 168 | (18) |
| CHAPTER 11 The Ojibwa: "The People" Endure | | 186 | (17) |
| CHAPTER 12 The Samoans: Matai and Migration | | 203 | (19) |
| CHAPTER 13 The Tiwi: Tradition in Australia | | 222 | (16) |
| CHAPTER 14 The Trobriand Islanders: The Power of Exchange | | 238 | (17) |
| CHAPTER 15 The Yanomamo: Challenges in the Rainforest | | 255 | (20) |
| References | | 275 | (7) |
| Index | | 282 | |