Note: Supplemental materials are not guaranteed with Rental or Used book purchases.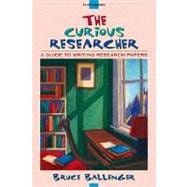 The Curious Researcher: A Guide to Writing Research Papers
ISBN13:
9780205319114
by
Ballenger, Bruce
Questions About This Book?
What version or edition is this?
This is the 3rd edition with a publication date of 6/1/2000.
What is included with this book?
The New copy of this book will include any supplemental materials advertised. Please check the title of the book to determine if it should include any CDs, lab manuals, study guides, etc.
Summary
The Curious Researcher offers a fresh approach to research by reminding students that curiosity is still the best reason for uncovering information and ideas. Perfect for instructors eager for an alternative to the traditional text, this author provides ample proof that the research process, like the writing process, can be full of rewarding discoveries. Using a variety of examples from both professional writers and students, this text shows that good research and lively writing do not have to be mutually exclusive. Students are encouraged to not only develop sound research and analytical skills, but to examine ways to bring their writing to life, even though they are writing with facts. This text is designed to battle procrastination as well. It helps students work week-by-week through the five weeks typically allotted to the research assignment, featuring exercises and assignments that will help students write their papers. Though The Curious Researcher stands apart from similar texts because of its motivational qualities, it also features full explanations of the technical aspects of the research paper. MLA citation conventions are given extensive treatment, and APA standards are also explained in the Appendix.
Table of Contents
Contents by Subject
xv
Preface
xxi
Introduction: Rethinking the Research Paper
1
(1)

| | |
| --- | --- |
| | Collecting Golf Balls on Driving Ranges and Other Reflections |

1
(3)
4
(1)
4
(2)
4
(1)
5
(1)

| | |
| --- | --- |
| | Alternatives to the Five-Week Plan |

5
(1)

| | |
| --- | --- |
| | The Research Paper and the Research Report |

6
(1)
6
(1)
7
(2)
9
(2)

| | |
| --- | --- |
| | Becoming an Authority by Using Authorities |

11
(1)
12
(1)
12
(9)

| | |
| --- | --- |
| | Bringing ``Flies'' to Life |

13
(1)

| | |
| --- | --- |
| | ``Why God Created Flies,'' |

13
(8)
21
(56)

| | |
| --- | --- |
| | The Importance of Getting Curious |

21
(11)
22
(1)
22
(1)

| | |
| --- | --- |
| | Building an Interest Inventory |

23
(4)

| | |
| --- | --- |
| | Other Ways to Find a Topic |

27
(1)
28
(1)

| | |
| --- | --- |
| | Checking Out Your Tentative Topic |

29
(1)

| | |
| --- | --- |
| | Making the Most of an Assigned Topic |

30
(1)

| | |
| --- | --- |
| | The Myth of the Boring Topic |

30
(2)
32
(27)

| | |
| --- | --- |
| | Loving or Loathing the Library |

33
(1)

| | |
| --- | --- |
| | The Basic Plan of the College Library |

34
(1)
35
(1)
35
(1)
36
(1)

| | |
| --- | --- |
| | Navigating the Reference Section |

36
(1)
37
(1)

| | |
| --- | --- |
| | General Encyclopedias: Getting the Lay of the Land |

38
(1)

| | |
| --- | --- |
| | Surveying the Reference Landscape |

39
(1)
40
(6)
46
(1)
46
(1)

| | |
| --- | --- |
| | Finding Magazine and Journal Articles |

46
(2)

| | |
| --- | --- |
| | Indexes to Specialized Periodicals |

48
(5)
53
(1)
54
(2)
56
(3)
59
(18)

| | |
| --- | --- |
| | Three Drawbacks of Internet Research |

59
(1)

| | |
| --- | --- |
| | Three Reasons to Use the Internet for Research |

60
(1)

| | |
| --- | --- |
| | A Cluttered and Colorful Canvas |

61
(1)
62
(1)
62
(3)

| | |
| --- | --- |
| | A Quick Tour of the Internet |

65
(1)

| | |
| --- | --- |
| | Launching a Subject Search |

65
(3)

| | |
| --- | --- |
| | Other Subject Search Sites |

68
(1)

| | |
| --- | --- |
| | Launching a Keyword Search |

68
(1)

| | |
| --- | --- |
| | Query, Query, Quite Contrary |

69
(6)

| | |
| --- | --- |
| | Considering Other Nonlibrary Sources: Interviews and Surveys |

75
(2)
77
(42)
77
(8)
77
(1)

| | |
| --- | --- |
| | From Landscape Shots to Close-Ups |

78
(1)
79
(1)

| | |
| --- | --- |
| | Finding the Focusing Question |

80
(1)
81
(2)
83
(1)
83
(1)
84
(1)

| | |
| --- | --- |
| | Developing a Research Strategy |

85
(33)

| | |
| --- | --- |
| | The Internet Itch: Should You Scratch It First? |

85
(1)

| | |
| --- | --- |
| | Library Research Strategy |

85
(1)

| | |
| --- | --- |
| | Moving from General to Specific |

86
(2)

| | |
| --- | --- |
| | Evaluating Library Sources |

88
(1)

| | |
| --- | --- |
| | Why Journal Articles Are Better than Magazine Articles |

88
(1)

| | |
| --- | --- |
| | Look for Often-Cited Authors |

88
(1)

| | |
| --- | --- |
| | Primary over Secondary Sources |

89
(1)
89
(1)

| | |
| --- | --- |
| | Internet Research Strategy |

90
(1)

| | |
| --- | --- |
| | Evaluating Online Sources |

90
(3)

| | |
| --- | --- |
| | Key to Evaluating Internet Sources |

93
(2)

| | |
| --- | --- |
| | Other Ways to Avoid Disinformation on the Internet |

95
(1)

| | |
| --- | --- |
| | Net-Casting: Evaluating the Catch |

96
(1)
97
(6)
103
(1)

| | |
| --- | --- |
| | Finding Nonexperts Affected by Your Topic |

104
(1)
105
(1)
106
(1)

| | |
| --- | --- |
| | Finding People on the Internet |

106
(1)
107
(1)

| | |
| --- | --- |
| | Finding People on Listservs and Newsgroups |

107
(1)
108
(2)
110
(1)

| | |
| --- | --- |
| | Finding a Group on Your Topic |

110
(2)

| | |
| --- | --- |
| | Planning Informal Surveys |

112
(1)

| | |
| --- | --- |
| | Defining Goals and Audience |

112
(1)
113
(2)
115
(1)
115
(1)
115
(1)

| | |
| --- | --- |
| | Drawbacks of Open-Ended Questions |

115
(1)

| | |
| --- | --- |
| | Designing Your Multiple-Choice Questions |

116
(1)
116
(1)

| | |
| --- | --- |
| | Planning for Distribution |

117
(1)
117
(1)

| | |
| --- | --- |
| | Looking Back before Moving On |

118
(1)
119
(48)
119
(19)

| | |
| --- | --- |
| | Becoming an Activist Notetaker |

120
(2)

| | |
| --- | --- |
| | Getting a Word in Edgewise |

122
(2)
124
(1)
124
(2)

| | |
| --- | --- |
| | Tactics for Avoiding Plagiarism |

126
(1)
127
(1)

| | |
| --- | --- |
| | Sources Are from Mars, Notetakers Are from Venus |

127
(1)
128
(1)
128
(2)
130
(1)
130
(2)
132
(1)
132
(1)

| | |
| --- | --- |
| | ``How the Web Destroys the Quality of Students' Research Papers,'' |

133
(3)

| | |
| --- | --- |
| | A Loop, an Inverted Pyramid, and a Diamond: Three Ways to Use a Source |

136
(2)
138
(9)
139
(8)

| | |
| --- | --- |
| | Digging Deeper for Information: Advanced Searching Techniques |

147
(19)
148
(1)
149
(1)

| | |
| --- | --- |
| | Specialized Indexes to Journals |

150
(3)

| | |
| --- | --- |
| | Specialized Dictionaries and Encyclopedias |

153
(1)
153
(1)

| | |
| --- | --- |
| | Searching the Invisible Web |

153
(1)
154
(1)
155
(1)
155
(1)

| | |
| --- | --- |
| | Bibliographies in Books and Articles |

156
(1)

| | |
| --- | --- |
| | Unpublished Scholarly Papers |

157
(1)

| | |
| --- | --- |
| | Essays and Articles Buried in Books |

158
(1)

| | |
| --- | --- |
| | Expanding the Site of the Search |

158
(1)
158
(1)
159
(1)
160
(1)
160
(1)
160
(1)
160
(1)
160
(1)
161
(1)
162
(1)
162
(1)
162
(1)
163
(1)
163
(1)
164
(1)
165
(1)
165
(1)
165
(1)

| | |
| --- | --- |
| | Looking Back before Moving On |

166
(1)
167
(40)
167
(36)

| | |
| --- | --- |
| | When the Experts Disagree |

168
(1)

| | |
| --- | --- |
| | Evaluating Conflicting Claims |

169
(1)

| | |
| --- | --- |
| | Pointed or Pointless: How Do You Decide What's True? |

169
(1)
170
(6)

| | |
| --- | --- |
| | Deciding Whether to Say I |

176
(1)

| | |
| --- | --- |
| | Getting Personal without Being Personal |

176
(1)

| | |
| --- | --- |
| | Presence in the Research Essay |

177
(1)

| | |
| --- | --- |
| | Beginning at the Beginning |

178
(1)

| | |
| --- | --- |
| | Flashlights or Floodlights? |

178
(2)
180
(2)
182
(1)
182
(2)

| | |
| --- | --- |
| | Considering Purpose, Audience, Subject, and Who You Are |

184
(1)

| | |
| --- | --- |
| | The Differing Voices of Research |

185
(1)

| | |
| --- | --- |
| | Writing for Reader Interest |

186
(1)

| | |
| --- | --- |
| | Working the Common Ground |

187
(1)

| | |
| --- | --- |
| | Topics in Which Common Ground Is Hard to Find |

188
(1)

| | |
| --- | --- |
| | Putting People on the Page |

189
(1)
189
(1)
190
(1)
190
(1)
191
(2)
193
(1)

| | |
| --- | --- |
| | Considering Methods of Development |

193
(1)
194
(1)
195
(1)

| | |
| --- | --- |
| | Cause-to-Effect or Effect-to-Cause |

195
(1)
195
(1)

| | |
| --- | --- |
| | Known-to-Unknown or Unknown-to-Known |

196
(1)
196
(1)

| | |
| --- | --- |
| | General-to-Specific or Specific-to-General |

196
(1)
197
(1)
197
(1)
197
(1)

| | |
| --- | --- |
| | Blending Kinds of Writing and Sources |

198
(1)
199
(2)

| | |
| --- | --- |
| | Handling Interview Material |

201
(1)
202
(1)
203
(4)

| | |
| --- | --- |
| | An Alternative to Colliding Footnotes |

203
(1)

| | |
| --- | --- |
| | I Hate These Theses to Pieces |

204
(1)

| | |
| --- | --- |
| | Driving through the First Draft |

205
(1)

| | |
| --- | --- |
| | A Draft Is Something the Wind Blows Through |

205
(2)
207
(28)
207
(8)

| | |
| --- | --- |
| | The Thesis as a Tool for Revision |

208
(1)
209
(2)
211
(1)

| | |
| --- | --- |
| | What You Need from a Reader |

211
(1)

| | |
| --- | --- |
| | Directing the Reader's Response |

211
(1)
212
(1)
213
(1)
214
(1)
215
(3)
216
(2)
218
(9)
218
(1)
219
(1)
219
(1)

| | |
| --- | --- |
| | How Well Do You Integrate Sources? |

219
(2)

| | |
| --- | --- |
| | Is Each Paragraph Unified? |

221
(1)
221
(1)
221
(3)
224
(1)
224
(1)
225
(1)
226
(1)

| | |
| --- | --- |
| | Preparing the Final Manuscript |

227
(7)

| | |
| --- | --- |
| | Considering ``Reader-Friendly'' Design |

227
(1)

| | |
| --- | --- |
| | Following MLA Conventions |

228
(1)
228
(1)

| | |
| --- | --- |
| | Proofreading on a Computer |

228
(1)
229
(1)
229
(1)
230
(2)

| | |
| --- | --- |
| | Using the ``Search'' Function |

232
(1)
233
(1)

| | |
| --- | --- |
| | Looking Back and Moving On |

234
(1)
Appendix A Guide to MLA Style
235
(54)

| | |
| --- | --- |
| | Part One: Citing Sources in Your Essay |

235
(9)
235
(1)

| | |
| --- | --- |
| | The Common Knowledge Exception |

236
(1)

| | |
| --- | --- |
| | The MLA Author/Page System |

236
(1)

| | |
| --- | --- |
| | The Basics of Using Parenthetical Citation |

236
(2)
238
(1)

| | |
| --- | --- |
| | How to Cite When There Is No Author |

239
(1)

| | |
| --- | --- |
| | How to Cite Different Works by the Same Author |

240
(1)

| | |
| --- | --- |
| | How to Cite Indirect Sources |

241
(1)

| | |
| --- | --- |
| | How to Cite Personal Interviews |

241
(1)

| | |
| --- | --- |
| | Sample Parenthetical References for Other Sources |

242
(2)

| | |
| --- | --- |
| | Part Two: How the Essay Should Look |

244
(3)
244
(1)
244
(1)
244
(1)
245
(1)

| | |
| --- | --- |
| | Placement of Tables, Charts, and Illustrations |

245
(1)
245
(1)
246
(1)

| | |
| --- | --- |
| | Part Three: Preparing the ``Works Cited'' Page |

247
(23)
247
(1)
247
(1)
248
(1)
249
(1)
249
(1)
249
(1)

| | |
| --- | --- |
| | Publication Place, Publisher, and Date |

249
(1)
250
(1)
250
(4)
254
(1)
255
(1)
255
(1)
255
(1)
255
(1)
255
(1)
256
(1)

| | |
| --- | --- |
| | Sample Periodical Citations |

256
(2)

| | |
| --- | --- |
| | Citing Nonprint and Other Sources |

258
(3)

| | |
| --- | --- |
| | Citing CD-ROMs, Diskettes, and Magnetic Tapes |

261
(2)
263
(1)

| | |
| --- | --- |
| | Other Recent Changes by the MLA |

264
(1)
264
(1)

| | |
| --- | --- |
| | Address Mistakes Are Fatal |

265
(1)
266
(4)

| | |
| --- | --- |
| | Part Four: A Sample Paper in MLA Style |

270
(19)
Appendix B Guide to APA Style
289
(34)

| | |
| --- | --- |
| | Part One: How the Essay Should Look |

290
(2)
290
(1)
290
(1)
290
(1)
290
(1)
291
(1)
291
(1)
291
(1)
292
(1)

| | |
| --- | --- |
| | Part Two: Citing Sources in Your Essay |

292
(3)

| | |
| --- | --- |
| | Part Three: Preparing the ``References'' List |

295
(11)
296
(1)
296
(1)
296
(1)

| | |
| --- | --- |
| | Periodical Title and Publication Information |

296
(1)
297
(9)

| | |
| --- | --- |
| | Part Four: A Sample Paper in APA Style |

306
(17)
Appendix C Tips for Researching and Writing Papers on Literary Topics
323
(26)
323
(1)
324
(3)
325
(1)
325
(1)
325
(1)
326
(1)

| | |
| --- | --- |
| | Researching the Genre or Tradition |

326
(1)

| | |
| --- | --- |
| | Sample Essay: Personal Response |

327
(12)

| | |
| --- | --- |
| | ``I Can Relate to It'' Is Only a Start |

328
(11)

| | |
| --- | --- |
| | Sample Research Essay on a Literary Topic |

339
(10)
Index
349