Note: Supplemental materials are not guaranteed with Rental or Used book purchases.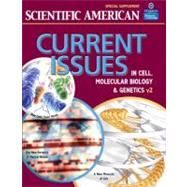 Current Issues in Genetics and Cell Biology Volume 2
ISBN13:
9780321633989
by
Scientific American
Summary
Give your students the best of both worldsthe most current, interesting applications in cell biology, genetics, and molecular biology paired with the authority, reliability, and clarity of Benjamin Cummings' texts. This exclusive special supplement from Scientific American is available at no additional cost when packaged with select Benjamin Cummings titles. Each article was carefully chosen to match the level of your course, and to capture some of the most exciting developments in biology today.
Table of Contents
Articles:
- A New Molecule of Life? - Peptide nucleic acid, a synthetic hybrid of protein and DNA, could form the basis of a new class of drugs--and of artificial life unlike anything found in nature.
- The Power of Riboswitches - Discovering relics from a lost world run by RNA molecules may lead to modern tools for fighting diseases.
- The New Genetics of Mental Illness - Life's experiences add molecular switches to the genes that control our brain activity, affecting how susceptible we are to depression, anxiety and drug addiction.
- The Search for Intelligence - IQ is easy to measure and reflects something real. But scientists hunting among our genes for the factors that shape intellignence are discovering they are more elusive than expected.
- Your Cells are My Cells - Many, perhaps all, people harbor a small number of cells from genetically different individuals--from their mothers and, for women who have been pregnant, from their children. What in the world do these foreigners do in the body?
- How Cells Clean House - Worn-out proteins, malfunctioning organelles, invading microorganisms: all are swept up by tiny internal "vacuum cleaners" that keep a living cell healthy. If the process, call autophagy, can be kept in good working order, aging itself might be delayed.