Note: Supplemental materials are not guaranteed with Rental or Used book purchases.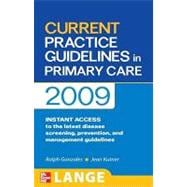 CURRENT PRACTICE GUIDELINES in PRIMARY CARE 2009
ISBN13:
9780071601337
by
GONZALES
Summary
Today's Best Practice In Your Pocket .This handy, pocket-sized guide draws information from many sources and presents them in an easy-to-use, comprehensive package for use by any primary care clinician. It offers quick-access to the latest guidelines for the most appropriate preventive services, screening methods, and treatment approaches commonly encountered in the outpatient setting. ..Features:.. Updated annually. Screening, prevention, and treatment guidelines for more than 60 common outpatient conditions. Content drawn from the most reliable sources: government agencies, medical and scientific organizations, and expert panels. Easy-to-follow guideline-based algorithms speed clinical decision-making. Immunization schedule for children. Website addresses for U.S. government agencies and professional organizations ..NEW TO THIS EDITION: . Major updates to disease management guidelines. More international guidelines. Appendix of Guidelines in Perspective identifying areas of discordance and where new directions are emerging .
Author Biography
Ralph Gonzales, MD, MSPH
.Professor of Medicine
.Division of General Internal Medicine
.University of California, San Francisco,.San Francisco, CA
..
Jean S. Kutner, MD, MSPH
.Associate Professor of Medicine And Division Head
.Division of General Internal Medicine
.University of Colorado Denver School of Medicine
.Denver, CO
...
Table of Contents
A Report Card on U.S. Health Care Delivery
Preface
Abbreviations List
1. Disease Screening
Abdominal Aortic Aneurysm
Alcohol Abuse & Dependence
Anemia
Attention-Getting/Hyperactivity Disorder
Cancer
Carotid Artery Stenosis
Chlamydial Infection
Cholesterol & Lipid Disorders
Coronary Artery Disease
Dementia
Depression
Developmental Dysplasia of the Hip
Diabetes Mellitus
Falls in the Elderly
Family Violence & Abuse
Gonorrhea, Asymptomatic Infection
Hearing Impairment
Hemochromatosis
Hepatitis B Virus
Hepatitis C Virus
Herpes Simplex, Genital
Human Immunodeficiency Virus
Hypertension
Kidney Disease, Chronic
Lead Poisoning
Obesity
Osteoporosis
Speech & Language Delay
Syphilis
Thyroid Disease
Tobacco Use
Tuberculosis, Latent
Visual Impairment, Glaucoma, or Cataract
Disease Prevention
Primary Prevention of Cancer: NCI Evidence Summary
Diabetes, Type 2
Endocarditis
Falls in the Elderly
Hypertension
Myocardial Infarction
Osteoporotic Hip Fracture
Stroke
Disease Management
Alcohol Dependence
Asthma
Atrial Fibrulation
Cancer Survivorship
Carotid Artery Stenosis
Cataract in Adults
Cholesterol & Lipid Management
COPD Management
Coronary Artery Disease
Depression
Diabetes Mellitus
Heart Failure
Hypertension
Metabolic Syndrome
Obesity Management
Osteoporosis Management
Palliative & End-of-Life Care
Pap Smear Abnormalities
Perioperative Cardiovascular Evaluation
Perioperative Pulmonary Assessment
Pneumonia, Community-Acquired
Pregnancy
Tobacco Cessation
Upper Respiratory Tract Infection
Urinary Tract Infections in Women
Appendices
Appendix I: Screening Instruments
Appendix II: Functional Assessment Screening in the Elderly
Appendix III: Screening and Prevention Guidelines in Perspective
Appendix IV: 95th Percentile of Blood Pressure
Appendix V: Body Mass Index Conversion Table
Appendix VI: Cardiac Risk--Framingham Study
Appendix VII: Estimate of 10-Year Stroke Risk
Appendix VIII: Immunization Schedules
Appendix IX: Professional Societies & Governmental Agencies Acronyms & Internet Sites
Index