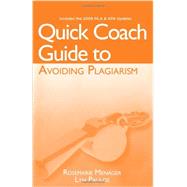 List Price: $10.33
Instant Online Access
180 day digital rental
Summary
The QUICK COACH GUIDE TO AVOIDING PLAGIARISM WITH 2009 MLA AND APA UPDATE gives students the necessary knowledge and tools to be able to confidently author their own work without making citation errors or committing plagiarism. Chapters cover the basics of recognizing plagiarism; taking notes; summarizing, quoting, and paraphrasing source material; and documenting sources in the latest MLA and APA styles. Knowledge Checks in each chapter and a Practice Quiz allow students to test their understanding of the concepts presented.
Table of Contents
Preface
p. v
Introduction
p. 1
In this Guide
p. 1
Why this Guide is Important
p. 1
Defining Plagiarism
p. 2
Understanding When to Give Credit
p. 3
Knowing the Rules
p. 4
Knowledge Check
p. 5
Avoiding Plagiarism
p. 6
Doing Your Own Work, Using Your Own Words
p. 6
Allowing Enough Time
p. 7
Keeping Track of Sources
p. 8
Taking Notes
p. 8
Clarifying Who is Speaking
p. 9
Crediting the Source
p. 9
Citing Sources Correctly
p. 10
Quoting
p. 11
Paraphrasing
p. 12
Avoiding Patchwriting
p. 12
Summarizing
p. 13
Avoiding Using Other Students' Papers and Paper Mills
p. 13
Knowledge Check
p. 14
Quotations and Parenthetical Citations
p. 15
Understanding Citations
p. 15
Using Parenthetical Citations
p. 17
Using Direct Quotations
p. 19
Using Indirect Quotations
p. 20
Using Ellipses and Brackets
p. 21
Using Block Quotations
p. 21
Knowledge Check
p. 22
Paraphrasing
p. 23
Defining a Paraphrase
p. 23
Giving Credit to the Source
p. 24
Sample Paraphrases
p. 25
Citing Paraphrases
p. 29
Knowledge Check
p. 30
Summarizing
p. 31
Defining a Summary
p. 31
Sample Summary
p. 32
Knowledge Check
p. 34
References and Works Cited Lists
p. 35
Citation Content
p. 35
Basic Format
p. 36
MLA Citations
p. 36
APA Citations
p. 39
MLA and APA Citations for Web Publications
p. 41
Types of Reference Lists
p. 43
Knowledge Check
p. 44
Practice Quiz
p. 45
Additional Sources of Information
p. 49
Citation Style Overviews
p. 49
Documentation Styles by Discipline
p. 49
Free Citation Generators
p. 50
Reference Tracking
p. 50
Plagiarism
p. 50
Style Guides
p. 51
Works Cited
p. 53
Answers to Exercises
p. 54
Table of Contents provided by Ingram. All Rights Reserved.