Note: Supplemental materials are not guaranteed with Rental or Used book purchases.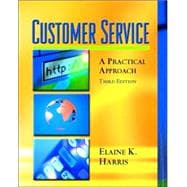 Related Products
Summary
For undergraduate courses in Customer Service, Training and Development, and Service Marketing; also as a supplement for a course in Marketing Principles. Tackling important issues facing customer service providers and customer service managers today, this straightforward, easy-to-read text provides students with: (1) a thorough understanding of the customer service industry, (2) a working knowledge of current trends and the ability to interpret those trends, and (3) the fundamental abilities and strategies that lead to the successful implementation of customer service. A #1 training and reference resource for numerous companies, the text's unique approach unfolds the dynamics of the customer service industry while providing exercises to develop the fundamental skills necessary to compete in it. It places a special emphasis on self-assessment and the mastery of the skills that together provide tangible evidence of individual and corporate productivity.
Table of Contents
1. What Is Customer Service?
2. The Challenges of Customer Service.
3. Problem Solving.
4. Strategy and Formulating a Plan for Success.
5. Empowerment.
6. Communications in Customer Service.
7. Coping with Challenging Customers.
8. Motivation.
9. Leadership in Customer Service.
10. Customer Retention and Measurement of Satisfaction.
11. Delivering Customer Service to the Changing Marketplace.
12. Excellence in Customer Service.
Glossary.
Sources of Other Information.
Index.

Excerpts
Customer service is an integral part of doing business today. Customer service providers must have adequate preparation to interact effectively with today's customers. This preparation does not happen magically. It is the result of a commitment to increased understanding of the customer service industry, knowledge of current trends, ability to interpret those trends, and development of the fundamental skills necessary to achieve excellence. A new generation of customer service providers is emerging. This new generation is excited about what they can offer their customers and how they can help their organizations accomplish goals. They eagerly accept the challenge of expanding their understanding of the business world. These customer service providers are well educated, open to new ideas, adaptable, and motivated; in addition, they possess superior communication skills and have an enlightened understanding of the multicultural marketplace in which business is conducted. Technology is an opportunity for greater efficiency and a tool to more effectively meet the ever-changing needs of customers. The desire for additional knowledge reflects a commitment to personal and professional growth. Customer Service: A Practical Approachwas created in response to the need for increased customer service and for qualified customer service professionals. Those with a desire to develop an increased knowledge of key concepts in customer service will benefit from the organized and concise layout.Customer Serviceis unique because it allows the reader to examine the dynamics of the customer service industry while also providing exercises to develop the skills necessary to compete. It transcends superficial elements and focuses on the skills and strategies that lead to successful implementation of customer service. Customer Service: A Practical Approachtackles the important issues facing customer service providers and customer service managers today. Individual success is contingent on how effectively fundamental skills are mastered and carried out. In addition to important content, special emphasis is placed on self-assessment and the mastery of those skills and abilities that are missing from the average employee's resume. Today's workforce must continue to improve upon the skills that provide tangible evidence of individual and corporate productivity. Chapter 1 answers the question, "What is customer service?" The concept of satisfaction is explained and the reasons why excellent customer service is so rare are explored. Every customer has needs on which they place a great deal of importance. Providers must have the ability to assess customer needs and begin the process of need satisfaction. In Chapter 2 the barriers to customer service are explained. Some of the most obvious barriers to the provision of excellent customer service are within the control of the customer service provider. How do businesses begin to understand the expectations and perceptions that their customers bring into a customer/ provider relationship?Reputation managementdescribes the attempt to identify how a company is perceived and establishes an action plan to follow to maintain or enhance the reputation of the business. Customer service is such a common topic of discussion; it is shocking how little focused attention is directed at the actual accomplishment of customer satisfaction. Credibility is crucial as we interact with our internal and external customers, but conveying credibility is not always easy. By following basic tips for conveying credibility, customer service providers can actively express believability and professionalism. Creative problem solving skills assist those interacting with customers to determine appropriate solutions to challenges. The role of problem solving in customer service is explored in Chapter 3.The solution of problems is not an impossible goal if those facing the