Note: Supplemental materials are not guaranteed with Rental or Used book purchases.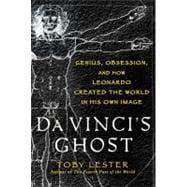 Da Vinci's Ghost : Genius, Obsession, and How Leonardo Created the World in His Own Image
ISBN13:
9781439189238
by
Lester, Toby
Summary
Toby Lesterthe award-winning author of The Fourth Part of the World, celebrated by Simon Winchester as ;a rare and masterly talent ;takes on one of the great untold stories in the history of ideas: the genesis of Leonardo da Vinci's Vitruvian Man.Everybody knows the picture: a man, meticulously rendered by Leonardo da Vinci, standing with arms and legs outstretched in a circle and a square. Deployed today to celebrate subjects as various as the grandeur of art, the beauty of the human form, and the universality of the human spirit, the drawing turns up just about everywhere: in books, on coffee cups, on corporate logos, even on spacecraft. It has, in short, become the world's most famous cultural iconand yet almost nobody knows about the epic intellectual journeys that led to its creation. In this modest drawing that would one day paper the world, da Vinci attempted nothing less than to calibrate the harmonies of the universe and understand the central role man played in the cosmos. Journalist and storyteller Toby Lester brings Vitruvian Man to life, resurrecting the ghost of an unknown Leonardo. Populated by a colorful cast of characters, including Brunelleschi of the famous Dome, Da Vinci's Ghost opens up a surprising window onto the artist and philosopher himself and the tumultuous intellectual and cultural transformations he bridged. With sparkling prose and a rich variety of original illustrations, Lester captures the brief but momentous time in the history of western thought when the Middle Ages gave way to the Renaissance, art and science and philosophy converged as one, and all seemed to hold out the promise that a single human mind, if properly harnessed, could grasp the nature of everything.
Author Biography
Toby Lester is a contributing editor to and has written extensively for The Atlantic. A former Peace Corps volunteer and United Nations observer, he lives in the Boston area with his wife and three daughters. His previous book, The Fourth Part of the World (2009), about the map that gave America its name, was a finalist for the Barnes & Noble Discover New Writers Award and was picked as a Book of the Year by several other publications. His work has also appeared on the radio program This American Life.
Table of Contents
Preface
p. ix
Prologue: 1490
p. 1
Body of Empire
p. 13
Microcosm
p. 42
Master Leonardo
p. 63
Milan
p. 92
The Artist-Engineer
p. 108
Master Builders
p. 126
Body and Soul
p. 159
Portrait of the Artist
p. 190
Epilogue: Afterlife
p. 218
Further Reading
p. 227
Notes
p. 231
Works Cited
p. 247
Acknowledgments
p. 255
Permissions and Credits
p. 259
Index
p. 265
Table of Contents provided by Ingram. All Rights Reserved.