Note: Supplemental materials are not guaranteed with Rental or Used book purchases.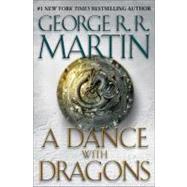 Questions About This Book?
What version or edition is this?
This is the edition with a publication date of 7/12/2011.
What is included with this book?
The New copy of this book will include any supplemental materials advertised. Please check the title of the book to determine if it should include any CDs, lab manuals, study guides, etc.
Customer Reviews
Truly Fantastical!
April 30, 2011
by





George Martin doesn't just tell his readers a story; he grabs them by the back of the neck and yanks them into his world. The characters are so real; you'll think you've known them for years. At least until they completely shock you, which happen throughout. The plot is intricate and it moves! The intrigue begins on page one, then twists and builds all the way to the end. Martin is a master stylist, with a firm grip on his characters and a great story to tell. The quality of the textbooks, however, makes the wait worthwhile.

Flag Review
---
A Dance with Dragons

:
stars based on
1
user reviews.
Summary
Dubbed "the American Tolkien" by Time magazine, George R. R. Martin has earned international acclaim for his monumental cycle of epic fantasy. Now the #1 New York Times bestselling author delivers the fifth book in his spellbinding landmark series--as both familiar faces and surprising new forces vie for a foothold in a fragmented empire.
In the aftermath of a colossal battle, the future of the Seven Kingdoms hangs in the balance once again--beset by newly emerging threats from every direction. In the east, Daenerys Targaryen, the last scion of House Targaryen, rules with her three dragons as queen of a city built on dust and death. But Daenerys has three times three thousand enemies, and many have set out to find her. Yet, as they gather, one young man embarks upon his own quest for the queen, with an entirely different goal in mind.
To the north lies the mammoth Wall of ice and stone--a structure only as strong as those guarding it. There, Jon Snow, 998th Lord Commander of the Night's Watch, will face his greatest challenge yet. For he has powerful foes not only within the Watch but also beyond, in the land of the creatures of ice.
And from all corners, bitter conflicts soon reignite, intimate betrayals are perpetrated, and a grand cast of outlaws and priests, soldiers and skinchangers, nobles and slaves, will face seemingly insurmountable obstacles. Some will fail, others will grow in the strength of darkness. But in a time of rising restlessness, the tides of destiny and politics will lead inevitably to the greatest dance of all. . . .
A Song of Ice and Fire
"What's A Song of Ice and Fire? It's the only fantasy series I'd put on a level with J.R.R. Tolkien's The Lord of the Rings. . . . It's a fantasy series for hip, smart people, even those who don't read fantasy."-Chicago Tribune
A Game of Thrones
"Reminiscent of T. H. White's The Once and Future King, this novel is an absorbing combination of the mythic, the sweepingly historical, and the intensely personal."-Chicago Sun-Times
A Clash of Kings
"Martin amply fulfills the first volume's promise and continues what seems destined to be one of the best fantasy series ever written."-The Denver Post
A Storm of Swords
"Riveting . . . a series whose brilliance continues to dazzle."-Patriot News
A Feast for Crows
"Of those who work in the grand epic-fantasy tradition, Martin is by far the best. In fact . . . this is as good a time as any to proclaim him the American Tolkien."-Time
Excerpts
Tyrion

He drank his way across the narrow sea.
The ship was small and his cabin smaller, and the captain would not allow him abovedecks. The rocking of the deck beneath his feet made his stomach heave, and the wretched food they served him tasted even worse when retched back up. Besides, why did he need salt beef, hard cheese, and bread crawling with worms when he had wine to nourish him? It was red and sour, very strong. He sometimes heaved the wine up too, but there was always more. "The world is full of wine," he muttered in the dankness of his cabin. His father had never had any use for drunkards, but what did that matter? His father was dead. He ought to know; he'd killed him. A bolt in the belly, my lord, and all for you. If only I was better with a crossbow, I would have put it through that cock you made me with, you bloody bastard.
Below decks there was neither night nor day. Tyrion marked time by the comings and goings of the cabin boy who brought the meals he did not eat. The boy always brought a brush and bucket too, to clean up. "Is this Dornish wine?" Tyrion asked him once, as he pulled a stopper from a skin. "It reminds me of a certain snake I knew. A droll fellow, till a mountain fell on him."
The cabin boy did not answer. He was an ugly boy, though admittedly more comely than a certain dwarf with half a nose and a scar from eye to chin. "Have I offended you?" Tyrion asked the sullen, silent boy, as he was scrubbing. "Were you commanded not to talk to me? Or did some dwarf diddle your mother?"
That went unanswered too. This is pointless, he knew, but he must speak to someone or go mad, so he persisted. "Where are we sailing? Tell me that." Jaime had made mention of the Free Cities, but had never said which one. "Is it Braavos? Tyrosh? Myr?" Tyrion would sooner have gone to Dorne. Myrcella is older than Tommen, by Dornish law the Iron Throne is hers. I will help her claim her rights, as Prince Oberyn suggested.
Oberyn was dead, though, his head smashed to bloody ruin by the armored fist of Ser Gregor Clegane. And without the Red Viper to urge him on, would Doran Martell even consider such a chancy scheme? He may clap me in chains instead, and hand me back to my sweet sister. The Wall might be safer. Old Bear Mormont said the Night's Watch had need of men like Tyrion. Mormont may be dead, though. By now Slynt may be the Lord Commander. That butcher's son was not like to have forgotten who sent him to the Wall. Do I really want to spend the rest of my life eating salt beef and porridge with murderers and thieves? Not that the rest of his life would last very long. Janos Slynt would see to that.
The cabin boy wet his brush and scrubbed on manfully. "Have you ever visited the pleasure houses of Lys?" the dwarf inquired. "Might that be where whores go?" Tyrion could not seem to recall the Valyrian word for whore, and in any case it was too late. The boy tossed his brush back in his bucket and took his leave.
The wine has blurred my wits. He had learned to read High Valyrian at his maester's knee, though what they spoke in the Nine Free Cities... well, it was not so much a dialect as nine dialects on the way to becoming separate tongues. Tyrion had some Braavosi and a smattering of Myrish. In Tyrosh he should be able to curse the gods, call a man a cheat, and order up an ale, thanks to a sellsword he had once known at the Rock. At least in Dorne they spea the Common Tongue. Like Dornish food and Dornish law, Dornish speech was spiced with the flavors of the Rhoyne, but a man could comprehend it. Dorne, yes, Dorne for me. He crawled into his bunk, clutching that thought like a child with a doll.
Sleep had never come easily to Tyrion Lannister. Aboard that ship it seldom came at all, though from time to time he managed to drink sufficient wine to pass out for a wh
---

Excerpted from A Dance with Dragons by George R. R. Martin
All rights reserved by the original copyright owners. Excerpts are provided for display purposes only and may not be reproduced, reprinted or distributed without the written permission of the publisher.