Note: Supplemental materials are not guaranteed with Rental or Used book purchases.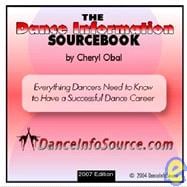 The Dance Information Sourcebook 2007
ISBN13:
9780979257407
by
Obal, Cheryl
This title is currently not available.
Summary
The Dance Information Sourcebook is an unprecedented 344 page career guide for aspiring dancers, written by professional dancer, singer, actress, teacher, and choreographer Cheryl Obal. Throughout her career, dance jobs took the author to 49 different countries and 45 US States, and everywhere she went, she took extensive notes on her experiences and collected dance job contacts. Wanting to help young aspiring dancers achieve their dreams, Obal decided to turn this gold mine of a notebook into a career reference for dancers. This book is the only one of its kind, and has become an irreplaceable resource for anyone who wants to succeed as a professional dancer. This book features extensive information about the dance scenes in all major American cities where a dancer can make a living by performing: New York, Los Angeles, Las Vegas, Chicago, Orlando, FL, and Branson, MO. There are also interviews with 20 additional professional dancers, including Broadway performers, casting directors, and choreographers, who Obal asked to give advice from the business perspective of succeeding as a performer. There is career advice about many topics on dancers' minds, including: How do I get a dance job? What avenue should I take with my career? What is the best city to live in and pursue my performing goals? What can I do to support myself while I am looking for a dance job? How do I format my resume? How do make a demo video? Can I get a job from a demo video? Should I go Union or stay non-Union? How do I save money on my taxes?...and many more. This book covers extensively all major avenues that a dance career can take, different types of jobs a dancer can have, and even lists specific venues continually hiring dancers. The contact information for all of these job possibilities throughout the country and abroad is provided. These include jobs for dancers in Musicals, Broadway Shows, National Tours, Dance Companies, Theme Parks, Cruise Ships, Production Shows, International Shows, and more. This book gives dancers honest, positive, inspiring advice and never-before-seen insight into the world of a professional dancer, in addition to giving dancers the information they need to succeed. When author Cheryl Obal started out as a dancer, there was no such resource. How to achieve success as a professional dancer seemed like a huge secret meant for only the lucky few. She found it disappointing that no dance schools throughout her training ever made a point to educate dancers on the business aspects of having a successful dance career. Even now, there is an abundance of excellent physical training, but a lack of ample practical training in the world of dance. That is why, after achieving success, Cheryl wrote this book- so that other young hopefuls wouldn't also have to wonder how to successfully lead the life of a professional dancer.The Dance Information Sourcebook is in a convenient and easy to use CD-rom format. Author Cheryl Obal set it up this way for two reasons: The compact format makes it easy for dancers, who are always traveling, to transport this valuable resource. Also, in this format, Obal can easily update information about the ever-changing world of dance. Educational institutions have already caught on to the usefulness of this book, and it is being used as a textbook in two University dance programs. In addition, it is used by many dance teachers, professional dancers, and aspiring dancers all over the United States.
Author Biography
Cheryl Obal is an accomplished Equity dancer, singer, actress, choreographer, and teacher, whose career, by the age of 30, had taken her to a total of 49 different countries and 45 US States. Originally from Topton, Pennsylvania, near Allentown, Cheryl Obal's professional career began in Pittsburgh where she performed with the Mary Miller Dance Company and Playhouse Dance Theatre. Cheryl has been seen on the New York City stage as Cynthia in ˘The Fairy Playz÷ (Chashama Theater, 42nd St), and she has performed in a wide variety of other productions, from the Irish dance spectacular, ˘Spirit of the Dance,÷ to ˘Hello Dolly÷ in Los Angeles (Musical Theater West), to children's shows like ˘Sesame Street Live÷ (National Tour). She has also danced with several New York dance companies and corporate entertainment producers for many years. Cheryl's fondest memory of her early years as a young dancer in New York was when she danced in a Japanese television show called Music-Enta, filmed right in the heart of Times Square. Cheryl both danced in and choreographed the program.Cheryl's international performing experiences range from dancing in Japan in a show called the ˘Hollywood Dance and Magic Show,÷ to many shows on cruise ships around the world, with Holland America and Radisson Seven Seas Cruise Lines. Through these international dance jobs, Cheryl discovered her love of traveling and spending time in other countries. Enamored with the arts in Europe, Cheryl moved to Vicenza, Italy in February of 2004. She taught English and Pilates at first, and later, she moved to Rome to study and perform with well-known Italian choreographer and teacher Marco Ierva at the famous IALS center, the Italian equivalent to Broadway Dance Center. Cheryl became an official resident of Italy in August of 2005. She speaks fluent Italian and also works as a translator and interpreter.At the moment, Ms. Obal is working near Seoul, South Korea, where she is a Faculty Member in a very special, government-sponsored program that uses dance, music, and theater to teach English to Korean children. Cheryl is a Choreographer, Director, and Performer in children's musical theatre productions, as well as Dance Teacher to the Faculty professional performers. Cheryl's choreography has also appeared in opera (Dr. Faustus, Princeton Theater) and television (the MSG Channel, New York City). Recently she served on the Faculty as Choreographer, Acting / Movement Teacher for the National Theater Workshop of the Handicapped in Belfast, Maine. She was also a Choreographer and Director for PGT Entertainment in Merritt Island, FL for two years, single-handedly teaching all dancers and singers their choreography and then installing the shows on cruise ships around the world. Cheryl, like many young aspiring dancers, began studying dance at a small-town local dance studio at four years of age. She is an alumna of the prestigious Pennsylvania Governor's School for the Arts, the University of the Arts Summerdance, the Alvin Ailey American Dance Theater Summer Program, and the Lehigh Valley Ballet Pre-Professional Company. She holds a B.A. (honors) in dance from Point Park University.