Note: Supplemental materials are not guaranteed with Rental or Used book purchases.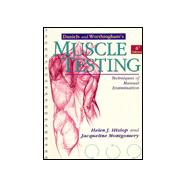 Daniels and Worthingham's Muscle Testing : Techniques of Manual Examination
ISBN13:
9780721643052
by
Hislop, Helen J.
Related Products
Summary
University of Southern California, Los Angeles. Sixth edition of a manual for physical therapy students and practitioners. Illustrates manual methods of assessing muscle strength and function. 1986 edition entitled Muscle Testing, by Lucille Daniels. Wire spiral binding.
Table of Contents
| | |
| --- | --- |
| | Chapter 1 Principles of Manual Muscle Testing |

1
(10)
2
(2)

| | |
| --- | --- |
| | Criteria for Assigning a Muscle Test Grade |

4
(2)
6
(1)

| | |
| --- | --- |
| | Preparing for the Muscle Test |

6
(5)

| | |
| --- | --- |
| | Chapter 2 Testing the Muscles of the Neck |

11
(22)
12
(4)
16
(3)

| | |
| --- | --- |
| | Combined Neck Extension (Capital plus cervical) |

19
(2)
21
(3)
24
(4)

| | |
| --- | --- |
| | Combined Cervical Flexion (Capital plus cervical) |

28
(2)

| | |
| --- | --- |
| | Combined Flexion to Isolate a Single Sternocleidomastoid |

30
(1)
31
(2)

| | |
| --- | --- |
| | Chapter 3 Testing the Muscles of the Trunk |

33
(24)
34
(4)
38
(3)
41
(4)
45
(5)
50
(4)
54
(3)

| | |
| --- | --- |
| | Chapter 4 Testing the Muscles of the Upper Extremity |

57
(110)

| | |
| --- | --- |
| | Scapular Abduction and Upward Rotation (Serratus anterior) |

58
(7)

| | |
| --- | --- |
| | Scapular Elevation (Trapezius, upper fibers) |

65
(4)

| | |
| --- | --- |
| | Scapular Adduction (Trapezius, middle fibers) |

69
(4)

| | |
| --- | --- |
| | Scapular Depression and Adduction (Trapezius, lower fibers) |

73
(3)

| | |
| --- | --- |
| | Scapular Adduction and Downward Rotation (Rhomboids) |

76
(5)

| | |
| --- | --- |
| | Shoulder Flexion (Anterior Deltoid, Supraspinatus, and Coracobrachialis) |

81
(3)

| | |
| --- | --- |
| | Shoulder Extension (Latissimus dorsi, Teres major, Posterior Deltoid) |

84
(4)

| | |
| --- | --- |
| | Shoulder Scaption (Deltoid and Supraspinatus) |

88
(2)

| | |
| --- | --- |
| | Shoulder Abduction (Middle Deltoid and Supraspinatus) |

90
(4)

| | |
| --- | --- |
| | Shoulder Horizontal Abduction (Posterior Deltoid) |

94
(3)

| | |
| --- | --- |
| | Shoulder Horizontal Adduction (Pectoralis major) |

97
(5)

| | |
| --- | --- |
| | Shoulder External Rotation (Infraspinatus and Teres minor) |

102
(3)

| | |
| --- | --- |
| | Shoulder Internal Rotation (Subscapularis) |

105
(3)

| | |
| --- | --- |
| | Elbow Flexion (Biceps, Brachialis, and Brachioradialis) |

108
(6)

| | |
| --- | --- |
| | Elbow Extension (Triceps brachii) |

114
(4)

| | |
| --- | --- |
| | Forearm Supination (Supinator and Biceps brachii) |

118
(3)

| | |
| --- | --- |
| | Forearm Pronation (Pronator teres and Pronator quadratus) |

121
(3)

| | |
| --- | --- |
| | Wrist Flexion (Flexor carpi radialis and Flexor carpi ulnaris) |

124
(4)

| | |
| --- | --- |
| | Wrist Extension (Extensor carpi radialis longus, Extensor carpi radialis brevis, and Extensor carpi ulnaris) |

128
(4)

| | |
| --- | --- |
| | Finger MP Flexion (Lumbricales and Interossei) |

132
(3)

| | |
| --- | --- |
| | Finger PIP and DIP Flexion (Flexor digitorum superficialis and Flexor digitorum profundus) |

135
(4)
136
(2)
138
(1)

| | |
| --- | --- |
| | Finger MP Extension (Extensor digitorum, Extensor indicis, Extensor digiti minimi) |

139
(3)

| | |
| --- | --- |
| | Finger Abduction (Dorsal Interossei) |

142
(4)

| | |
| --- | --- |
| | Finger Adduction (Palmar Interossei) |

146
(2)

| | |
| --- | --- |
| | Thumb MP and IP Flexion (Flexor pollicis brevis and Flexor pollicis longus) |

148
(4)

| | |
| --- | --- |
| | Thumb MP Flexion Tests (Flexor pollicis brevis) |

149
(1)

| | |
| --- | --- |
| | Thumb IP Flexion Tests (Flexor pollicis longus) |

150
(2)

| | |
| --- | --- |
| | Thumb MP and IP Extension (Extensor pollicis brevis and Extensor pollicis longus) |

152
(1)

| | |
| --- | --- |
| | Thumb MP Extension Tests (Extensor pollicis brevis) |

153
(1)

| | |
| --- | --- |
| | Thumb IP Extension Tests (Extensor pollicis longus) |

154
(2)

| | |
| --- | --- |
| | Thumb Abduction (Abductor pollicis longus and Abductor pollicis brevis) |

156
(4)

| | |
| --- | --- |
| | Abductor pollicis Longus Test |

157
(1)

| | |
| --- | --- |
| | Abductor Pollicis Brevis Test |

158
(2)

| | |
| --- | --- |
| | Thumb Adduction (Adductor pollicis) |

160
(3)

| | |
| --- | --- |
| | Opposition (Thumb to Little Finger) (Opponens pollicis and Opponens digiti minimi) |

163
(4)

| | |
| --- | --- |
| | Chapter 5 Testing the Muscles of the Lower Extremity |

167
(68)

| | |
| --- | --- |
| | Introduction to Testing the Hip |

168
(1)

| | |
| --- | --- |
| | Hip Flexion (Psoas major and lliacus) |

169
(4)

| | |
| --- | --- |
| | Hip Flexion, Abduction, and External Rotation with Knee Position (Sartorius) |

173
(3)

| | |
| --- | --- |
| | Hip Extension (Gluteus maximus and Hamstrings) |

176
(6)

| | |
| --- | --- |
| | Hip Extension Tests Modified for Hip Flexion Tightness |

181
(1)

| | |
| --- | --- |
| | Hip Abduction (Glutei medius and minimus) |

182
(4)

| | |
| --- | --- |
| | Hip Abduction from Flexed Position (Tensor fasciae latae) |

186
(4)

| | |
| --- | --- |
| | Hip Adduction (Adductors magnus, brevis and longus; Pectineus and Gracilis) |

190
(4)

| | |
| --- | --- |
| | Hip External Rotation (Obturators internus and externus, Gemellae superior and inferior. Piriformis, Quadratus femoris, Gluteus maximus (posterior) |

194
(4)

| | |
| --- | --- |
| | Hip Internal Rotation (Glutei minimus and medius; Tensor fasciae latae) |

198
(4)

| | |
| --- | --- |
| | Knee Flexion (All hamstring muscles) |

202
(5)

| | |
| --- | --- |
| | Knee Extension (Quadriceps femoris) |

207
(4)

| | |
| --- | --- |
| | Ankle Plantar Flexion (Gastrocnemius and Soleus) |

211
(7)

| | |
| --- | --- |
| | Gastrocnemius and Soleus Test |

212
(3)

| | |
| --- | --- |
| | Plantar Flexion, Soleus Only |

215
(3)

| | |
| --- | --- |
| | Foot Dorsiflexion and Inversion (Anterior tibialis) |

218
(3)

| | |
| --- | --- |
| | Foot Inversion (Posterior tibialis) |

221
(3)

| | |
| --- | --- |
| | Foot Eversion with Plantar Flexion or Dorsiflexion (Peronei longus and brevis) |

224
(3)

| | |
| --- | --- |
| | Hallux and Toe MP Flexion (Lumbricales and Flexor hallucis brevis) |

227
(3)

| | |
| --- | --- |
| | Hallux MP Flexion (Flexor hallucis brevis) |

228
(1)

| | |
| --- | --- |
| | Toe MP Flexion (Lumbricales) |

229
(1)

| | |
| --- | --- |
| | Hallux and Toe DIP and PIP Flexion (Flexor digitorum longus, Flexor digitorum brevis, Flexor hallucis longus) |

230
(2)

| | |
| --- | --- |
| | Hallux and Toe MP and IP Extension (Extensor digitorum longus and brevis; Extensor hallucis longus) |

232
(3)

| | |
| --- | --- |
| | Chapter 6 Testing in Infants and Children |

235
(26)

| | |
| --- | --- |
| | Barbara Connolly, Ed. D., P.T. |

| | |
| --- | --- |
| | Chapter 7 Assessment of Muscles Innervated by Cranial Nerves |

261
(58)

| | |
| --- | --- |
| | Introduction to Testing and Grading |

262
(1)

| | |
| --- | --- |
| | Extraocular Muscles of the Eye |

263
(4)
267
(1)

| | |
| --- | --- |
| | Muscles of the Eyelids, Eyebrows, and Forehead |

268
(8)
276
(2)
278
(6)
284
(6)
290
(8)
298
(6)
304
(4)
308
(6)
314
(5)

| | |
| --- | --- |
| | Muscle Actions in Swallowing |

314
(1)
315
(4)

| | |
| --- | --- |
| | Chapter 8 Upright Motor Control |

319
(8)

| | |
| --- | --- |
| | The Test for Upright Control |

320
(1)
320
(1)

| | |
| --- | --- |
| | Extension Control Test in Parts 4, 5, and 6 |

321
(6)

| | |
| --- | --- |
| | Chapter 9 Ready Reference Anatomy |

327
(100)

| | |
| --- | --- |
| | Using This Ready Reference Section |

328
(1)

| | |
| --- | --- |
| | PART I. ALPHABETICAL LIST OF MUSCLES |

328
(3)

| | |
| --- | --- |
| | PART II. LIST OF MUSCLES BY REGION |

331
(3)

| | |
| --- | --- |
| | PART III. SKELETAL MUSCLES OF THE HUMAN BODY |

334
(67)

| | |
| --- | --- |
| | PART IV. MOTIONS AND THEIR PARTICIPATING MUSCLES (MOTIONS OF THE NECK, TRUNK, AND LIMBS) |

401
(9)

| | |
| --- | --- |
| | PART V. CRANIAL AND PERIPHERAL NERVES AND THE MUSCLES THEY INNERVATE |

410
(7)

| | |
| --- | --- |
| | PART VI. MYOTOMES; THE MOTOR NERVE ROOTS AND THE MUSCLES THEY INNERVATE |

417
(10)
Bibliography
427
(1)
Cited References
427
(2)
Index
429