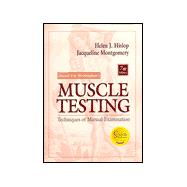 Daniels and Worthingham's Muscle Testing : Techniques of Manual Examination
by
Hislop & Montgomery
ELSEVIER SAUNDERS PUBLISHING
Questions About This Book?
Why should I rent this book?
Renting is easy, fast, and cheap! Renting from eCampus.com can save you hundreds of dollars compared to the cost of new or used books each semester. At the end of the semester, simply ship the book back to us with a free UPS shipping label! No need to worry about selling it back.
How do rental returns work?
Returning books is as easy as possible. As your rental due date approaches, we will email you several courtesy reminders. When you are ready to return, you can print a free UPS shipping label from our website at any time. Then, just return the book to your UPS driver or any staffed UPS location. You can even use the same box we shipped it in!
What version or edition is this?
This is the 7th edition with a publication date of 2/27/2002.
What is included with this book?
The Used copy of this book is not guaranteed to include any supplemental materials. Typically, only the book itself is included.
The Rental copy of this book is not guaranteed to include any supplemental materials. You may receive a brand new copy, but typically, only the book itself.
Related Products
Summary
By far the most popular and widely used text for over 50 years, Daniels and Worthingham's Muscle Testing is the original handbook of manual evaluation of muscular strength. In addition to offering tried and true methods for assessing and grading skeletal muscle function, this up-to-date classic provides a comprehensive section on muscle anatomy and innervation that rounds out the testing chapters by linking muscle topography and function. Beautifully illustrated with more than 575 high-quality drawings, the 7th edition includes over 100 new drawings created specifically for this edition.
Table of Contents
Introduction
xvii
Brief History of Muscle Testing
xvii
How to Use This Book
xix
Names of the Muscles
xx
Anatomical Authorities
xx
The Convention of Arrows in the Text
xx

| | |
| --- | --- |
| | Principles of Manual Muscle Testing |

1
(12)
2
(1)

| | |
| --- | --- |
| | Overview of Test Procedures |

2
(4)

| | |
| --- | --- |
| | Criteria for Assigning a Muscle Test Grade |

6
(2)
8
(1)

| | |
| --- | --- |
| | Preparing for the Muscle Test |

8
(1)
8
(5)

| | |
| --- | --- |
| | Testing the Muscles of the Neck |

13
(22)
14
(1)
15
(1)

| | |
| --- | --- |
| | Combined Neck Extension (Capital plus Cervical) |

16
(7)
23
(3)
26
(4)

| | |
| --- | --- |
| | Combined Neck Flexion (Capital plus Cervical) |

30
(1)

| | |
| --- | --- |
| | Combined Cervical Flexion (Capital plus Cervical) |

31
(1)

| | |
| --- | --- |
| | Combined Flexion to Isolate a Single Sternocleidomastoid |

32
(1)
33
(2)

| | |
| --- | --- |
| | Testing the Muscles of the Trunk |

35
(26)
36
(5)
38
(1)
38
(1)

| | |
| --- | --- |
| | Lumbar and Thoracic Spine |

39
(2)
41
(3)
44
(5)
49
(5)
54
(5)
59
(2)

| | |
| --- | --- |
| | Testing the Muscles of the Upper Extremity |

61
(118)

| | |
| --- | --- |
| | Scapular Abduction and Upward Rotation (Serratus anterior) |

63
(6)

| | |
| --- | --- |
| | Scapular Elevation (Trapezius, upper fibers) |

69
(4)

| | |
| --- | --- |
| | Scapular Adduction (Trapezius, lower fibers) |

73
(1)

| | |
| --- | --- |
| | Scapular Adduction (Trapezius, middle fibers) |

74
(3)

| | |
| --- | --- |
| | Scapular Depression and Adduction (Trapezius, lower fibers) |

77
(3)

| | |
| --- | --- |
| | Scapular Adduction and Downward Rotation (Rhomboids) |

80
(6)

| | |
| --- | --- |
| | Shoulder Flexion (Anterior Deltoid and Coracobrachialis) |

86
(4)

| | |
| --- | --- |
| | Shoulder Extension (Latissimus dorsi, Teres major, Posterior Deltoid) |

90
(4)

| | |
| --- | --- |
| | Shoulder Scaption (Deltoid and Supraspinatus) |

94
(1)

| | |
| --- | --- |
| | Shoulder Abduction (Middle Deltoid and Supraspinatus) |

95
(4)

| | |
| --- | --- |
| | Shoulder Horizontal Abduction (Posterior Deltoid) |

99
(3)

| | |
| --- | --- |
| | Shoulder Horizontal Adduction (Pectoralis major) |

102
(5)

| | |
| --- | --- |
| | Shoulder External Rotation (Infraspinatus and Teres minor) |

107
(3)

| | |
| --- | --- |
| | Shoulder Internal Rotation (Subscapularis) |

110
(4)

| | |
| --- | --- |
| | Elbow Flexion (Biceps, Brachialis, and Brachioradialis) |

114
(4)

| | |
| --- | --- |
| | Elbow Extension (Triceps brachii) |

118
(5)

| | |
| --- | --- |
| | Forearm Supination (Supinator and Biceps brachii) |

123
(5)

| | |
| --- | --- |
| | Forearm Pronation (Pronator teres and Pronator quadratus) |

128
(4)

| | |
| --- | --- |
| | Wrist Flexion (Flexor carpi radialis and Flexor carpi ulnaris) |

132
(5)

| | |
| --- | --- |
| | Wrist Extension (Extensor carpi radialis longus, Extensor carpi radialis brevis, and Extensor carpi ulnaris) |

137
(4)

| | |
| --- | --- |
| | Finger MP Flexion (Lumbricales and Interossei) |

141
(4)

| | |
| --- | --- |
| | Finger PIP and DIP Flexion (Flexor digitorum superficialis and Flexor digitorum profundus) |

145
(4)
146
(2)
148
(1)

| | |
| --- | --- |
| | Finger MP Extension (Extensor digitorum, Extensor indicis, Extensor digiti minimi) |

149
(3)

| | |
| --- | --- |
| | Finger Abduction (Dorsal interossei) |

152
(3)

| | |
| --- | --- |
| | Finger Adduction (Palmar interossei) |

155
(3)

| | |
| --- | --- |
| | Thumb MP and IP Flexion (Flexor pollicis brevis and Flexor pollicis longus) |

158
(2)

| | |
| --- | --- |
| | Thumb MP and IP Flexion Tests (Flexor pollicis brevis) |

160
(1)

| | |
| --- | --- |
| | Thumb IP Flexion Tests (Flexor pollicis longus) |

161
(2)

| | |
| --- | --- |
| | Thumb MP and IP Extension (Extensor pollicis brevis and Extensor pollicis longus) |

163
(1)

| | |
| --- | --- |
| | Thumb MP Extension Tests (Extensor pollicis brevis) |

164
(2)

| | |
| --- | --- |
| | Thumb IP Extension Tests (Extensor pollicis longus) |

166
(2)

| | |
| --- | --- |
| | Thumb Abduction (Abductor pollicis longus and Abductor pollicis brevis) |

168
(1)

| | |
| --- | --- |
| | Abductor pollicis longus Test |

169
(1)

| | |
| --- | --- |
| | Abductor pollicis brevis Test |

170
(1)

| | |
| --- | --- |
| | Thumb Adduction (Adductor pollicis) |

171
(3)

| | |
| --- | --- |
| | Opposition (Thumb to Little Finger) (Opponens pollicis and Opponens digiti minimi) |

174
(5)

| | |
| --- | --- |
| | Testing the Muscles of the Lower Extremity |

179
(74)

| | |
| --- | --- |
| | Hip Flexion (Psoas major and Iliacus) |

180
(5)

| | |
| --- | --- |
| | Hip Flexion, Abduction, and External Rotation with Knee Flexion (Sartorius) |

185
(3)

| | |
| --- | --- |
| | Hip Extension (Gluteus maximus and Hamstrings) |

188
(4)

| | |
| --- | --- |
| | Hip Extension Test to Isolate Gluteus Maximus |

192
(2)

| | |
| --- | --- |
| | Hip Extension Test Modified for Hip Flexion Tightness |

194
(2)

| | |
| --- | --- |
| | Supine Hip Extension Test |

196
(2)

| | |
| --- | --- |
| | Hip Abduction (Gluteus medius and minimus) |

198
(4)

| | |
| --- | --- |
| | Hip Abduction from Flexed Position (Tensor fasciae latae) |

202
(3)

| | |
| --- | --- |
| | Hip Adduction (Adductors magnus, brevis, and longus, Pectineus and Gracilis) |

205
(4)

| | |
| --- | --- |
| | Hip External Rotation (Obturators internus and externus, Gemellae superior and inferior, Piriformis, Quadratus femoris, Gluteus maximus (posterior)) |

209
(4)

| | |
| --- | --- |
| | Hip Internal Rotation (Glutei minimus and medius, Tensor fasciae latae) |

213
(3)

| | |
| --- | --- |
| | Knee Flexion (All hamstring muscles) |

216
(6)

| | |
| --- | --- |
| | Hamstring Muscles in Aggregate |

218
(1)

| | |
| --- | --- |
| | Medial Hamstring Test (Semitendinosus and Semimembranosus) |

218
(1)

| | |
| --- | --- |
| | Lateral Hamstring Test (Biceps femoris) |

219
(3)

| | |
| --- | --- |
| | Knee Extension (Quadriceps femoris) |

222
(4)

| | |
| --- | --- |
| | Ankle Plantar Fiexion (Gastrocnemius and Soleus) |

226
(8)

| | |
| --- | --- |
| | Gastrocnemius and Soleus Test |

228
(3)

| | |
| --- | --- |
| | Plantar Flexion, Soleus Only |

231
(3)

| | |
| --- | --- |
| | Foot Dorsiflexion and Inversion (fibialis anterior) |

234
(3)

| | |
| --- | --- |
| | Foot Inversion (Tibialis posterior) |

237
(3)

| | |
| --- | --- |
| | Foot Eversion with Plantar Flexion (Peroneus longus and Peroneus brevis) |

240
(3)

| | |
| --- | --- |
| | Hallux and Toe MP Flexion (Lumbricales and Flexor hallucis brevis) |

243
(3)

| | |
| --- | --- |
| | Hallux MP Flexion (Flexor hallucis brevis) |

244
(1)

| | |
| --- | --- |
| | Toe MP Flexion (Lumbricales) |

245
(1)

| | |
| --- | --- |
| | Hallux and Toe DIP and PIP Flexion (Flexor digitorum longus, Flexor digitorum brevis, Flexor hallucis longus) |

246
(3)

| | |
| --- | --- |
| | Hallux and Toe MP and IP Extension (Extensor digitorum longus and brevis, Extensor hallucis longus) |

249
(4)

| | |
| --- | --- |
| | Testing of Infants, Toddlers, and Preschool Children |

253
(36)
256
(17)

| | |
| --- | --- |
| | Toddlers and Preschool Children: 1-5 years |

273
(16)

| | |
| --- | --- |
| | Assessment of Muscles Innervated |

289
(54)

| | |
| --- | --- |
| | Introduction to Testing and Grading |

290
(2)
292
(4)

| | |
| --- | --- |
| | Muscles of the Face and Eyelids |

296
(8)
304
(2)

| | |
| --- | --- |
| | Muscles of the Mouth and Face |

306
(6)
312
(6)
318
(6)
324
(5)
329
(3)
332
(4)
336
(7)

| | |
| --- | --- |
| | Muscle Actions in Swallowing |

336
(1)
337
(6)
343
(8)

| | |
| --- | --- |
| | The Test for Upright Control |

344
(1)
344
(2)

| | |
| --- | --- |
| | Extension Control Test (in Parts 4, 5, and 6) |

346
(5)
351
(110)

| | |
| --- | --- |
| | Using this Ready Reference Section |

352
(1)

| | |
| --- | --- |
| | Alphabetical List of Muscles |

352
(4)

| | |
| --- | --- |
| | List of Muscles by Region |

356
(4)

| | |
| --- | --- |
| | Skeletal Muscles of the Human Body |

360
(68)

| | |
| --- | --- |
| | Motions and Their Participating Muscles (Motions of the Neck, Trunk, and Limbs) |

428
(11)

| | |
| --- | --- |
| | Cranial and Peripheral Nerves and the Muscles They Innervate |

439
(10)

| | |
| --- | --- |
| | Myotomes; The Motor Nerve Roots and the Muscles They Innervate |

449
(12)
Index
461