Note: Supplemental materials are not guaranteed with Rental or Used book purchases.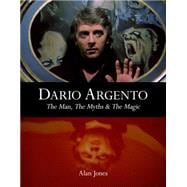 Summary
Internationally renowned writer, broadcaster and author Alan Jones has tirelessly reported on every aspect of Argento's career for more than three decades. Every single feature, interview, review and in-depth look at Argento's multi-faceted universe was meticulously collated into one stunning, Sold Out volume, originally called Profondo Argento. Available again at last, now under a new title and cover, Dario Argento: The Man, the Myths and the Magic includes a wealth of fresh material and interviews exclusively conducted for this exhaustive overview of Argento's extraordinary body of work. Illustrated with rare stills, posters and candid behind-the-scenes photos from the author's private collection, Jones probes deep into the psyche and methodology of one of the world's most celebrated genre directors - and in doing so also uncovers the luminous chaos of the entire Italian Film Industry itself.Limited Edition, available in hardback only.From his early beginnings scripting Sergio Leone's Once Upon a Time in the West, his directorial breakthrough with the chic giallo The Bird with the Crystal Plumage and his ground-breaking soundtrack use of the progressive rock group Goblin, to producing the gut-wrenching Dawn of the Dead, his Terror Trilogy with his Hollywood superstar daughter Asia and helming his latest thriller Dracula 3D, everything you ever wanted to know about Dario Argento but were afraid to ask is all here.Rarely has any journalist ever been granted such wide access to the life and work of his all-time favourite director. Yet that's precisely what happened to internationally renowned writer, broadcaster and author Alan Jones who won the respect of Dario Argento for his detailed location reports and critical assessments of the Italian Master of the Macabre.Features full-length interviews with: Asia Argento, Claudio Argento, Fiore Argento, Lamberto Bava, Roy Bava, Simon Boswell, Michael Brandon, Chiara Caselli, Luigi Cozzi, Liam Cunningham, Keith Emerson, Franco Ferrini, Jessica Harper, Udo Kier, Daria Nicolodi, Stefania Rocca, George A. Romero, Gianni Romoli, Dardano Sacchetti, Julian Sands, Tom Savini, Claudio Simonetti, Michele Soavi, Sergio Stivaletti, Max Von Sydow, Ronnie Taylor, Luciano Tovoli.All-new illustrations. Never-before-seen behind the scenes photos, exclusive shots specially produced for this book, rare artwork and stills.This book features full coverage of Argento's new film Dracula 3D.
Excerpts
When the first edition of this book was at the printers on the verge of publication in 2004, I was with Dario Argento on the Turin location of Ti piace Hitchcock?/Do You Like Hitchcock?. While there I vividly remember sitting him down during the lunch break on stairs in the hospital where he was filming and making him autograph a number of adhesive signature plates that would be fixed to all pre-ordered copies. Eight years, and a sold-out print run, later that incident has become a historical part of the updated edition you are now holding in your hands.I could have added more information to the original text. I could also have added quotes from assorted cast members of Argento's early works who have since surfaced on the proliferation of DVD Extra fillers. Like Tony Musante admitting he was young, naïve and desperate to make an impression in The Bird with the Crystal Plumage and that's why he seemed so impossibly egotistical to Argento during filming. Or that the famous 'haunted house underwater' scene in Inferno caused Irene Miracle to lose her hair so she had to wear a wig. I decided not to do that because people liked the first book a lot and if it wasn't broke there was no reason to try and fix it. Hence 'Primo Tempo', referring to the first part, as every movie released in Italy gets split in two to cater for the patrons' snack and cigarette break.'Secondo Tempo' is the title seen before the second half of the movie begins and in this terminological case it brings Argento's career bang up to date with Dracula 3D. It was during the filming of Mother of Tears in Turin during 2006 that I finally did something I had never done before. Argento and I had gone out to dinner for our usual intensive mid-shoot interview - often far easier than trying to grab him between frantic setups on location - when he turned surprisingly reflective and talked about our linked pasts. It was then I seized the moment and told him how eternally grateful I was for his continued friendship and the all-areas access he has granted me throughout the 30 years of knowing him up close and personal. I'd never verbalised that appreciation before because of the professional divide I felt had to remain between us for me to still be critically impartial about his body of work. But the fact is few writers get the chance to become so involved with their favoured artists and I wanted mine to know what it meant to me. Of course, he knew that already.