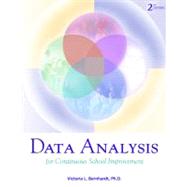 Questions About This Book?
What version or edition is this?
This is the 2nd edition with a publication date of 12/1/2003.
What is included with this book?
The eBook copy of this book is not guaranteed to include any supplemental materials. Typically only the book itself is included.
Summary
With clear and concrete examples from elementary and high schools, this book helps you effectively gather, analyze, and use data to improve student learning. It demonstrates how to make better decisions, identify root causes of problems, and communicate and report results.
Table of Contents
About the Author
viii
Foreword
ix
Preface
xi
1
(10)
2
(4)
6
(1)
7
(1)

| | |
| --- | --- |
| | The Structure of this Book |

8
(1)
9
(2)

| | |
| --- | --- |
| | Getting Started with Data Analysis |

11
(8)

| | |
| --- | --- |
| | A Better Way to Start Data Analysis |

13
(4)

| | |
| --- | --- |
| | Getting Started Questions |

17
(1)
18
(1)
19
(12)
22
(7)

| | |
| --- | --- |
| | Study Questions for What Data are Important? |

29
(1)
30
(1)
31
(22)
32
(4)
36
(1)

| | |
| --- | --- |
| | How to Analyze Demographic Information |

37
(1)
38
(12)

| | |
| --- | --- |
| | Study Questions for Demographics |

50
(2)
52
(1)
53
(46)
54
(2)
56
(1)
57
(1)

| | |
| --- | --- |
| | Designing Questionnaires: Begin With the End in Mind |

58
(8)

| | |
| --- | --- |
| | Data Collection Considerations |

66
(24)
90
(6)

| | |
| --- | --- |
| | Study Questions for Perceptions |

96
(1)
97
(2)
99
(36)

| | |
| --- | --- |
| | Ways to Measure Student Learning |

101
(16)
117
(2)

| | |
| --- | --- |
| | Analyzing the Results, Descriptively |

119
(4)

| | |
| --- | --- |
| | Analyzing the Results, Inferentially |

123
(3)
126
(2)

| | |
| --- | --- |
| | Looking Across Student Learning Measures |

128
(1)

| | |
| --- | --- |
| | Other Common Testing Terms |

129
(2)
131
(2)

| | |
| --- | --- |
| | Study Questions for Student Learning |

133
(1)
134
(1)
135
(22)
137
(2)

| | |
| --- | --- |
| | Classroom Level Processes |

139
(1)

| | |
| --- | --- |
| | School and Classroom Level Processes Working Together |

139
(1)

| | |
| --- | --- |
| | Charting School Processes |

140
(3)

| | |
| --- | --- |
| | Assessing School Processes |

143
(1)
144
(12)

| | |
| --- | --- |
| | Study Questions for School Processes |

156
(1)
156
(1)

| | |
| --- | --- |
| | Interactions and Analyses |

157
(32)
158
(3)
161
(19)
180
(3)
183
(1)

| | |
| --- | --- |
| | Study Questions for Interactions and Analyses from Using Data |

184
(4)
188
(1)

| | |
| --- | --- |
| | Communicating the Results |

189
(54)
190
(2)

| | |
| --- | --- |
| | Communicating the Data Analysis Results |

192
(2)

| | |
| --- | --- |
| | Different Types of Graphs |

194
(5)

| | |
| --- | --- |
| | Explaining Questionnaire Results |

199
(10)

| | |
| --- | --- |
| | Interpreting Test Results |

209
(2)

| | |
| --- | --- |
| | Explaining Demographic Results |

211
(2)

| | |
| --- | --- |
| | Reporting the Big Picture |

213
(5)

| | |
| --- | --- |
| | Study Questions for Communicating the Results |

218
(1)
219
(3)

| | |
| --- | --- |
| | Conclusions and Recommendations |

| | |
| --- | --- |
| | The Need for a Data Warehouse |

221
(1)

| | |
| --- | --- |
| | Databases and Data Warehouses |

222
(2)

| | |
| --- | --- |
| | Selecting a Data Warehouse |

224
(3)

| | |
| --- | --- |
| | Planning for a Data Warehouse for Your Needs |

227
(4)

| | |
| --- | --- |
| | Determine What Data Exists Now |

231
(2)
233
(1)

| | |
| --- | --- |
| | Determine Who is Going to Do the Work |

234
(2)

| | |
| --- | --- |
| | Determine the Levels of Access, Who Will Have Access at Each Level, and How Access Will be Obtained |

236
(1)

| | |
| --- | --- |
| | Issues and Recommendations: Setting Up the Data Warehouse |

236
(5)

| | |
| --- | --- |
| | Who Does the Data Analysis Work? |

241
(1)
242
(1)
Appendix A: Sample Questionnaires
243
(18)
Appendix B: Continuous Improvement Continuums for Schools
261
(10)
Appendix C: Continuous Improvement Continuums for Districts
271
(10)
Glossary of Terms
281
(18)
References and Resources
299
(7)
Index
306