Note: Supplemental materials are not guaranteed with Rental or Used book purchases.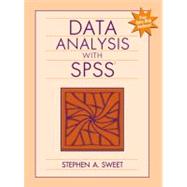 Data Analysis With Spss
ISBN13:
9780205265565
by
SWEET S
Questions About This Book?
What version or edition is this?
This is the 1st edition with a publication date of 1/1/1999.
What is included with this book?
The New copy of this book will include any supplemental materials advertised. Please check the title of the book to determine if it should include any CDs, lab manuals, study guides, etc.
Related Products
Summary
Many students find statistics courses alienating, boring, intimidating, or all of the above! Data Analysis with SPSS? is designed to help students develop an appreciation and hopefully an excitement for quantitative inquiry. Written in nine manageable chapters, this book first orients students to the approach researchers use to frame research questions and the logic of establishing causal relations. Students are then oriented to the SPSS? program and how to examine data sets. They are then guided through univariate analysis, bivariate analysis, graphic analysis, and multivariate analysis. Students conclude their course by learning how to write a research report and by engaging in their own research project. This text is designed to teach students how to explore data in a systematic manner using the most popular professional statistics program for social scientists on the market today, SPSS? (Statistical Package for the Social Sciences). The book is organized to guide students through the logic of data analysis, from exploring data sets all the way through multivariate analysis and the writing of a research report. Each book is packaged with a disk containing the GSS (General Social Survey) file and the States file. The GSS file contains 100 variables generated from interviews with 2900 people concerning their behaviors and attitudes on a wide variety of issues such as abortion, aid to the poor, religion, prejudice, sexuality, and politics. The States data allows comparison of all 50 states with 400 variables indicating issues such as unemployment, earnings, environment, criminality, population, corrections, and education. Students will ultimately use these data to conduct their own independent research project with SPSS?.
Table of Contents
Preface
vii

| | |
| --- | --- |
| | Key Concepts in Social Science Research |

1
(16)
1
(1)

| | |
| --- | --- |
| | Developing Research Questions |

1
(1)
2
(2)
4
(1)
4
(1)
5
(3)
8
(1)
9
(1)
9
(1)

| | |
| --- | --- |
| | References and Further Reading |

9
(2)
11
(6)

| | |
| --- | --- |
| | Getting Started: Accessing, Examining, and Saving Data |

17
(20)
17
(1)
17
(2)

| | |
| --- | --- |
| | Defining and Saving New Data Set |

19
(4)

| | |
| --- | --- |
| | Loading and Examining an Existing File |

23
(4)

| | |
| --- | --- |
| | Dropping and Adding Variables in the Data Editor |

27
(1)

| | |
| --- | --- |
| | Naming and Labeling Variables |

28
(1)

| | |
| --- | --- |
| | Merging and Importing Files |

29
(2)
31
(1)
31
(1)

| | |
| --- | --- |
| | References and Further Reading |

31
(2)
33
(4)
37
(26)
37
(1)
38
(3)

| | |
| --- | --- |
| | Measures of Central Tendency |

41
(4)

| | |
| --- | --- |
| | Exploring Distributions of Data |

45
(4)
49
(3)

| | |
| --- | --- |
| | Recoding Existing Variables |

52
(2)
54
(1)

| | |
| --- | --- |
| | References and Further Reading |

55
(2)
57
(6)
63
(22)
63
(1)
63
(2)

| | |
| --- | --- |
| | Analyzing Bivariate Relationships |

65
(1)
66
(3)
69
(2)
71
(1)
71
(3)
74
(1)

| | |
| --- | --- |
| | References and Further Reading |

74
(1)
75
(10)
85
(22)
85
(1)
85
(8)
86
(2)
88
(2)
90
(2)
92
(1)
93
(3)
93
(1)
94
(1)
95
(1)
96
(1)
96
(1)

| | |
| --- | --- |
| | References and Further Reading |

97
(2)
99
(8)

| | |
| --- | --- |
| | Multivariate Analysis: Regression |

107
(22)
107
(1)

| | |
| --- | --- |
| | The Regression Equation: A Bivariate Example |

108
(4)

| | |
| --- | --- |
| | Data and Multiple Regression |

112
(2)

| | |
| --- | --- |
| | Multivariate Regression: An Example |

114
(4)

| | |
| --- | --- |
| | Graphing a Multivariate Regression |

118
(3)
121
(1)
121
(1)

| | |
| --- | --- |
| | References and Further Reading |

121
(2)
123
(6)

| | |
| --- | --- |
| | Multivariate Analysis: Logistic Regression |

129
(18)
129
(1)
129
(2)

| | |
| --- | --- |
| | Logistic Regression: A Bivariate Example |

131
(5)

| | |
| --- | --- |
| | Multivariate Logistic Regression: An Example |

136
(3)
139
(1)
139
(1)

| | |
| --- | --- |
| | References and Further Reading |

139
(2)
141
(6)

| | |
| --- | --- |
| | Writing a Research Report |

147
(10)
147
(1)
148
(1)
149
(1)
150
(1)
150
(1)
151
(1)
152
(1)
153
(1)
154
(1)
154
(1)
155
(1)

| | |
| --- | --- |
| | References and Further Reading |

155
(2)
157
(14)
157
(1)
157
(1)

| | |
| --- | --- |
| | Publically Available Data |

158
(2)

| | |
| --- | --- |
| | Potential Research Projects |

160
(1)
161
(1)
162
(1)
163
(1)
164
(1)
165
(1)
166
(1)
167
(1)
168
(1)
169
(2)
Appendix 1. STATES.SAV Descriptives
171
(10)
Appendix 2. GSS96.SAV File Information
181
(22)
Appendix 3. Variable Label Abbreviations
203