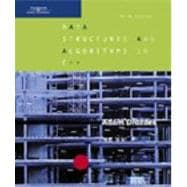 Data Structure and Algorithms in C++ Third Edition
by
Drozdek, Adam
Questions About This Book?
Why should I rent this book?
Renting is easy, fast, and cheap! Renting from eCampus.com can save you hundreds of dollars compared to the cost of new or used books each semester. At the end of the semester, simply ship the book back to us with a free UPS shipping label! No need to worry about selling it back.
How do rental returns work?
Returning books is as easy as possible. As your rental due date approaches, we will email you several courtesy reminders. When you are ready to return, you can print a free UPS shipping label from our website at any time. Then, just return the book to your UPS driver or any staffed UPS location. You can even use the same box we shipped it in!
What version or edition is this?
This is the 3rd edition with a publication date of 9/24/2004.
What is included with this book?
The Used copy of this book is not guaranteed to include any supplemental materials. Typically, only the book itself is included.
The Rental copy of this book is not guaranteed to include any supplemental materials. You may receive a brand new copy, but typically, only the book itself.
Summary
Using the C++ programming language, author Adam Drozdek highlights three important aspects of data structures and algorithms. First, the book places special emphasis on the connection between data structures and their algorithms, including an analysis of the algorithms' complexity. Second, the book presents data structures in the context of object-oriented program design, stressing the principle of information hiding in its treatment of encapsulation and decomposition. Finally, the book closely examines data structure implementation. Overall, this practical and theoretical book prepares students with a solid foundation in data structures for future courses and work in design implementation, testing, or maintenance of virtually any software system.
Table of Contents
1 OBJECT-ORIENTED PROGRAMMING USING C++
1
(51)
1
(1)
1
(5)
6
(3)
9
(12)

| | |
| --- | --- |
| | 1.4.1 Pointers and Arrays |

12
(2)

| | |
| --- | --- |
| | 1.4.2 Pointers and Copy Constructors |

14
(2)

| | |
| --- | --- |
| | 1.4.3 Pointers and Destructors |

16
(1)

| | |
| --- | --- |
| | 1.4.4 Pointers and Reference Variables |

17
(2)

| | |
| --- | --- |
| | 1.4.5 Pointers to Functions |

19
(2)
21
(2)

| | |
| --- | --- |
| | 1.6 C++ and Object-Oriented Programming |

23
(1)

| | |
| --- | --- |
| | 1.7 The Standard Template Library |

24
(3)
24
(1)
24
(1)
25
(1)
26
(1)

| | |
| --- | --- |
| | 1.8 Vectors in the Standard Template Library |

27
(8)

| | |
| --- | --- |
| | 1.9 Data Structures and Object-Oriented Programming |

35
(1)

| | |
| --- | --- |
| | 1.10 Case Study: Random Access File |

36
(11)
47
(2)

| | |
| --- | --- |
| | 1.12 Programming Assignments |

49
(2)
51
(1)
2 COMPLEXITY ANALYSIS
52
(24)

| | |
| --- | --- |
| | 2.1 Computational and Asymptotic Complexity |

52
(1)
53
(2)

| | |
| --- | --- |
| | 2.3 Properties of Big-O Notation |

55
(2)
57
(1)
58
(1)

| | |
| --- | --- |
| | 2.6 Examples of Complexities |

59
(1)

| | |
| --- | --- |
| | 2.7 Finding Asymptotic Complexity: Examples |

60
(2)

| | |
| --- | --- |
| | 2.8 The Best, Average, and Worst Cases |

62
(3)
65
(4)
69
(3)
72
(3)
75
(1)
3 LINKED LISTS
76
(61)
76
(15)
82
(2)
84
(6)
90
(1)
91
(4)
95
(2)
97
(5)

| | |
| --- | --- |
| | 3.5 Self-Organizing Lists |

102
(5)
107
(3)

| | |
| --- | --- |
| | 3.7 Lists in the Standard Template Library |

110
(4)

| | |
| --- | --- |
| | 3.8 Deques in the Standard Template Library |

114
(5)
119
(1)

| | |
| --- | --- |
| | 3.10 Case Study: A Library |

120
(11)
131
(2)

| | |
| --- | --- |
| | 3.12 Programming Assignments |

133
(3)
136
(1)
4 STACKS AND QUEUES
137
(33)
137
(8)
145
(9)
154
(1)

| | |
| --- | --- |
| | 4.4 Stacks in the Standard Template Library |

155
(1)

| | |
| --- | --- |
| | 4.5 Queues in the Standard Template Library |

155
(2)

| | |
| --- | --- |
| | 4.6 Priority Queues in the Standard Template Library |

157
(2)

| | |
| --- | --- |
| | 4.7 Case Study: Exiting a Maze |

159
(7)
166
(1)

| | |
| --- | --- |
| | 4.9 Programming Assignments |

167
(2)
169
(1)
5 RECURSION

| | |
| --- | --- |
| | 5.1 Recursive Definitions |

170
(3)

| | |
| --- | --- |
| | 5.2 Function Calls and Recursion Implementation |

173
(2)

| | |
| --- | --- |
| | 5.3 Anatomy of a Recursive Call |

175
(3)
178
(1)
179
(6)
185
(2)
187
(1)
187
(4)
191
(7)
198
(1)

| | |
| --- | --- |
| | 5.11 Case Study: A Recursive Descent Interpreter |

199
(9)
208
(3)

| | |
| --- | --- |
| | 5.13 Programming Assignments |

211
(3)
214
(1)
6 BINARY TREES
215
(85)

| | |
| --- | --- |
| | 6.1 Trees, Binary Trees, and Binary Search Trees |

215
(5)

| | |
| --- | --- |
| | 6.2 Implementing Binary Trees |

220
(3)

| | |
| --- | --- |
| | 6.3 Searching a Binary Search Tree |

223
(2)
225
(16)

| | |
| --- | --- |
| | 6.4.1 Breadth-First Traversal |

226
(1)

| | |
| --- | --- |
| | 6.4.2 Depth-First Traversal |

227
(7)

| | |
| --- | --- |
| | 6.4.3 Stackless Depth-First Traversal |

234
(7)
241
(3)
244
(7)

| | |
| --- | --- |
| | 6.6.1 Deletion by Merging |

245
(2)

| | |
| --- | --- |
| | 6.6.2 Deletion by Copying |

247
(4)
251
(11)
254
(3)
257
(5)
262
(7)

| | |
| --- | --- |
| | 6.8.1 Self-Restructuring Trees |

263
(1)
264
(5)
269
(28)

| | |
| --- | --- |
| | 6.9.1 Heaps as Priority Queues |

271
(1)

| | |
| --- | --- |
| | 6.9.2 Organizing Arrays as Heaps |

272
(5)

| | |
| --- | --- |
| | 6.10 Polish Notation and Expression Trees |

277
(5)

| | |
| --- | --- |
| | 6.10.1 Operations on Expression Trees |

279
(3)

| | |
| --- | --- |
| | 6.11 Case Study: Computing Word Frequencies |

282
(8)
290
(3)

| | |
| --- | --- |
| | 6.13 Programming Assignments |

293
(4)
297
(3)
7 MULTIWAY TREES
300
(76)

| | |
| --- | --- |
| | 7.1 The Family of B-Trees |

301
(48)
302
(10)
312
(2)
314
(3)
317
(1)
318
(3)
321
(1)
322
(16)

| | |
| --- | --- |
| | 7.1.8 Sets and Multisets in the Standard Template Library |

338
(6)

| | |
| --- | --- |
| | 7.1.9 Maps and Multimaps in the Standard Template Library |

344
(5)
349
(9)
358
(1)

| | |
| --- | --- |
| | 7.4 Case Study: Spell Checker |

358
(11)
369
(1)

| | |
| --- | --- |
| | 7.6 Programming Assignments |

370
(4)
374
(2)
8 GRAPHS
376
(98)
378
(2)
380
(3)
383
(10)

| | |
| --- | --- |
| | 8.3.1 All-to-All Shortest Path Problem |

390
(3)
393
(3)
394
(2)
396
(4)
400
(6)

| | |
| --- | --- |
| | 8.6.1 Connectivity in Undirected Graphs |

400
(3)

| | |
| --- | --- |
| | 8.6.2 Connectivity in Directed Graphs |

403
(3)
406
(2)
408
(15)
408
(10)

| | |
| --- | --- |
| | 8.8.2 Maximum Flows of Minimum Cost |

418
(5)
423
(48)

| | |
| --- | --- |
| | 8.9.1 Stable Matching Problem |

427
(3)
430
(2)

| | |
| --- | --- |
| | 8.9.3 Matching in Nonbipartite Graphs |

432
(2)

| | |
| --- | --- |
| | 8.10 Eulerian and Hamiltonian Graphs |

434
(10)
434
(4)

| | |
| --- | --- |
| | 8.10.2 Hamiltonian Graphs |

438
(6)
444
(3)

| | |
| --- | --- |
| | 8.12 NP-Complete Problems in Graph Theory |

447
(5)

| | |
| --- | --- |
| | 8.12.1 The Clique Problem |

447
(1)

| | |
| --- | --- |
| | 8.12.2 The 3-Colorability Problem |

448
(2)

| | |
| --- | --- |
| | 8.12.3 The Vertex Cover Problem |

450
(1)

| | |
| --- | --- |
| | 8.12.4 The Hamiltonian Cycle Problem |

451
(1)

| | |
| --- | --- |
| | 8.13 Case Study: Distinct Representatives |

452
(13)
465
(5)

| | |
| --- | --- |
| | 8.15 Programming Assignments |

470
(1)
471
(3)
9 SORTING
474

| | |
| --- | --- |
| | 9.1 Elementary Sorting Algorithms |

475
(7)
475
(3)
478
(2)
480
(2)
482
(4)

| | |
| --- | --- |
| | 9.3 Efficient Sorting Algorithms |

486
(20)
486
(3)
489
(4)
493
(6)
499
(3)
502
(4)

| | |
| --- | --- |
| | 9.4 Sorting in the Standard Template Library |

506
(4)
510
(2)

| | |
| --- | --- |
| | 9.6 Case Study: Adding Polynomials |

512
(8)
520
(1)

| | |
| --- | --- |
| | 9.8 Programming Assignments |

521
(2)
523
(3)
10 HASHING
526
(2)
526
(1)
526
(1)

| | |
| --- | --- |
| | 10.1.3 Mid-Square Function |

527
(1)
527
(1)

| | |
| --- | --- |
| | 10.1.5 Radix Transformation |

528
(1)

| | |
| --- | --- |
| | 10.2 Collision Resolution |

528
(9)
528
(6)
534
(2)
536
(1)
537
(1)

| | |
| --- | --- |
| | 10.4 Perfect Hash Functions |

538
(6)
539
(3)

| | |
| --- | --- |
| | 10.4.2 The FHCD Algorithm |

542
(2)

| | |
| --- | --- |
| | 10.5 Hash Functions for Extendible Files |

544
(6)

| | |
| --- | --- |
| | 10.5.1 Extendible Hashing |

545
(2)
547
(3)

| | |
| --- | --- |
| | 10.6 Case Study: Hashing with Buckets |

550
(10)
560
(1)

| | |
| --- | --- |
| | 10.8 Programming Assignments |

561
(1)
562
(2)
11 DATA COMPRESSION
564
(1)

| | |
| --- | --- |
| | 11.1 Conditions for Data Compression |

564
(2)
566
(14)

| | |
| --- | --- |
| | 11.2.1 Adaptive Huffrnan Coding |

575
(5)
580
(1)
581
(3)

| | |
| --- | --- |
| | 11.5 Case Study: Huffman Method with Run-Length Encoding |

584
(12)
596
(1)

| | |
| --- | --- |
| | 11.7 Programming Assignments |

596
(2)
598
(2)
12 MEMORY MANAGEMENT

| | |
| --- | --- |
| | 12.1 The Sequential-Fit Methods |

600
(1)

| | |
| --- | --- |
| | 12.2 The Nonsequential-Fit Methods |

601
(9)
603
(7)
610
(18)
611
(7)
618
(2)

| | |
| --- | --- |
| | 12.3.3 Incremental Garbage Collection |

620
(8)
628
(1)

| | |
| --- | --- |
| | 12.5 Case Study: An In-Place Garbage Collector |

629
(9)
638
(1)

| | |
| --- | --- |
| | 12.7 Programming Assignments |

639
(3)
642
(2)
13 STRING MATCHING

| | |
| --- | --- |
| | 13.1 Exact String Matching |

644
(45)

| | |
| --- | --- |
| | 13.1.1 Straightforward Algorithms |

644
(3)

| | |
| --- | --- |
| | 13.1.2 The Knuth-Morris-Prat Algorithm |

647
(8)

| | |
| --- | --- |
| | 13.1.3 The Boyer-Moore Algorithm |

655
(10)
665
(2)

| | |
| --- | --- |
| | 13.1.5 Bit-Oriented Approach |

667
(3)

| | |
| --- | --- |
| | 13.1.6 Matching Sets of Words |

670
(7)

| | |
| --- | --- |
| | 13.1.7 Regular Expression Matching |

677
(4)

| | |
| --- | --- |
| | 13.1.8 Suffix Tries and Trees |

681
(6)
687
(2)

| | |
| --- | --- |
| | 13.2 Approximate String Matching |

689
(10)
690
(6)

| | |
| --- | --- |
| | 13.2.2 String Matching with k Errors |

696
(3)

| | |
| --- | --- |
| | 13.3 Case Study: Longest Common Substring |

699
(9)
708
(2)

| | |
| --- | --- |
| | 13.5 Programming Assignments |

710
(1)
711
(2)
APPENDIXES
713
(6)
713
(1)

| | |
| --- | --- |
| | A.2 Approximation of the Function lg(n!) |

713
(2)

| | |
| --- | --- |
| | A.3 Big-O for Average Case of Quicksort |

715
(2)

| | |
| --- | --- |
| | A.4 Average Path Length in a Random Binary Tree |

717
(1)

| | |
| --- | --- |
| | A.5 The Number of Nodes in an AVL Tree |

718
(1)

| | |
| --- | --- |
| | B Algorithms in the Standard Template Library |

719
(9)
719
(9)
728
(13)
728
(13)
Name Index
741
(4)
Subject Index
745