Note: Supplemental materials are not guaranteed with Rental or Used book purchases.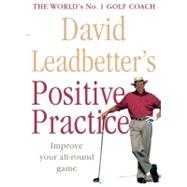 David Leadbetter's Positive Practice
ISBN13:
9780062720702
by
Leadbetter, David
HarperCollins Publications
Summary
"The thing that makes David such a great coach is his incredible knowledge of the golf swing and the way he communicates it to you. It always makes sense and I trust what he says, totally." -- Ernie Els
Table of Contents
Introduction
9
(6)

| | |
| --- | --- |
| | In Search of a Better Game |

15
(20)
18
(8)
26
(4)
30
(5)

| | |
| --- | --- |
| | Key Lessons & Practice Techniques |

35
(32)

| | |
| --- | --- |
| | Cliches That Hurt Your Game |

37
(2)
39
(7)
46
(2)
48
(12)
60
(7)
67
(32)
70
(12)
82
(6)

| | |
| --- | --- |
| | Simple Fixes for Common Faults |

88
(11)
99
(38)
102
(10)
112
(8)
120
(6)
126
(11)
137
(23)
140
(15)
155
(5)
Academies
160
Excerpts
David Leadbetter's Positive Practice
Chapter One
In Search of a Better Game
THE MAJORITY OF THE GOLFERS I teach don't need me to tell them how important practice is if they want to do justice to their talent. Many of them came up through junior ranks to be low single-figure players, with designs on one day turning pro; the rest have already made that transition. For them, golf is a serious, often obsessive, business.
What they do need, though, is a sense of direction. They need someone to simplify the finer points of good technique and to help them understand their swing and any particular tendencies they have. Someone to make them think a little harder about what makes their game tick, and to help them analyze their performance on the course so that their practice time might be more effectively structured.
Out on the range, the real testing ground, they need a reliable source of feedback to monitor their progress, and a regular diet of practical drills and exercises that help them to capture the sensation of a good swing, and so speed their improvement. This is really what being a teacher is all about, and while we may not be working one-on-one, the thoughts and ideas presented in this book will provide you with the same service and motivation I try to give all my students.
You may not be blessed with the natural ability of a scratch golfer, and you almost certainly don't have as much time as you would like to tinker with your swing and work on the skills that go to make up your game. But if you are committed to becoming a better player, you can make it happen. All it takes is a little common sense and forward thinking. Above anything else, good golf is a frame of mind.
Out of interest, I checked with the thesaurus: what is this concept of 'practice' really all about? A number of the given definitions caught my eye: 'drill, exercise, polish, prepare, rehearse, repeat, study and train'. Wonderful words in a golfer's vocabulary. At least they ought to be.
A healthy approach to improving and maintaining your game does not involve beating a few balls every once in a while in the hope of finding something handy for the weekend. Such a hit-and-miss approach leaves too much to chance. You might find something that works one day, but it's gone the next. Without any real thought there is neither rhyme-nor-reason to your practice session, and no consistency in your game.
Contrast this with the habits of the smart player -- someone who likes to keep a close track of his performances out on the course. His finger is on the pulse: he knows the strengths and weaknesses that exist in his game, and so he is able to focus on those areas that most need attention, and organize an effective plan of action.
Such a process of analysis and self-evaluation is perhaps the Most Significant difference between golfers who find themselves stuck in what you might describe as a 'handicap trap', and those who are able to set themselves realistic goals and gradually improve the overall standard of their game. Appraising your game is like appraising a business -- you have to look at the facts and figures in black and white, and be entirely rational in your evaluation. But before we look at the ways in which you can do this, let me first identify and explain the three distinct types ofpractice.
PRACTICE: Three games in one
IN ITS FULLEST SENSE, the art of practicing golf embraces a host of related activities, each one designed to help a player prepare fully for his game, both physically and mentally. So that we are clear on exactly what we are dealing with, I am going to suggest that we classify these activities as three distinct levels: (1) the pre-game warm-up session, (2) the technical work-out on the range, where you deal with the details of your swing, and (3) various mental rehearsal techniques that help a player train his mind for the challenges of the course -- often referred to as the 'inner game'.
A strong case can also be made for a fourth element of practice, which would involve such matters as keeping fit for golf -- the strengthening of specific muscle groups that benefit the swing -- and learning how to relax, both on the practice tee and in competition. Just as society as a whole is more aware these days of health and fitness issues (both mental and physical) in terms of improving performance, the modern tour pro makes good use of certain proven techniques and exercises in each of these areas to improve his physical and mental resilience. You might regard this as a 'new wave' in golf instruction -- we'll look at it in more detail in Chapter 5.
Naturally enough, a rounded strategy of improvement involves striking a balance between all of these elements though of course every golfer's habits and vary. We are all different in that respect. The determined, single-minded approach Ben Hogan took to the practice tee, famously beating his hands could take no more punishment, is certainly not for everybody
Back in 1945, in what will surely remain the most phenomenal winning streak in professional golf, the legendary Byron Nelson won a record 11 tournaments in a row on the PGA Tour, and had such a feel for his swing that the only form of practice he participated in was warming up before he played. He was afraid that if he over-practiced he might lose the great feel he had. It's interesting to note that throughout his career Byron was a great lover of facts and figures and an assiduous note-taker. He kept detailed records of every game he played, so when he did practice he knew exactly where to direct his efforts...
David Leadbetter's Positive Practice
. Copyright © by David Leadbetter. Reprinted by permission of HarperCollins Publishers, Inc. All rights reserved. Available now wherever books are sold.
---

Excerpted from David Leadbetter's Positive Practice by David Leadbetter
All rights reserved by the original copyright owners. Excerpts are provided for display purposes only and may not be reproduced, reprinted or distributed without the written permission of the publisher.