Note: Supplemental materials are not guaranteed with Rental or Used book purchases.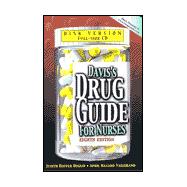 Table of Contents
How to Use Davis's Drug Guide for Nurses
p. xv
Special Dosing Considerations
p. xxi
The Pediatric Patient
p. xxi
The Geriatric Patient
p. xxi
The Obstetric Patient
p. xxii
Renal Disease
p. xxii
Liver Disease
p. xxiii
Congestive Heart Failure
p. xxiii
Body Size
p. xxiii
Delivery to Sites of Action
p. xxiii
Drug Interactions
p. xxiv
Dosage Forms
p. xxiv
Environmental Factors
p. xxv
Nutritional Factors
p. xxv
Summary
p. xxv
Key to Commonly used Abbreviations
p. xxvi
Medication Misadventures: the Nurse's Role in Detecting, Preventing, and Documenting Adverse Drug Events and Medication Errors
p. xxx
Classifications
p. C1
Anti-Alzheimer Agents
p. C1
Antianemics
p. C2
Antianginals
p. C3
Antianxiety Agents
p. C5
Antiarrhythmics
p. C7
Antiasthmatics
p. C9
Anticholinergics
p. C10
Anticoagulants
p. C12
Anticonvulsants
p. C14
Antidepressants
p. C16
Antidiabetics
p. C18
Antidiarrheals
p. C21
Antiemetics
p. C22
Antifungals
p. C24
Antihistamines
p. C25
Antihypertensives
p. C27
Anti-infectives
p. C30
Antineoplastics
p. C32
Antiparkinson agents
p. C36
Antiplatelet Agents
p. C38
Antipsychotics
p. C39
Antipyretics
p. C41
Antiretrovirals
p. C43
Antirheumatics
p. C45
Antituberculars
p. C46
Antiulcer Agents
p. C48
Antivirals
p. C51
Beta Blockers
p. C52
Bone Resorption Inhibitors
p. C54
Bronchodilators
p. C56
Calcium Channel Blockers
p. C58
Central Nervous System Stimulants
p. C60
Corticosteroids
p. C61
Diuretics
p. C64
Hormones
p. C66
Immunosuppresants
p. C68
Laxatives
p. C69
Lipid-Lowering Agents
p. C71
Minerals/Electrolytes/pH modifiers
p. C72
Natural/Herbal Products
p. C74
Nonopioid Analgesics
p. C75
Nonsteroidal Anti-inflammatory Drugs
p. C77
Opioid Analgesics
p. C79
Sedative/Hypnotics
p. C81
Skeletal Muscle Relaxants
p. C83
Thrombolytic Agents
p. C85
Vaccines/Immunizing Agents
p. C87
Vascular Headache Suppressants
p. C89
Vitamins
p. C90
Weight Control Agents
p. C92
Drug Monographs in Alphabetical Order by Generic Name
p. 1
Appendices
p. 1087
Natural/Herbal Products
p. 1089
Commonly Used Combination Drugs
p. 1115
Equianalgesic Tables
p. 1134
Schedules of Controlled Substances
p. 1137
Food and Drug Administration Pregnancy Categories
p. 1139
Body Surface Area Nomograms
p. 1140
Administration Techniques
p. 1142
Recommendations for Safe Handling of Hazardous Drugs
p. 1145
Normal Values of Common Laboratory Tests
p. 1149
Dietary Guidelines for Food Sources
p. 1151
Recommended Dietary Allowances
p. 1153
Routine Pediatric and Adult Immunizations
p. 1155
Ophthalmic Medications
p. 1159
Formulas Helpful for Calculating Doses
p. 1171
Recent Drug Release Update
p. 1174
Additional Drugs
p. 1179
Sample FDA Medication Error and Adverse Reaction Reporting Forms
p. 1204
Bibliography
p. 1206
Comprehensive Generic/Trade/Classifications Index
p. 1207
Table of Contents provided by Syndetics. All Rights Reserved.