Note: Supplemental materials are not guaranteed with Rental or Used book purchases.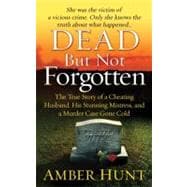 Dead but Not Forgotten : The True Story of a Cheating Husband, His Stunning Mistress, and a Murder Case Gone Cold
ISBN13:
9780312599041
by
Hunt, Amber
Summary
The true story of a cheating husband, his stunning mistress, and a murder case gone cold.
Author Biography
Amber Hunt is a journalist for the Detroit Free Press. She has received numerous awards including the 2005 Al Nakkula Award for Police Reporting, the only national award dedicated to crime coverage, and is a 2011 Knight-Wallace Fellow. She has appeared on NBC's Dateline and A&E's Crime Stories, among other TV shows. She lives in Michigan.
Table of Contents
A LIFE OF LIES
Devoted wife, loving mother, family-business owner—Barbara George seemed to have it all. But little did she know that her husband, Michael, was harboring a secret that would someday tear her family, and her whole world, apart…
A COLD-BLOODED CRIME
Barbara and Michael ran a Detroit-area comic book shop, where Renee Kotula was an employee—and Michael's lover. Their torrid affair took a shocking turn when one night Barbara was found dead at the shop, a bullet through her skull. Did Michael kill his wife so that he could collect her life insurance policy…and run off with Renee?
A MURDER MYSTERY
With no weapon or witnesses, the police weren't able to arrest Michael…until, eighteen years later, a new district attorney reopened the case and found overlooked evidence that placed him at the scene of the crime. Michael was finally arrested. But after a jury found him guilty of murder, the judge overturned his case. Why? As Michael awaits a second trial, many are left to wonder if justice will ever be served for the woman who is DEAD BUT NOT FORGOTTEN.
WITH 8 PAGES OF STARTLING PHOTOS