Note: Supplemental materials are not guaranteed with Rental or Used book purchases.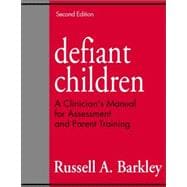 Defiant Children, Second Edition A Clinician's Manual for Assessment and Parent Training
ISBN13:
9781572301238
by
Barkley, Russell A.
Related Products
Summary
Updated and expanded, this remarkably clear and effective manual inclu des, in a single volume, a thorough clinical guide to and presentation of Barkley's ten-session training program, a fully rewritten and more extensive assessment section, and helpful parent and teacher handouts . This revised volume incorporates DSM-IV diagnostic criteria and offe rs even more guidelines for assessing children with defiant behavior, including a detailed parent interview that goes through each of the re levant childhood disorders. In addition, it provides two new scales fo r assessing the parents for ADHD or oppositional defiant disorder as w ell as norms for scoring them.
Author Biography
Russell A. Barkley, PhD, is Director of Psychology and Professor of Psychiatry and Neurology at the University of Massachusetts Medical School. In 1978, he founded the Neuropsychology Service at the Medical College of Wisconsin and Milwaukee Children's Hospital and served as its Chief until 1985. Since then, he has established the clinics for both child and adult Attention-Deficit/Hyperactivity Disorder at the University of Massachusetts Medical Center, where he continues to conduct ongoing research. The author of numerous widely acclaimed books and video programs, Dr. Barkley is editor of the newsletter The ADHD Report.

Table of Contents
Introduction
1
(14)
Part I Prerequisite Information for Using the Program
15
(74)

| | |
| --- | --- |
| | Chapter 1 The Rationale for the Program |

17
(27)

| | |
| --- | --- |
| | Chapter 2 Clinical Assessment of Defiant Children |

44
(29)

| | |
| --- | --- |
| | Chapter 3 Practical Considerations in Parent Training |

73
(8)

| | |
| --- | --- |
| | Chapter 4 An Overview of the Parent Training Program |

81
(8)
Part II Guidelines for Therapists in Conducting Each Step of the Program
89
(76)

| | |
| --- | --- |
| | Step 1 Why Children Misbehave |

91
(11)
102
(9)

| | |
| --- | --- |
| | Step 3 Increasing Compliance and Independent Play |

111
(9)

| | |
| --- | --- |
| | Step 4 When Praise Is Not Enough: Poker Chips and Points |

120
(11)

| | |
| --- | --- |
| | Step 5 Time Out! and Other Disciplinary Methods |

131
(14)

| | |
| --- | --- |
| | Step 6 Extending Time Out to Other Misbehavior |

145
(2)

| | |
| --- | --- |
| | Step 7 Anticipating Problems: Managing Children in Public Places |

147
(8)

| | |
| --- | --- |
| | Step 8 Improving School Behavior from Home: The Daily School Behavior Report Card |

155
(4)

| | |
| --- | --- |
| | Step 9 Handling Future Behavior Problems |

159
(3)

| | |
| --- | --- |
| | Step 10 Booster Session and Follow-Up Meetings |

162
(3)
Part III Assessment Materials
165
(50)

| | |
| --- | --- |
| | General Instructions for Completing the Questionnaires (Form 1) |

169
(1)

| | |
| --- | --- |
| | Child and Family Information Form (Form 2) |

170
(1)

| | |
| --- | --- |
| | Development and Medical History Form (Form 3) |

171
(3)

| | |
| --- | --- |
| | Disruptive Behavior Disorders Rating Scale-Parent Form (Form 4) |

174
(2)

| | |
| --- | --- |
| | Disruptive Behavior Disorders Rating Scale-Teacher Form (Form 5) |

176
(1)

| | |
| --- | --- |
| | Home Situations Questionnaire (Form 6) |

177
(1)

| | |
| --- | --- |
| | School Situations Questionnaire (Form 7) |

178
(1)

| | |
| --- | --- |
| | How to Prepare for Your Child's Evaluation (Form 8) |

179
(9)

| | |
| --- | --- |
| | Clinical Interview-Parent Report Form (Form 9) |

188
(25)

| | |
| --- | --- |
| | Adult Behavior Rating Scale--Self-Report of Current Behavior (Form 10) |

213
(1)

| | |
| --- | --- |
| | Adult Behavior Rating Scale--Self-Report of Childhood Behavior (Form 11) |

214
(1)
Part VI Parent Handouts for Steps 1-10
215
(33)

| | |
| --- | --- |
| | Parent Handout for Step 1: Profiles of Child and Parent Characteristics |

219
(1)

| | |
| --- | --- |
| | Parent Handout for Step 1: Family Problems Inventory |

220
(2)

| | |
| --- | --- |
| | Parent Handout for Step 2: Paying Attention to Your Child's Good Play Behavior |

222
(3)

| | |
| --- | --- |
| | Parent Handout for Step 3: Paying Attention to Your Child's Compliance |

225
(2)

| | |
| --- | --- |
| | Parent Handout for Step 3: Giving Effective Commands |

227
(1)

| | |
| --- | --- |
| | Parent Handout for Step 3: Attending to Independent Play |

228
(2)

| | |
| --- | --- |
| | Parent Handout for Step 4: The Home Poker Chip/Point System |

230
(3)

| | |
| --- | --- |
| | Parent Handout for Step 5: Time Out! |

233
(4)

| | |
| --- | --- |
| | Parent Handout for Step 7: Anticipating Problems-Managing Children in Public Places |

237
(3)

| | |
| --- | --- |
| | Parent Handout for Step 8: Using a Daily School Behavior Report Card |

240
(7)

| | |
| --- | --- |
| | Parent Handout for Step 9: Managing Future Behavior Problems |

247
(1)
References
248
(14)
Index
262