Note: Supplemental materials are not guaranteed with Rental or Used book purchases.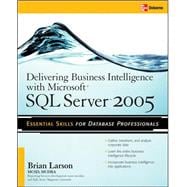 Delivering Business Intelligence with Microsoft SQL Server 2005 Utilize Microsoft's Data Warehousing, Mining & Reporting Tools to Provide Critical Intelligence to A
ISBN13:
9780072260908
by
Larson, Brian
Questions About This Book?
What version or edition is this?
This is the 1st edition with a publication date of 2/13/2006.
What is included with this book?
The New copy of this book will include any supplemental materials advertised. Please check the title of the book to determine if it should include any CDs, lab manuals, study guides, etc.
The eBook copy of this book is not guaranteed to include any supplemental materials. Typically only the book itself is included.
Related Products
Summary
Transform disparate enterprise data into actionable business intelligencePut timely, mission-critical information in the hands of employees across your organization using Microsoft SQL Server 2005 and the comprehensive information in this unique resource.Delivering Business Intelligence with Microsoft SQL Server 2005shows you, step-by-step, how to author, customize, and distribute information that will give your company the competitive edge. It's all right here--from data mining, warehousing, and scripting techniques to MDX queries, KPI analysis, and the all-new Unified Dimensional Model. Real-world examples, start-to-finish exercises, and downloadable code throughout illustrate all of the integration, analysis, and reporting capabilities of SQL Server 2005.
Author Biography
Brian Larson (Arden Hill, MN) is an MCSD and MCDBA, Chief of Technology at Superior Consulting Services and author of Osborne's Microsoft SQL Server 2000 Reporting Services.
Table of Contents
Acknowledgments
xiii

| | |
| --- | --- |
| | Part I Business Intelligence |

| | |
| --- | --- |
| | Equipping the Organization for Effective Decision Making |

3
(10)

| | |
| --- | --- |
| | Effective Decision Making |

4
(2)
4
(1)

| | |
| --- | --- |
| | What Is an Effective Decision? |

5
(1)

| | |
| --- | --- |
| | Keys to Effective Decision Making |

6
(5)

| | |
| --- | --- |
| | Are We Going Hither or Yon? |

7
(1)
8
(1)

| | |
| --- | --- |
| | Panicked Gossip, the Crow's Nest, or the Wireless |

9
(2)
11
(2)

| | |
| --- | --- |
| | Business Intelligence and Microsoft SQL Server 2005 |

12
(1)

| | |
| --- | --- |
| | Making the Most of What You've Got---Using Business Intelligence |

13
(12)

| | |
| --- | --- |
| | What Business Intelligence Can Do For You |

14
(2)

| | |
| --- | --- |
| | When We Know What We Are Looking For |

14
(1)

| | |
| --- | --- |
| | Discovering New Questions and Their Answers |

15
(1)

| | |
| --- | --- |
| | Business Intelligence at Many Levels |

16
(4)
17
(1)
18
(1)
19
(1)
20
(3)
20
(1)
21
(2)
23
(2)

| | |
| --- | --- |
| | Searching for the Source---The Source of Business Intelligence |

25
(18)
26
(3)
26
(3)
29
(12)
30
(2)
32
(9)

| | |
| --- | --- |
| | Snowflakes, Stars, and Analysis Services |

41
(2)

| | |
| --- | --- |
| | One-Stop Shopping---The Unified Dimensional Model |

43
(18)

| | |
| --- | --- |
| | Online Analytical Processing |

44
(9)

| | |
| --- | --- |
| | Building OLAP---Out of Cubes |

45
(3)

| | |
| --- | --- |
| | Features of an OLAP System |

48
(2)
50
(2)
52
(1)

| | |
| --- | --- |
| | The Unified Dimensional Model |

53
(7)
53
(6)
59
(1)
60
(1)

| | |
| --- | --- |
| | First Steps---Beginning the Development of Business Intelligence |

61
(34)

| | |
| --- | --- |
| | The Business Intelligence Development Studio |

62
(20)
62
(1)

| | |
| --- | --- |
| | Navigating the Business Intelligence Development Studio |

63
(16)

| | |
| --- | --- |
| | Business Intelligence Development Studio Options |

79
(3)

| | |
| --- | --- |
| | The SQL Server Management Studio |

82
(10)

| | |
| --- | --- |
| | The SQL Server Management Studio User Interface |

83
(9)
92
(3)

| | |
| --- | --- |
| | Part II Defining Business Intelligence Structures |

| | |
| --- | --- |
| | Building Foundations---Creating and Populating Data Marts |

95
(46)
96
(3)

| | |
| --- | --- |
| | Who Needs a Data Mart Anyway? |

96
(3)
99
(40)
100
(1)
101
(1)
101
(13)

| | |
| --- | --- |
| | Creating a Data Mart Using the SQL Server Management Studio |

114
(15)

| | |
| --- | --- |
| | Creating a Data Mart Using the Business Intelligence Development Studio |

129
(10)

| | |
| --- | --- |
| | The Benefits of Integration |

139
(2)

| | |
| --- | --- |
| | Fill'er up---Using Integration Services for Populating Data Marts |

141
(132)
142
(101)
142
(20)
162
(81)

| | |
| --- | --- |
| | Package Development Features |

243
(22)

| | |
| --- | --- |
| | Programming in Integration Services Packages |

243
(9)

| | |
| --- | --- |
| | Package Development Tools |

252
(12)

| | |
| --- | --- |
| | Migrating from SQL Server 2000 DTS Packages |

264
(1)

| | |
| --- | --- |
| | Putting Integration Services Packages into Production |

265
(4)

| | |
| --- | --- |
| | Deploying Integration Services Packages |

265
(3)

| | |
| --- | --- |
| | Executing Integration Services Packages |

268
(1)

| | |
| --- | --- |
| | Meanwhile, Back at the Unified Dimensional Model (UDM) |

269
(4)

| | |
| --- | --- |
| | Part III Analyzing Cube Content |

| | |
| --- | --- |
| | Cubism---Measures and Dimensions |

273
(48)

| | |
| --- | --- |
| | Where We've Been and Where We're Going |

274
(20)

| | |
| --- | --- |
| | Completing the Manufacturing Data Mart |

274
(12)
286
(8)
294
(12)
294
(3)

| | |
| --- | --- |
| | Made-up Facts---Calculated Measures |

297
(3)

| | |
| --- | --- |
| | It Doesn't Add Up---Measure Aggregates Other than SUM |

300
(6)
306
(13)
307
(1)

| | |
| --- | --- |
| | Relating Dimensions to Measure Groups |

308
(3)
311
(3)

| | |
| --- | --- |
| | Slowly Changing Dimensions |

314
(5)
319
(2)

| | |
| --- | --- |
| | Bells and Whistles---Special Features of OLAP Cubes |

321
(54)

| | |
| --- | --- |
| | Where No Cube Has Gone Before |

322
(16)
323
(1)

| | |
| --- | --- |
| | Deploying from the Business Intelligence Development Studio |

324
(6)

| | |
| --- | --- |
| | Deploying from the Analysis Services Deployment Wizard |

330
(8)
338
(35)
338
(3)

| | |
| --- | --- |
| | The Business Intelligence Wizard |

341
(1)

| | |
| --- | --- |
| | Key Performance Indicators |

342
(7)
349
(3)
352
(18)
370
(1)
371
(2)

| | |
| --- | --- |
| | More Sophisticated Scripting |

373
(2)

| | |
| --- | --- |
| | Writing a New Script---MDX Scripting |

375
(46)
376
(27)
376
(19)
395
(8)

| | |
| --- | --- |
| | Putting MDX Scripting to Work |

403
(16)
403
(11)

| | |
| --- | --- |
| | This Year to Last Year Comparisons and Year-To-Date Rollups |

414
(5)

| | |
| --- | --- |
| | Extracting Data from Cubes |

419
(2)

| | |
| --- | --- |
| | Pulling It Out and Building It Up---MDX Queries |

421
(36)
422
(26)

| | |
| --- | --- |
| | The Basic MDX SELECT Statement |

423
(11)

| | |
| --- | --- |
| | Additional Tools for Querying |

434
(11)
445
(3)
448
(6)
448
(2)
450
(4)
454
(3)

| | |
| --- | --- |
| | Panning for Gold---Introduction to Data Mining |

457
(26)
458
(14)
458
(5)

| | |
| --- | --- |
| | Tasks Accomplished by Data Mining |

463
(6)
469
(3)
472
(10)
472
(1)
473
(1)
474
(2)
476
(1)

| | |
| --- | --- |
| | Microsoft Sequence Clustering |

477
(2)
479
(1)
480
(2)
482
(1)

| | |
| --- | --- |
| | Building the Mine---Working with the Data Mining Model |

483
(36)
484
(14)
484
(1)
485
(1)
485
(13)
498
(20)
499
(6)
505
(4)
509
(3)
512
(1)
513
(4)

| | |
| --- | --- |
| | Microsoft Sequence Clustering |

517
(1)
517
(1)
518
(1)

| | |
| --- | --- |
| | Spelunking---Exploration Using Data Mining |

519
(36)
520
(14)
520
(5)
525
(5)
530
(2)
532
(2)
534
(10)
534
(3)
537
(7)
544
(8)
545
(2)

| | |
| --- | --- |
| | Types of Prediction Queries |

547
(5)
552
(3)

| | |
| --- | --- |
| | On Report---Delivering Business Intelligence with Reporting Services |

555
(118)
556
(4)
557
(2)
559
(1)

| | |
| --- | --- |
| | Report Serving Architecture |

560
(8)
560
(2)
562
(3)

| | |
| --- | --- |
| | Reporting Services Installation Considerations |

565
(3)
568
(59)
569
(58)
627
(12)
628
(1)
628
(1)

| | |
| --- | --- |
| | Deploying Reports Using the Report Designer |

629
(2)

| | |
| --- | --- |
| | Uploading Reports Using Report Manager |

631
(6)

| | |
| --- | --- |
| | Printing from Report Manager |

637
(2)

| | |
| --- | --- |
| | Managing Reports on the Report Server |

639
(17)
639
(9)
648
(1)
648
(5)
653
(1)
653
(1)
654
(1)

| | |
| --- | --- |
| | Data-Driven Subscriptions |

655
(1)
656
(15)
657
(8)
665
(6)
671
(2)

| | |
| --- | --- |
| | Let's Get Together---Integrating OLAP with Your Applications |

673
(44)
674
(9)
674
(3)
677
(6)

| | |
| --- | --- |
| | Using Reporting Services Without the Report Manager |

683
(33)
683
(18)
701
(6)

| | |
| --- | --- |
| | The Report Viewer Control |

707
(9)
716
(1)

| | |
| --- | --- |
| | Another Point of View---Excel Pivot Tables and Pivot Charts |

717
(28)
718
(27)

| | |
| --- | --- |
| | Creating Pivot Tables and Pivot Charts |

719
(1)
720
(15)
735
(10)

| | |
| --- | --- |
| | New Capabilities, New Opportunities |

745