Note: Supplemental materials are not guaranteed with Rental or Used book purchases.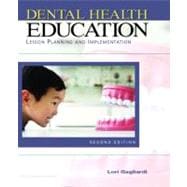 Dental Health Education : Lesson Planning and Implementation
ISBN13:
9780131717381
by
Gagliardi, Lorraine
Summary
The only book combining dental health information and lesson plans for the elementary classroom, this book addresses the role of the dental health educator and the needs of children.The book includes 10 lesson plans, visual aids, and tips on integrating dental health into the academic curriculum and the community. This book is a must for anyone teaching oral health to grade school children.Elementary school teachers, dental hygienists, school nurses.
Table of Contents
Preface
vii
About the Author
xi
Acknowledgments
xiii
Reviewers
xv

| | |
| --- | --- |
| | Section 1 Before You Begin |

1
(8)

| | |
| --- | --- |
| | Community Dental Health Education |

3
(6)

| | |
| --- | --- |
| | Multicultural Issues in Dental Health |

6
(3)

| | |
| --- | --- |
| | Section 2 Integrating Dental Health Education into the Classroom |

9
(28)
11
(12)
14
(4)
18
(5)

| | |
| --- | --- |
| | Hints to Help Integrate the Dental Education Program |

23
(14)

| | |
| --- | --- |
| | Hints to Help Integrate the Dental Education Program into the Academic Curriculum |

24
(4)
28
(9)

| | |
| --- | --- |
| | Section 3 Planning and Implementing a Dental Health |

37
(106)

| | |
| --- | --- |
| | The Importance of Plaque Control |

39
(8)

| | |
| --- | --- |
| | Brushing for Good Oral Health |

47
(8)

| | |
| --- | --- |
| | Flossing for Good Oral Health |

55
(10)
65
(8)

| | |
| --- | --- |
| | Clinical Guidelines on Fluoride Therapy |

67
(6)

| | |
| --- | --- |
| | Nutrition and Healthy Teeth |

73
(16)

| | |
| --- | --- |
| | My Pyramid: Getting Started |

84
(2)

| | |
| --- | --- |
| | MyPyramid Food Guidance System Education Framework |

86
(3)
89
(4)

| | |
| --- | --- |
| | Dental Safety and Oral Injury Prevention |

93
(8)
101
(12)
113
(12)

| | |
| --- | --- |
| | Last Visit: Wrap Up and Review |

125
(10)

| | |
| --- | --- |
| | Children with Special Needs |

135
(8)

| | |
| --- | --- |
| | Section 4 Creating a Community Outreach Program |

143
(52)
145
(14)
148
(1)
149
(10)

| | |
| --- | --- |
| | The Oral Health of Older Americans |

159
(6)

| | |
| --- | --- |
| | Creating a Community Outreach Program |

165
(30)

| | |
| --- | --- |
| | Community Outreach Program: Dental Health Fair |

167
(13)

| | |
| --- | --- |
| | Community Outreach Program: Parent Education Meeting |

180
(15)

| | |
| --- | --- |
| | Appendix: Additional Resources |

195
(42)

| | |
| --- | --- |
| | Dental Fact Sheets (FAQ) English and Spanish |

197
(2)
199
(2)
201
(2)
203
(2)
205
(2)

| | |
| --- | --- |
| | Fluoride to Prevent Tooth Decay |

207
(2)
209
(2)

| | |
| --- | --- |
| | Oral Injury Prevention---Mouthguards |

211
(2)
213
(2)
215
(2)
217
(2)
219
(2)

| | |
| --- | --- |
| | Putting Your Best Smile Forward |

221
(4)

| | |
| --- | --- |
| | Tooth Talk Dental Vocabulary |

225
(2)

| | |
| --- | --- |
| | Dental Health Educational Resources |

227
(3)

| | |
| --- | --- |
| | Recommended Dental Titles |

230
(4)

| | |
| --- | --- |
| | Classroom Education Resources |

234
(3)
Glossary
237
(4)
Bibliography
241
(2)
Index
243