Note: Supplemental materials are not guaranteed with Rental or Used book purchases.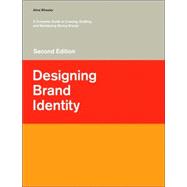 Designing Brand Identity: A Complete Guide to Creating, Building, and Maintaining Strong Brands, 2nd Edition
ISBN13:
9780471746843
by
Alina Wheeler
Related Products
Summary
Designing Brand Identity is an essential toolkit for the whole branding team, whether the goal is to express a new brand or to revitalize an existing one. Fully updated to reflect emerging trends, the Second Edition illuminates branding fundamentals, explains a disciplined and collaborative process, and showcases world-class brands and how they build awareness. Book jacket.
Author Biography
Alina Wheeler applies a dynamic process to help enterprises express their brands. Her clients include entrepreneurial companies and foundations whose leaders embrace the future. Wheeler collaborates with strategists, designers, and managers, seizing every opportunity to build brands and provide compelling customer experiences.
Wheeler speaks frequently to management and creative teams in companies, as well as to business and design students at universities. She introduces branding fundamentals, identifies brand trends, and connects their relationship to innovation and business.
Table of Contents
Perception

| | |
| --- | --- |
| | Part 1 illuminates the difference between brand and brand identity, and what it takes to be the best. It's easy to bypass the fundamentals in the speed of a new project, and critical to establish a shared vocabulary for the entire branding team. |

2
(2)
4
(2)
6
(2)
8
(2)
10
(2)
12
(2)

| | |
| --- | --- |
| | Why invest in brand identity? |

14
(2)
16
(2)
18
(2)
20
(2)
22
(2)
24
(2)
26
(2)
28
(2)
30
(2)
32
(2)
34
(2)

| | |
| --- | --- |
| | Brand identity fundamentals |

36
(2)
38
(2)
40
(2)
42
(2)
44
(2)
46
(2)
48
(2)
50
(2)
52
(2)
54
(2)
56
(2)
58
(2)
60
(2)
62
(2)
64
(2)
66
(2)
68
(4)

| | |
| --- | --- |
| | Part 2 presents a universal identity process that underlies all successful brand identity initiatives, regardless of the project's scope and nature. This section answers the question ``Why does it take so long?'' and addresses collaboration and decision making. |

72
(2)
74
(2)
76
(2)
78
(2)
80
(2)

| | |
| --- | --- |
| | Phase 1 Conducting research |

| | |
| --- | --- |
| | Understanding the business |

82
(2)
84
(2)
86
(2)
88
(2)
90
(2)
92
(2)
94
(2)

| | |
| --- | --- |
| | Phase 2 Clarifying strategy |

| | |
| --- | --- |
| | Clarifying brand strategy |

96
(2)
98
(2)
100
(2)

| | |
| --- | --- |
| | Brand brief + creative brief |

102
(2)
104
(2)

| | |
| --- | --- |
| | Phase 3 Designing identity |

106
(2)
108
(2)
110
(2)
112
(2)
114
(2)
116
(2)
118
(2)
120
(2)
122
(2)

| | |
| --- | --- |
| | Phase 4 Creating touchpoints |

124
(2)
126
(2)
128
(2)
130
(2)
132
(2)
134
(2)
136
(2)
138
(2)
140
(2)
142
(2)
144
(2)
146
(2)
148
(2)
150
(2)
152
(2)
154
(2)
156
(2)
158
(2)
160
(2)
162
(2)
164
(2)
166
(2)
168
(2)
170
(2)
172
(2)
174
(4)

| | |
| --- | --- |
| | Part 3 showcases best practices. Local and global, public and private, these highly successful projects, created by branding firms, design consultancies and in-house creative teams, inspire and exemplify original, flexible, lasting solutions. |

178
(2)
180
(2)
182
(2)
184
(2)

| | |
| --- | --- |
| | Atlanta 1996 Centennial Olympic Games |

186
(2)
188
(2)
190
(2)
192
(2)
194
(2)
196
(2)
198
(2)
200
(2)
202
(2)
204
(2)
206
(2)
208
(2)
210
(2)
212
(2)
214
(2)
216
(2)
218
(2)
220
(2)
222
(2)
224
(2)
226
(2)
228
(2)
230
(2)
232
(2)
234
(2)
236
(2)
238
(2)
240
(2)

| | |
| --- | --- |
| | Parkinson's Disease Foundation |

242
(2)
244
(2)
246
(2)

| | |
| --- | --- |
| | Radio Free Europe/Radio Liberty |

248
(2)
250
(2)
252
(2)
254
(2)
256
(2)
258
(2)
260
(2)
262
(2)
264
(2)
266
(2)
Origins of brand identity
268
(2)
Bibliography
270
(2)
Index
272
(8)
About the author
280