Note: Supplemental materials are not guaranteed with Rental or Used book purchases.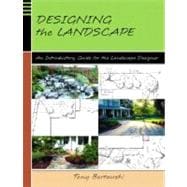 Designing the Landscape : An Introductory Guide for the Landscape Designer
ISBN13:
9780130330413
by
Bertauski, Tony
Summary
Designing the Landscape: An Introductory Guide for the Landscape Designer takes the reader through the design process step-by-step. The text begins with meeting the client and proceeds to functional concepts, design principles, and plant and hardscape materials. Each chapter builds upon the previous one, giving the reader a clear understanding of how the chapters fit into each phase of the design process. The text concludes with the final product and how to effectively present it to the client. Features: Numerous illustrations help aid readers' comprehension of the material Provides practical approaches to establishing a good client relationship as well as how to effectively present-or sell-the design Approaches design in a step-by-step fashion, helping readers to overcome the anxiety of the blank page Introduces the role computers play in the design process
Table of Contents
Interview
Finding work and interview clients
Site Plan
Taking measurements and drawing site plan
Analysis
Inventory and analysis of site
Functional Principles
Study of the useful, or functional, aspects of landscape
Concept Plan
Organizing the ground plane and developing a functional design
Design Principles
Study of the components of visual interest, balance, connection and flow
Preliminary Design
Landscape design based on concept plan using generic materials
Plants and Hardscapes
An in-depth look at plant selection and hardscape materials
Master Plan
Putting together the final plan that specifies all material in design
Presentation
An organized and effective approach to presenting design to client
Design Process
Summary of the design process
Plant and Hardscapes Resources
Books, software and internet links
Estimation
An introduction on estimating materials in the design
Computer Automated Design
Plan drawing and image design software
Butterfly Gardening
Designing to attract butterflies
Repelling Deer
Designing to help reduce damage from deer
Xeriscaping
Practice of using native plants to reduce management inputs
Hardiness Map
Heat Zone Map
Table of Contents provided by Publisher. All Rights Reserved.
Excerpts
Why another landscape design book? There are numerous books on designing the landscape, of which many are very good in presenting the design process and design principles. Amongst all these books there is a great deal of variety regarding illustrations, depth of coverage, and cost. Although I have great admiration for some of these publications, they were not the most suitable books for our horticulture program. Like many horticulture programs, especially two-year colleges, students take one class in landscape design with the hope they gain an understanding and appreciation of the functionality and aesthetics of design, and to be able to read and understand plan drawings as well as draw their own. Since students are limited to one semester to study landscape design the book, although very informative and thorough, was difficult for students to digest because of the arrangement and overwhelming amount of information. As a result, the majority of students would end up spending a lot of money on a text they hardly used except for looking through illustrations. Although many texts make great reference for advanced learning, it may not be the most useful in an introductory landscape design class. The intention of this text is to present an approach to landscape design starting with interviewing a client and ending with presenting it in a format that is concise, readily illustrated to facilitate learning and, most importantly, can be easily applied in the landscape design industry. The book focuses on residential design, although many of the concepts and steps can be applied to commercial projects as well. In early chapters it covers what the roles of a designer is and how to find work. Then begins a successive approach to the design process beginning with interviewing the client: how to present yourself, what to bring to the interview, and what questions should be answered. Following the interview, chapters discuss how to take and record measurements (Site Plan) and what observations should be made to formulate a design plan (Analysis) while on site. Then it proceeds with chapters that investigate the functional, or usefulness, of the design (Concept Plan) and how to draw a concept plan; a chapter on Design Principles looks at creating visually appealing plan and how to use them to draw a Preliminary Design; a chapter on Plant Selection and Hardscape discusses the materials that will be used to formulate the Master Plan, the final design. Finally, a chapter addresses how to present a design (Presentation) to clients or the classroom that most design books do not cover. Presentation skills cover how to make an effective presentation, making the point that presentation is not reading the plant list but how the needs of the site (analysis) were addressed functionally and aesthetically, as well as why plants and hardscape material are selected and their role in the design. Appendix cover topics such as Estimating Materials, Computer Design, Attracting and Repeling Wildlife, and Research Resources. My hope is that students will be able to use this text cover to cover over the course of a semester, making it easier to understand and effectively supplement their learning in class and provide them with the skills to be an effective landscape designer.