Note: Supplemental materials are not guaranteed with Rental or Used book purchases.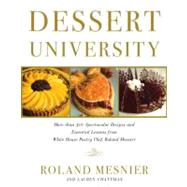 Dessert University : More Than 300 Spectacular Recipes and Essential Lessons from White House Pastry Chef Roland Mesnier
ISBN13:
9780743223171
by
Mesnier, Roland
Questions About This Book?
What version or edition is this?
This is the edition with a publication date of 9/1/2004.
What is included with this book?
The New copy of this book will include any supplemental materials advertised. Please check the title of the book to determine if it should include any CDs, lab manuals, study guides, etc.
Summary
As Executive Pastry Chef at the White House for almost twenty-five years, Roland Mesnier has been responsible for creating thousands of elegant, delicious confections and dazzling desserts for hundreds of state dinners and family occasions. An accomplished teacher as well as a master chef, he now shares his expertise with home cooks inDessert University.This beautifully illustrated volume is a complete course in making the full spectrum of spectacular sweets -- from breakfast pastries, cookies, and pies to fresh-fruit desserts, frozen confections, and cakes. Recipes in each chapter are organized from the simplest to the most complex, and Chef Mesnier walks you through each step, pointing out common mistakes and offering insights on technique gained from his years as a professional. Most of these recipes need few special ingredients and almost no fancy equipment; nearly everything can be purchased at a well-stocked supermarket, department store, or kitchen supply store. Chef Mesnier includes tips on techniques, ingredients, and serving suggestions, and offers home cooks practical advice, such as how to fill and use a pastry bag and the best way to whip egg whites. A resource list is also included, so cooks can find the more unusual ingredients they need to make these delectable creations.Mesnier starts off with his fresh-fruit desserts, including uniquely wonderful recipes such as Bananas in Raspberry Cream, Blueberry Fool, and Poached Peaches with Chestnut Mousse. He moves on to creamy custards, puddings, souffles, mousses and Bavarians, ice creams, meringues, crepes, and breakfast treats (including buttery brioche and croissant doughs). Chef Mesnier's cookie and bar recipes will fill your cookie jar with such treats as Chocolate Chip Cookies, Almond Crescents, Orange Butter Cookies, Brownies, and Florentine Squares. There are sweet and savory tarts, and cakes ranging from the simple (Lemon Pound Cake) to the unusual (Peanut Butter and Jelly Roulade Cake) to the sophisticated (Chocolate Champagne Mousse Cake). Ambitious home cooks can even try their hand at making chocolate candy and sugar decorations. A chapter on syrups, sauces, and other dessert components completes the book.More than fifty black-and-white line drawings throughout illustrate Chef Mesnier's instructions for the more complicated recipes, and there are sixteen stunning color photographs of finished desserts.Home cooks and professionals spend hundreds of dollars in formal cooking classes to learn what masters like Roland Mesnier have to teach. InDessert University,Chef Mesnier has distilled the experience and expertise of an extraordinary career into one accessible, user-friendly volume. Whether you're a novice who has never picked up a rolling pin or an accomplished cook looking to hone and enhance your skills, this is truly a book you cannot do without.
Table of Contents
Introduction: Devoted to Dessert
The Secrets of Simply Wonderful Fruit Desserts
Light and Silky Puddings, Custards, and Soufflés
Versatile Mousses and Bavarians
Frozen Desserts from Simple to Spectacular
Magical Meringues
Delicate Crêpes and Delectable Fillings
Memorable Breakfast Pastries and Perfect Pastry Doughs
Cookies You Can Count On
Favorite Tarts and Pies
Perfect Cakes for All Occasions
Chocolate Candy and Decorations at Home
Sugar Decorations for Passionate Cooks
Syrups, Sauces, Glazes, and Other Dessert Essentials
Appendix: Mail-Order Resources
Metric Equivalencies
Index
Table of Contents provided by Publisher. All Rights Reserved.
Excerpts
INTRODUCTION
Devoted to Dessert
Ever since I was a boy growing up in the very small town of Bonnay in France, I have had a deep admiration for fine pastry and a curiosity about how it is made. On my way to school each morning, I would pass the local bakery, where I would peek in and see the red-hot coals of the oven. I would inhale the aroma of fresh yeast and baking bread as I walked to my classes. My family had an account at the bakery, and it was my job to bring home a loaf for lunch every day. In addition to bread, this bakery made beautiful croissants, and one day I found them irresistible. I requested one and ate it on my way home. When my mother got the bill at the end of the month, she was shocked. Money was tight, and croissants were not in the budget. But she forgave me eventually. As it turns out, sampling croissants on my way home was as much a part of my education as the lessons I learned in school.
At the age of twelve I took a summer job at a nearby pastry shop where my older brother was already well established. At fourteen I began a more formal apprenticeship that lasted for three years. From there it was a long and exciting journey to the kitchen of the White House, where I served as Executive Pastry Chef for twenty-five years. In all that time, my desire to learn and to improve my skills has not diminished. I have also become a teacher myself, passing on the lessons I have learned to a new generation of pastry chefs training in the United States.
This book is the result of those years of studying, working, and teaching. I am happy and proud to share the techniques and recipes that I have refined during the course of my career. Making wonderful desserts and serving them to kings, queens, presidents, and statesmen was a source of joy and satisfaction for me. I hope that you will derive just as much pleasure, and feel the same sense of accomplishment when you serve dessert to family and friends.
MY EDUCATION IN PASTRY
From my very early days as a kitchen apprentice, I devoted myself entirely to learning everything I could about making desserts. My first teacher was my older brother Jean, who let me hang around and help out in his pastry shop to see if I would like the work. A formal apprenticeship in a larger town followed. The hours were long, my master was stern, and the salary was next to nothing, but at the end of three years I felt only the urge to travel the world and understand more about this fascinating art.
If I had not been truly committed to becoming a chef, I would have been discouraged by the hard life of a pastry assistant. My next job, at a very fine shop in Hanover, Germany, paid so little that I barely had enough money to cover my rent and the cost of getting to work. I had about 25 cents a day budgeted for food. On my way home at night I would stop and play the slot machine at a coffee shop. If I won, I would buy dinner. If I lost, I'd eat the apple that I had taken from the kitchen. For a year I fantasized about the cold cuts on display in the window of a delicatessen nearby. When I received a small bonus at the end of my time at the shop, my first thought was, "Watch out, Cold Meat Platter, here I come!" But I left with extreme gratitude toward the chef because he was the one who really taught me the foundations of good pastry. It was by his side that I learned how to bake all kinds of basic cakes and cookies. Here, also, I learned how to work with chocolate to make a variety of classic candies and glossy decorations.
I moved to Hamburg next, to a family-owned pastry shop and tearoom famous for its marzipan. At Christmastime the shop looked like a fabulous fairyland, decorated with every kind of marzipan figurine imaginable. I loved working with marzipan, copying the traditional pieces and experimenting with new shapes. The shop became like home to me, so it was with great sadness that I forced myself to leave. But I knew that there was more to learn before I could ever run a kitchen of my own.
I arrived at the kitchen of the Savoy Hotel in London, clutching my letters of recommendation but speaking no English. This was the place where all of the really ambitious young chefs wanted to work. The quality of the food and of the service in the hotel restaurant was unbelievable, unmatched by any other establishment at the time. All desserts were made to order and assembled tableside. A Peach Melba, probably the simplest dessert on the extensive menu, became a full-scale production at the Savoy. First, a peach was carefully chosen from the storeroom, dropped in boiling water to remove its skin, and pitted so that it remained whole. It was placed in a glass bowl, and that bowl was placed on top of a silver bowl of crushed ice. A portion of ice cream was placed in another glass bowl over ice. The maître d' would carry the peach, ice cream, melba sauce, whipped cream, and almonds out to the diner on a huge silver tray lined with a white linen napkin and assemble the dessert, topping the peach with as much or as little of the melba sauce, whipped cream, and almonds as the diner desired. I carry so many lessons with me from the Savoy about choosing quality ingredients and preparing them meticulously. I also learned much about presentation and the theatricality of tableside service that made dessert truly exciting. As a result of my experience at the Savoy, my desserts absolutely must be beautiful and presented with a flourish if possible, because I like to hear "oohs and aahs" when they are brought to the table.
The head chef at the Savoy was an amazing manager who inspired a staff of about eighty chefs with his gentlemanly and calm manner. He was demanding but fair. If you made a mistake he would certainly let you know, but as soon as he was finished reprimanding you, there were no hard feelings and you got back to work. We tried hard to please him, not because we were afraid of him but because we wanted to live up to his standards and become better chefs ourselves. All these years later, if I am struggling to keep my cool in the kitchen when things are going wrong, I remember how this exemplary chef was able to focus on fixing mistakes and then move on.
After making desserts and observing the head chef at the Savoy for quite a while, I was ready to be a head pastry chef. I left London for the Princess Hotel in Bermuda and a kitchen of my own. Any sense of complacency I had about knowing it all was immediately shaken by the new climate, which made me rethink many of the tricks and techniques I had learned in Europe. Through hard work and ingenuity, I was able to produce the desserts I had promised. The experience taught me that no matter how expert I thought I was in pastry and baking, there was always more to learn. This is a lesson that I still carry with me. Knowing that I don't know it all, and wanting to learn something new every day, has made me a better cook and a better teacher.
BECOMING A TEACHER
Running my own kitchen made me think about how to teach my staff the things they needed to know. I discovered that I enjoyed teaching almost as much as I enjoyed making desserts. When the Greenbrier Hotel in West Virginia called to ask if I would like to lead some pastry courses for guests and apprentices during my time off from the Princess, I had my first formal opportunity to teach. When I moved to the Homestead resort in Hot Springs, Virginia, I continued to run dessert seminars for guests and kitchen apprentices. Remembering my own training, I always demanded that my students master the basics before moving on to more complicated desserts. I was very proud if they left my class able to make a perfect crème caramel or genoise.
In 1979 I was hired by Rosalynn Carter to be the Pastry Chef at the White House. I had applied for the job at the urging of some Washington-based guests of the Homestead who had enjoyed my desserts, but I really had no reason to think that I had a chance. I drove up to Washington for an interview with the First Lady, and after a brief chat, she asked me when I could start! I cannot tell you how shocked I was to realize that all of my studying and working had led to a job making desserts for the President of the United States. I had come a long way from Bonnay.
Working at the White House was a delight. Every day was something new. It was a great challenge, but also a great opportunity, to have to come up with a different dessert for each state dinner, White House function, and First Family event. I felt that my desserts were on view to the world, and I wanted them to be beautiful as well as delicious. It was at the White House that I developed a personal style, refining my ideas about decorating and garnishing until I was satisfied that my desserts were a pleasure to look at as well as to eat.
It seemed only natural to share with aspiring pastry chefs what I had learned before and what I was still learning. I had visited the new professional schools for chefs that were being established around the country and was excited by what I saw. I thought it would be wonderful to teach pastry arts to committed students at a real school, where the subject was taken seriously and there was time and space to learn without having to meet the demands of pastry shop or restaurant business.
I was quite busy at the White House, but when the director of L'Académie de Cuisine in Maryland approached me about developing a professional pastry training program, I eagerly said yes. At the time, there were only a couple of such programs in the United States. Here was a once-in-a-lifetime chance to influence the way desserts would be made in the future. While designing the curriculum, I thought long and hard about what tomorrow's pastry chefs would need to know. In my off-hours I taught this course. It is still being taught today by a former student, and hundreds of its graduates now work in prestigious restaurant and hotel kitchens around the country.
Although I was on call at the White House twenty-four hours a day (it was not unheard of for me to be summoned to the pastry kitchen at 2 A.M. to make a last-minute cake for the President to carry ontoAir Force Onefirst thing in the morning), I continued to teach both professional and amateur cooking classes whenever I could. On my days off, I would show an auditorium full of future pastry chefs the tricks of covering a globe of ice cream with hot caramel to create an autumn dessert that looks like a pumpkin. Or I would demonstrate some tricks for making the perfect blueberry muffin to a group of avid weekend bakers. To be honest, teaching was not entirely selfless. Working with eager students, watching them learn, and feeling their enthusiasm often gave me the energy and inspiration I needed to do a good job at the White House.
After cooking at the White House for twenty-five years, I wanted very much to write a book for home cooks. The idea is not as odd as it might sound at first. After all, I devoted a large portion of my working life to making dessert for an American family. Even when the President and First Lady were entertaining hundreds of people, they were still doing so in their home. And a large part of my job was to make the First Family and their guests feel at home. Writing this book has allowed me to refine my ideas about desserts made at home. I have learned so much, and I hope you will too.
A FEW THINGS I HAVE LEARNED ABOUT MAKING GREAT DESSERTS
My dearest hope is to pass on the general principles of good dessert-making revealed to me by my best teachers. In brief, here are five golden rules that have guided me in the kitchen and that inform the rest of this book. They may seem obvious, but it is surprising how many times they are ignored in professional and home kitchens, with sad results.
LEARN THE BASICS AND THEN PRACTICE, PRACTICE, PRACTICE
You can't become a good dessert chef without a solid knowledge of the basics and a lot of experience with your recipes. Don't be discouraged if the first time you whip egg whites they dry out and collapse. Try again. It's a wise idea to perfect your technique before you attempt a Floating Island. Cooking is a practical art. Even if you have a good, detailed recipe to guide you, you still need hands-on experience to truly understand the way the ingredients should come together into a dessert. Perfection isn't an accident -- it's the result of taking care and learning from your previous mistakes.
RESPECT THE CLASSICS
Classic recipes are the foundation of dessert-making. There is a lot to learn by making a Chocolate Petit Pot, Apple Tart, or Marjolaine. I am the first one to embrace innovation in the kitchen, but only if it is informed by the past. Take, for example, crème brûlée. I must have tried ten different variations on the basic recipe before I developed my own way of making this dessert. And only after I was satisfied with my version of Vanilla Crème Brûlée did I attempt to develop variations such as Orange Crème Brûlée and Champagne Crème Brûlée with Green Grapes. One of the reasons that I am so confident about the recipes in this book is that all are relatives (however distant) of venerable recipes, and all use time-tested techniques that really work.
VALUE ECONOMY AND SIMPLICITY
I hate to waste time, energy, and ingredients. There is no way I could have produced the number of high-quality desserts that I did at the White House, usually by myself or with just one assistant, if I had not worked with maximum efficiency. If there is a quick way to do something, I will always choose it. If I can think of a way to cut out steps in order to save time, I do so. Nothing makes me happier than figuring out a way to use one mixing bowl instead of two, to save on cleanup time.
My biggest pet peeve is a recipe loaded down with unnecessary ingredients that add nothing more than expense and effort. To me a recipe is truly successful when its ingredient list is pared down so that it contains only the ingredients that truly contribute to its success.
FOCUS ON FLAVOR
This is, after all, what dessert is about. Fresh, natural flavor is the most important quality in any dessert. I am not concerned with richness for its own sake. I prefer a tart filled with plain yogurt, fresh fruit, and a drizzle of red clover honey to one weighted down by heavy pastry cream. A terrine made with lime sorbet, vodka parfait, and frozen raspberries appeals to me more than a leaden chocolate cake. I carefully choose my ingredients and flavor combinations so that the finished dessert will refresh rather than weight you down, no matter how caloric it really is. At many points in the book, I will suggest how to choose ingredients and design your own desserts so that they are as flavorful as possible.
BE AN ARTIST: DEVELOP YOUR TALENT
With the right inspiration, anyone can be creative. Everyone has talent. Dessert is an opportunity to make something beautiful as well as delicious. This doesn't mean that you have to garnish everything with chocolate curlicues or spun sugar bows. It can mean arranging a fruit salad with contrasting colors and shapes that please the eye as well as the palate, or taking the extra step of dusting shortbread cookies with confectioners' sugar and running them under the broiler to give them a beautiful caramelized glaze.
USING THIS BOOK
When I am teaching in the classroom, I try very hard to stick to the essentials and not overwhelm students with unnecessary detail. If I am giving a lesson on rolling out pie dough, I don't throw out a lot of numbers about the protein content of every different kind of flour. If I am teaching a lesson on tempering chocolate, I don't discourse on the discovery of cacao plants in the 16th century. Personally, I find these subjects fascinating, but they are a distraction for most people who want to learn practical ways to make great desserts. In writing this book, I have tried to replicate my classroom teaching style, which I hope is economical and a little bit entertaining. For information on the science and history of desserts, go to one of many wonderful reference works already out there. For advice on how to make a light and silky Bavarian, on the other hand, turn to Chapter 3.
Different types of advice can be found in different parts of the book. Chapter introductions stick to the basics of making a particular kind of dessert. The introduction to meringues in Chapter 5 has information on choosing eggs, separating them, whether or not cream of tartar is necessary to a good meringue, and what kind of sugar makes the best meringue. Turn to the introduction to Chapter 6 and you will find directions for mixing crêpe batter, cooking the very lightest and most delicate crêpes, and freezing the crêpes for later use.
Throughout each chapter, there are boxes containing information relevant to nearby recipes. In the middle of a group of recipes for cookies that are piped onto baking sheets, there is a box about how to fill and use a pastry bag. In a section on layer cakes, you will find a box about choosing the right buttercream frosting.
Don't skip over the introductions to individual recipes. In writing these, I was less concerned with praising the beauty and flavor of my creation than with providing information that will help you to successfully prepare the dessert. Read the notes carefully for tips on technique, ingredients, and serving suggestions. In the headnote to Chocolate Meringue Mousse, for example, you will be advised to fold your melted chocolate into the meringue while it is still warm so that it won't seize up before it has been completely incorporated. You will also learn to fold the egg whites into the chocolate rather than vice versa, since the chocolate bowl is probably warmer than the egg white bowl, and a cold bowl may chill and harden the chocolate. As a bonus, the headnote includes quick directions for a simple, light chocolate cake made by sandwiching Chocolate Meringue Mousse between layers of Chocolate Meringue and covering the filled layers with the remaining mousse.
Finally, the recipes themselves are like mini-lessons, with specific, step-by-step instructions. Vague language has been banished in favor of precision. In the recipe for Blueberry Sauce, for example, I tell you to avoid stirring and instead to shake the pot several times during cooking to end up with a sauce that is well cooked but has lots of whole fruit. When necessary, I have included illustrations that show you what I mean. Giving puff pastry a double turn is difficult to visualize if you have never done it before. The picture adjacent to the recipe should help.
BASIC INGREDIENTS
It struck me once again as I was compiling this list how few ingredients you really need to make dessert. Many impressive and delicious recipes in this book can be made from items that you probably have in your pantry, refrigerator, and freezer right now. I am not the kind of chef who will send you scurrying to six different stores for obscure ingredients. For the most part, you will find the makings of my desserts in the supermarket, with perhaps a trip to the farmers' market for some local fruit.
When I do ask for a special ingredient, you can be sure that it is because the result is well worth the trouble. I solemnly promise that if a recipe calls for an unusual item, it is because this is absolutely the best way to make a particular dessert. Yes, it is possible to make Coconut Mousse without homemade coconut puree, but the difference between a mousse made with processed coconut and one made with fresh is vast. I am not one of those doctrinaire chefs who insists on always using fresh coconut, however. As you will see, sweetened shredded coconut and canned coconut milk are used in those recipes where I have found that it simply does not make a difference, or that in some cases the easier-to-obtain ingredient is actually better.
Here is a list of staples used regularly in desserts. Individual chapters and recipe notes will have recommendations about shopping and ingredients specific to particular recipes.
BUTTER: Nothing gives flavor to baked goods like fresh, sweet butter. All the recipes in this book were tested withunsalted butter.When a dessert requires salt, I prefer to add it myself. Higher-fat European butter is delicious when spread on bread but is not necessary for baking. Supermarket butter does the job beautifully. Well wrapped, butter will keep in the refrigerator for several weeks. You may buy large quantities to store in the freezer for several months. Defrost frozen butter in the refrigerator overnight. To soften butter, unwrap it and let it stand at room temperature until pliable. To hasten softening, cut the butter into pieces. Don't soften butter in a microwave. Chances are that parts of it will melt before other parts are soft enough to use.
COCOA AND CHOCOLATE: I use either non-alkalized or Dutch processcocoa powderfor making brownies, Chocolate Bavarian, and other desserts, depending on what I have on hand. Some people think that non-alkalized cocoa has a deeper chocolate flavor. Personally, I don't think it makes much difference. Either type will work in all of the recipes where it is called for.
When tempering chocolate for candy-making and chocolate decorations, I usecouverture chocolatebecause it has a high proportion of cocoa butter, which makes it pourable and smooth (see page 431 for more on couverture chocolate).
I am also very picky aboutwhite chocolate.Most commercially available white chocolate barely tastes of chocolate and has an unpleasant aftertaste. It is imperative to choose a brand with the highest amount of cocoa butter possible. When cooking at home, I rely on Lindt, a high-quality brand available in many supermarkets.
When a recipe calls forunsweetened chocolate,I use Baker's or Hershey's baking squares, available in the baking aisle of any supermarket.
When I needbittersweet chocolate,I prefer a high-quality brand such as Valrhona, which has a relatively high quantity of cocoa solids and a deep chocolate flavor. But in a pinch, I am not a snob about brand-name bittersweet chocolate. What I am about to say goes against baking orthodoxy, but it comes from my own experience: I have had great success substitutingsemisweet chocolate chipsfor semisweet and bittersweet chocolate in all of the recipes in this book. I have read that chocolate chips have additives to prevent them from melting when baked in cookies, and that these additives make them unsuitable for melting and using as you would bittersweet chocolate. But, at least with my own recipes, this is simply not true. The chocolate flavor from chocolate chips is actually quite intense since the chips contain a relatively small amount of cocoa butter, which dulls the flavor of the cocoa solids. So if you are about to make a recipe and realize that all you have in the pantry is a bag of chocolate chips, proceed without worry.
CRÈME FRAÎCHE is heavy cream that has been thickened and given a slightly tangy taste through the addition of a lactic bacteria culture such as buttermilk or lemon juice. It is possible to make crème fraîche at home, but the process can take up to 24 hours, and the results are not uniform. I always buy it at the supermarket, for convenience and reliability.
EGGS: All of the recipes were tested with U.S. gradelarge eggs.Nutritionally and flavorwise, there is no difference between white and brown eggs. It is more important to buy eggs from a reputable grocery store where the turnover is frequent and the eggs are fresh. Keep eggs in the refrigerator until ready to use. Leftover raw egg whites and yolks will keep in airtight containers in the refrigerator for up to 2 days, and may be frozen for up to 3 months. There are several recipes in this book that call for raw eggs or egg whites. Note that raw eggs should not be used in food to be consumed by children, pregnant women, or anyone in poor health or with a compromised immune system due to salmonella.
FLOUR: Flour is categorized by its protein content, which gives baked goods their structure.Cake flourhas the smallest amount of protein, resulting in the softest, most tender baked goods. I use it in cakes, pastries, and doughs where I want a very soft, almost crumbly texture.All-purpose flourworks very well in most other recipes, producing tender baked goods with good shape and structure. Very occasionally I will usebread flourwhen I want to bake something with a little bit of toughness. For example, I make croissant dough with bread flour so that my croissants have crackly, well-defined layers. Store flour in an airtight container in a cool, dry place for up to 1 year. For more information on flour, see page 249.
DRIED FRUIT: I frequently use raisins and dried currants, prunes, blueberries, apricots, and pears in desserts and baked goods. They are good to have on hand and keep well when stored at room temperature in airtight containers or zipper-lock bags. Make sure to buy moist, plump fruit that hasn't been sitting on the shelf too long. To plump up overly dry fruit just before using, place it in a heatproof bowl and pour boiling water over the fruit to cover. Let it stand for 5 minutes, then drain well and pat dry.
GELATIN: Gelatin gives shape to mousses, Bavarians, and puddings. I also like to thicken fruit glazes for tarts and other desserts with gelatin. Professionals usesheet gelatin,which resembles brittle strips of very thin, clear plastic. It is available by mail (see page 523) and at baking supply shops. We like sheet gelatin because it is easier to dissolve and has less of an aftertaste thanpowdered gelatin.Powdered gelatin is a perfectly adequate substitute, however. All of the recipes in this book give quantities for both types of gelatin. For more on how to use gelatin, see the box on page 119.
MILK AND HEAVY CREAM: Unless otherwise directed, use2 percentorwhole milkin the recipes. Organic pasteurized heavy cream has a wonderful fresh flavor and whips up very high, but ultra-pasteurized heavy cream works very well in all of the recipes.
NUTS: Nuts add wonderful richness and flavor to many desserts and are delicious in nougat and other candy. I frequently use almonds, pecans, walnuts, and hazelnuts, and I like to have them on hand for spur-of-the-moment desserts. Buy nuts from a reputable market with a high turnover. They go rancid quickly, so unless you will be using them right away, you should store them in zipper-lock bags or airtight containers in the freezer.
SALT: The selection of salt can be confusing, with the range of products that have recently become available. What do you buy -- iodized salt, which is the cheapest and most common type, additive-free kosher salt, or the expensive sea salt that comes in a bewildering selection of grinds? When I am cooking dinner, I prefer kosher salt, which has a pure flavor without a high price tag. But I have found that because the amount of salt used in most baked goods is so small,iodized saltwill not affect the flavor of the finished product, so this is what I use in baking.
SUGAR AND OTHER SWEETENERS: I am not a big fan of exotic sweeteners. Blocks of palm sugar, boxes of Sucanat, and bottles of barley malt syrup would overcrowd my already crowded pantry. If you havegranulated sugar, confectioners' sugar,andlight brown sugaron hand, you will have the right sweetener for 90 percent of the recipes in this book. Bottles of corn syrup, pure maple syrup, molasses, and honey will allow you to sweeten the rest.
YEAST: Yeast-risen doughs form the basis of some of the most delicious desserts in this book.Compressed yeastandactive dry yeastare both available at any supermarket. I prefer compressed yeast, which comes in cakes and must be refrigerated. It has a superior aroma and gives baked goods a beautiful, yeasty flavor. Active dry yeast, which is compressed yeast that has been dehydrated so that it can be stored at room temperature, has a longer shelf life. Either one will cause your dough to rise, and quantities for both are given in the recipes that call for yeast. Just make sure that your yeast hasn't passed its expiration date and that you store it properly for successful baking. For more on yeast, see page 250.
ESSENTIAL EQUIPMENT, PLUS A FEW EXTRAS
The White House pastry kitchen is a relatively small space, with just enough room to store the equipment that is absolutely necessary for making dessert. This didn't bother me much, because I have never been interested in gadgets. For example, I don't use a double boiler at work or at home, since a heatproof bowl set over a pan of simmering water does the same job. And believe it or not, my wife and I lived without a rolling pin for the first years of our marriage. If one of us wanted to roll out dough at home, we'd improvise and use an empty wine bottle!
To this day, I'd rather figure out a convenient and cheap way to produce a dessert than invest in a costly specialty item that's hard to track down. The fancy blown sugar decorations that amazed guests at the White House weren't made with a pump marketed for that purpose. Instead of spending hundreds of taxpayer dollars, I went to the local auto supply shop and bought a brake line tube. Blowing air through the tube with my own lung power, I was able to make sugar decorations that were as good as, if not better than, decorations made with special equipment.
Here is a list of equipment used in recipes throughout this book. As you will see, there are very few expensive items and very few that you won't be able to find at your local housewares shop. Read the recipe carefully before you begin, to make sure that you are not missing some essential piece of equipment. Once you have some experience making desserts, don't be afraid to improvise if you have to. You just might discover a more convenient, cheaper, and better piece of equipment for doing the job than the one I suggest.
BAKING PANS: Look for sturdy, heavy pans that won't warp or dent. If you own two loaf pans (one large and one small), one 10-inch round pan, two 9-inch round cake pans, two 16 x 12-inch rimmed baking sheets, a 10-cup bundt pan, and a muffin tin, you are well equipped. Add an angel food cake pan with removable bottom, a mini muffin tin, an 8-inch savarin mold, and a madeleine pan, and you will have many of the baking pans called for in this book.
BISCUIT CUTTERS: A nesting set of round cutters measuring from 1H to 3 inches in diameter comes in handy for cutting biscuits, cookies, and circles of ganache for covering chocolates.
BLENDER: One of the few electric appliances I absolutely depend on, a blender makes smooth crêpe batter, purees fruit, and can even rescue curdled custard by smoothing out the lumps.
CITRUS REAMER: This wooden implement juices lemons, limes, and oranges quickly and efficiently.
CRÊPE PAN OR 6-INCH NONSTICK SKILLET: A special crêpe pan is nice to have for making crêpes but not necessary. A small skillet, preferably nonstick, will do the job just as well.
DECORATIVE MOLDS: Some of the prettiest desserts in this book can by made by simply pouring mousse, Bavarian, or ice cream into a mold and letting the mixture set up. The same desserts can be made in a bowl, but molds are nice to own, not terribly expensive, and often go on sale at cookware shops.
ELECTRIC MIXER: I use a standing mixer that comes with both whisk and paddle attachments. A handheld mixer may be used in most of the recipes in this book, but the mixing might take a bit longer with the less powerful machine.
FOOD PROCESSOR: In general, I don't like to use a food processor to make desserts. It is just too powerful, and it will overmix doughs and batters in just a few seconds. I sometimes use a food processor fitted with the metal blade if I have to chop a large quantity of nuts, but I am very careful not to overprocess the nuts, or they will release their oil and become very greasy.
GRATER: A grater with very small holes is essential for finely grating citrus zest.
HEAT LAMP: This is very helpful in keeping your cooked sugar warm when you are making pulled or blown sugar decorations, but a special heat lamp is not necessary. Just buy a heat bulb at the hardware store and use it with any desk lamp.
ICE CREAM MACHINE: Many frozen desserts can be made without using an ice cream machine, but sorbet and ice cream must be churned in one. Buy an inexpensive hand-crank model with a canister that you can chill in your freezer. If you become a devoted ice cream maker, consider purchasing a more expensive but more efficient electric model.
ICE CREAM SCOOPS: Very handy for a variety of pastry tasks, from portioning
out cookie dough to scooping out meringue for floating island desserts. I have a collection in different sizes. The numbers (#100, #70) indicate how many scoops to the quart you will get.
KNIVES: Heavy, sharp, high-quality knives make any kitchen task easier and more enjoyable. For desserts, I primarily use a paring knife, a chef's knife, and a serrated knife.
MARZIPAN SCULPTING TOOLS: You can sculpt marzipan with any number of common kitchen implements (the dull edge of a paring knife, a tiny measuring spoon, the tines of a fork), but a set of plastic sculpting tools, available at pastry supply shops and by mail (see page 524), is inexpensive and fun to work with if you are going to be doing any amount of marzipan work.
MEASURING SPOONS AND CUPS: All successful dessert recipes begin with accurate measuring. Professional pastry chefs are so determined to duplicate their results time after time that they weigh their ingredients rather than measuring them. Measuring is fine for home cooks, as long as you measure carefully. Use clear "liquid" measuring cups for liquid ingredients, "dry" measuring cups for large quantities of dry ingredients, and measuring spoons for small quantities.
MEDIUM WEIGHT ACETATE: Plastic sheeting is useful for finely piped chocolate decorations. Medium-weight acetate is available at pastry supply shops, but the clear plastic on sale at stationery and art supply shops is just the same.
MIXING BOWLS: Mixing bowls in a variety of sizes come in handy not just for mixing but also for organizing ingredients. Glass bowls can go in the microwave. Stainless steel bowls set on top of a pot of simmering water make a good substitute for a double boiler.
PARCHMENT PAPER: I rarely bake a cake or cookies without lining the pan with parchment paper. It is available in rolls in the baking aisle of any supermarket. If you bake a lot, you might want to purchase a quantity of precut sheets through a mail-order source (see page 523).
PASTRY BAGS AND TIPS: As you will see, I don't do a lot of ornate decorating with a pastry bag. But I do use it for many other tasks, including piping cookie dough and choux paste. Disposable plastic pastry bags are convenient. Coated canvas bags are more economical, however. A very basic set of several tips is all you will need to make any of the recipes in this book.
PASTRY BRUSHES: A couple of good-quality pastry brushes are necessary for routine tasks like brushing egg wash on pie dough and brushing syrup on cake layers. Keep the pastry brushes you use for desserts separate from the ones you use to brush barbecue sauce on your spareribs!
PIE AND TART PANS: You will be able to make any of the pie and tart recipes in this book if you have a 9-inch pie pan, a 10-inch tart pan with removable bottom, and eight 3-inch nonstick tartlet pans. I prefer clear Pyrex pie pans so that I can see how the bottom crust is browning as my pie bakes.
PIE WEIGHTS: If you have to bake a tart or pie shell before filling it, you will need to weight it down during baking to keep it flat. Special pie weights are available at pastry supply shops, but several cups of dried beans work just as well and can be used over and over again.
PLASTIC WRAP: I wish I owned stock in a plastic wrap company, for all the miles of the stuff I used during my years at the White House. I rely on plastic wrap for keeping baked goods and other desserts fresh, whether they are stored at room temperature, in the refrigerator, or in the freezer.
ROASTING PAN: If you want to make a smooth, uncurdled baked custard, you will need to place it in a roasting pan and fill the pan with water before baking.
ROLLING PIN: An essential piece of pastry-making equipment (although in a pinch you may try the wine bottle trick). I prefer a straight dowel-style wooden rolling pin, although you may use whatever you already have. See the box on page 270 for more opinions and advice on choosing a rolling pin.
SAUCEPANS: Good-quality, heavy saucepans in several sizes are necessary for making stovetop custards and puddings, heating cream for ganache, cooking sugar, and performing many other pastry tasks.
SCALE: Professional pastry chefs often measure their ingredients by weight rather than volume, so in a professional kitchen a scale is a must. For the home cook, I supply volume measurements but occasionally will refer to weight, as when I measure out an amount of pastry dough to be used in a pie. For this reason, and because a scale comes in handy for many other kitchen tasks, I recommend owning one. I use an electronic scale, battery operated, which can weigh up to 10 pounds.
SILPAT PAD: This silicone pad, the size of a baking sheet, prevents any baked goods from sticking. In many cases a Silpat Pad can be used in place of parchment paper, and unlike parchment paper it is reusable. If you do a lot of baking, it is definitely worth the small investment, and you'll never have to worry about running out of parchment.
SOUFFLÉ DISHES, CERAMIC BAKING DISHES, RAMEKINS, AND CUSTARD CUPS: Ceramic bakeware is wonderful for desserts that are to be served in the containers in which they are made, including soufflés, bread puddings, petits pots, and crème brûlée.
SPATULAS: Of all the utensils that a pastry chef uses, these are probably the most important. Rubber spatulas are used for scraping down the sides of a mixing bowl and for folding ingredients together. Buy the kind made from special plastic that won't melt, so you can also use them to stir puddings and stovetop custards. Offset spatulas are used for frosting cakes, making sure that pie dough doesn't stick to a work surface, spreading tempered chocolate into thin sheets to make decorations, and many other tasks. Flexible metal spatulas are convenient for lifting hot cookies off cookie sheets and placing them on wire racks.
STRAINER: A fine-mesh strainer is essential for many tasks, including removing lumps from custard and seeds from fruit puree. A larger-gauge strainer comes in handy for rinsing fruit and also for sifting dry ingredients together if you don't have a sifter.
THERMOMETERS: A candy thermometer is good insurance when you are cooking sugar. An instant-read thermometer will give you peace of mind when tempering chocolate.
VEGETABLE PEELER: The most efficient way to remove the skin from an apple, and handy for many other common pastry tasks as well.
WIRE RACKS: Placing hot baked goods on wire racks allows air to circulate all around them, so they cool quickly and evenly. I also use a wire rack when glazing or pouring ganache over a dessert, so that the excess can drip down onto a sheet pan below.
WIRE WHISKS: Whisks in several sizes will ensure that your eggs and egg whites are well broken up, your custards are smooth, and your ganache is lump-free. They are also good for stirring dry ingredients together and for breaking up clumps of cocoa powder and cornstarch.
WOODEN SPOONS: If you are unsure whether your rubber spatula is heatproof, you can always count on a wooden spoon to stir a hot liquid without melting.
ZESTER: Sometimes you want to remove citrus zest in long, thin strands instead of grated bits. When you do, this inexpensive kitchen implement will do the job.
Copyright © 2004 by Roland Mesnier and Lauren Chattman
BROWNIES
Makes 32 brownies
For the absolute fudgiest brownies, I remove the pan from the oven midway through baking and tap it on the counter to deflate the rising batter. If you prefer a cakier brownie, skip the tapping step and just let the brownies continue to rise as they bake. Well wrapped in plastic wrap, unglazed and uncut brownies will keep in the freezer for up to 2 months. Defrost them overnight in the refrigerator, and then cut and glaze them the day you want to serve them.
10 tablespoons unsalted butter, softened
1¼ cups sugar
3 large eggs
1 large egg yolk
1 tablespoon pure vanilla extract
Pinch salt
5 tablespoons unsweetened cocoa powder
1 cup all-purpose flour
1½ cups pecan pieces
1 recipe Semisweet Chocolate Glaze, warmed
1. Preheat the oven to 400 degrees. Grease a 9 x 13-inch baking pan and line the bottom with parchment paper.
2. In a large mixing bowl with an electric mixer on medium speed, cream the butter and sugar together until fluffy, 2 to 3 minutes. Add the eggs and the egg yolk one at a time and beat until smooth, scraping down the sides of the bowl after each addition. Add the vanilla, salt, and cocoa powder and mix well. Beat in the flour until well combined. Stir in the nuts. Remove the bowl from the mixer, scrape down the sides, and give the batter a few more stirs by hand to make sure that all the ingredients are well incorporated.
3. Scrape the batter into the prepared pan and smooth the top with a spatula. Bake for 10 minutes. Then, for fudgy brownies, remove the pan from the oven and tap it on the counter to make the rising brownies collapse. Return the pan to the oven and bake until firm to the touch, 8 to 10 minutes more. (For cakey brownies, bake for 18 to 20 minutes without interruption.) Do not overbake or your brownies will be dry. Remove the pan from the oven, place it on a wire rack, and let the brownies cool completely in the pan.
4. Invert the cooled brownies onto a baking sheet and peel off the parchment paper. (Uncut brownies may be wrapped in plastic wrap and frozen for up to 2 months. Defrost them in the refrigerator overnight before continuing with the recipe.)
5. Place uncut brownies back in the pan. Rewarm the glaze if necessary, and pour the glaze over the brownies, smoothing it evenly with a spatula. Refrigerate until the glaze has hardened, about 30 minutes. Slice into 32 brownies. Brownies will keep in the refrigerator, loosely draped with plastic wrap, for up to 1 week.
Copyright © 2004 by Roland Mesnier and Lauren Chattman
APRICOT TART
Serves 10
This summertime tart has a beautiful color and a wonderful balance of sweet and tart flavors. A layer of cake crumbs or genoise, whichever you prefer, absorbs excess moisture and guarantees that the crust stays crisp.
1 recipe Pâte Sucrée, chilled
2 cups Pastry Cream, chilled
1 cup cake crumbs, or one 1?16-inch-thick slice Genoise
3 pounds fresh apricots, halved and pitted, or 3 pounds canned apricot halves, drained and patted dry
1 cup apricot jam
1. Butter the bottom and sides of a 10-inch tart pan with removable bottom. Turn the chilled dough out onto a lightly floured work surface and sprinkle it with a little flour. With a lightly floured rolling pin, roll the dough out to form a 13-inch round about 1/8 inch thick, rotating the dough as you roll it and occasionally sliding a flat metal spatula underneath to make sure that it does not stick to the work surface. Lift the dough by folding it in half over the rolling pin, and gently place it on top of the prepared tart pan. Press the dough firmly against the bottom and sides of the pan; be careful not to stretch the dough, or the tart shell will shrink as it bakes. Trim off all but ½ inch of the dough along the edge of the tart pan. Fold the extra dough into the pan and press it firmly against the sides. Prick the bottom of the tart shell about 12 times with a fork. Place the tart shell in the refrigerator for at least 30 minutes, or for up to 2 days, to chill completely.
2. Preheat the oven to 425 degrees. Position the oven rack in the middle of the oven.
3. Spread the Pastry Cream evenly over the bottom of the chilled tart shell. Sprinkle the cake crumbs evenly over the Pastry Cream, or place the Genoise on top of the Pastry Cream. Arrange the apricots upright and very close together, in concentric circles on top of the cake crumbs or Genoise, leaving no gaps between them. Bake until the edges of the pastry are golden brown, about 50 minutes. Cool completely on a wire rack.
4. Heat the apricot jam until boiling. Strain the jam, and then lightly and evenly brush it over the top of the tart. Remove the tart from the ring, transfer it to a platter, and serve. Lightly covered with plastic wrap, Apricot Tart will keep at room temperature for up to 2 days.
Copyright © 2004 by Roland Mesnier and Lauren Chattman
PUMPKIN PIE WITH GINGER
Serves 8
The Thanksgiving menu at the White House varies from administration to administration, but the dessert is always the same. This pumpkin pie has been a presidential favorite for twenty-five years, so don't be surprised if it becomes a family tradition in your own home. This crust can get sticky while prebaking, so grease the parchment to avoid tearing the shell when removing the beans.
1 disk (½ recipe) All-American Pie Dough, chilled
2 large eggs
3 large egg yolks
1 teaspoon vanilla
½ cup sugar
¼ teaspoon salt
I teaspoon ground cinnamon
¾ teaspoon ground ginger
Pinch ground cloves
2 cups heavy cream
1½ cups plain canned pumpkin puree
1½ tablespoons confectioners' sugar
2 tablespoons finely chopped crystallized ginger
1. Preheat the oven to 375 degrees. Butter the bottom and sides of a 9-inch pie pan. Turn the chilled dough out on a lightly floured surface and sprinkle it with a little flour. With a lightly floured rolling pin, roll the dough out to form a 13-inch round about 1/8 inch thick, rotating the dough as you roll it and occasionally sliding a flat metal spatula underneath to make sure that it does not stick to the work surface. Lift the dough by folding it in half over the rolling pin, and gently place it on top of the prepared pie pan. Press the dough firmly against the bottom and sides of the pan; be careful not to stretch the dough, or the tart shell will shrink as it bakes. Trim the crust at the edge of the pan (it will later be covered with whipped cream).
2. Prick the bottom and sides of the crust with a fork. Cut out a 12 x 12-inch square of parchment paper. Crumple the parchment; then open it up and grease one side of the paper with vegetable shortening. Place the greased side down on the crust, and add pie weights or dried beans to fill the bottom and a little up the sides.
3. Bake for 15 minutes. Remove the pie pan from the oven and carefully lift out the paper and beans. If the crust tears, patch it by pressing it together with your fingers. Bake the crust for another 10 minutes, until it is brown, and then remove it from the oven. It is not necessary to wait for the crust to cool before filling it.
4. In a large mixing bowl, beat the eggs, egg yolks, and vanilla together lightly. Stir in the sugar, salt, cinnamon, ginger, cloves, and 1 cup of the heavy cream until thoroughly blended. Stir in the pumpkin. Pour into the prebaked pie shell.
5. Bake until a toothpick inserted in the center comes out clean, about 1 hour. Do not jiggle the pie while it is baking. Allow the pie to cool on a wire rack, then refrigerate it, uncovered, for up to 3 days.
6. When you are ready to serve the pie, whip the remaining 1 cup heavy cream with the confectioners' sugar in an electric mixer until it holds stiff peaks. Pipe the whipped cream around the edge of the pie, and decorate it with the candied ginger.
Copyright © 2004 by Roland Mesnier and Lauren Chattman
ALL-AMERICAN APPLE PIE
Serves 8
The melted butter brushed on the top crust of this pie gives it a buttery flavor even though the crust itself is made with vegetable shortening. Since this pie crust is not prebaked, I like to use a clear Pyrex pan so that I can see if the bottom is well browned before taking it out of the oven.
1 recipe All-American Pie Dough, chilled
1 recipe Prebaked Apple Chunks, made with 8 apples
½ cup golden raisins
3 tablespoons unsalted butter, melted and cooled
¼ cup Cinnamon Sugar
1. Preheat the oven to 375 degrees. Butter the bottom and sides of a 9-inch pie pan. Turn 1 dough disk out on a lightly floured surface and sprinkle it lightly with flour. With a lightly floured rolling pin, roll the dough out to form a 14-inch round about 1/8 inch thick, rotating the dough as you roll it and occasionally sliding a flat metal spatula underneath to make sure that it does not stick to the work surface. Lift the dough by folding it in half over the rolling pin, and gently place it on top of the prepared pie pan. Press the dough firmly against the bottom and sides of the pan; be careful not to stretch the dough, or the pie shell will shrink as it bakes. Let the extra dough hang over the edges of the pan.
2. Arrange the apple chunks in an even layer across the bottom of the dough. Sprinkle the raisins over the apple chunks.
3. Roll the other half of the dough out to form a 12-inch round. Place it on top of the apples.
4. Trim the bottom and top crusts so they extend ½ inch beyond the edge of the pan. Fold the ½ inch of dough over on itself all around, so that it forms a thick edge flush with the edge of the pan. Crimp the thick edge with your fingers, or press it together with the tines of a fork to seal it. Cut a 1½-inch-long X in the top crust.
5. Brush the top crust and the edges with the melted butter, and sprinkle with the Cinnamon Sugar. Bake until well browned, 50 minutes to 1 hour.
Copyright © 2004 by Roland Mesnier and Lauren Chattman
PEAR AND CRANBERRY CRUMBLE
Serves 8
In this simple, traditional American dessert with autumn flavors, the pears are not precooked, so it is imperative to use ripe, flavorful fruit. Cake or bread crumbs spread across the bottom of the dish absorb the extra fruit juices and prevent the crumble from becoming watery. If you like nuts in your topping, use only 1 cup flour and add ½ cup chopped nuts.
For the Topping:
1½ cups all-purpose flour
½ cup plus 2 tablespoons sugar
1 teaspoon ground cinnamon
1 teaspoon grated lemon zest
Pinch salt
1½ teaspoons baking powder
10 tablespoons unsalted butter, melted
For the Fruit:
2 tablespoons cornstarch
½ cup plus 1 tablespoon water
1 pound fresh or frozen cranberries, picked over and washed
1½ cups sugar
1 teaspoon grated lemon zest
4 ripe pears
¼ cup fresh lemon juice
1 cup cake crumbs or plain fresh bread crumbs
Vanilla Ice Cream or Sweetened Whipped Cream
1. Make the topping: Combine the flour, sugar, cinnamon, lemon zest, salt, baking powder, and melted butter in a large bowl and mix well. Cover the bowl with plastic wrap and refrigerate for 30 minutes.
2. Prepare the fruit: Place the cornstarch in a small bowl and stir in the 1 tablespoon water to dissolve. Place the cranberries and the remaining ½ cup water in a medium saucepan and cook over medium-high heat, stirring occasionally, until they begin to pop, about 6 minutes. Stir in the cornstarch mixture and bring to a boil. Cook for 1 minute. Remove the pan from the heat and stir in the sugar and lemon zest. Set aside.
3. Preheat the oven to 375 degrees. Peel and core the pears, and cut them into ¼-inch-thick slices. Place them in a bowl and sprinkle them with the lemon juice.
4. Sprinkle the cake crumbs on the bottom of a 1½-quart soufflé dish. Spoon half of the cranberry mixture into the dish, and then half of the pear slices. Repeat with the remaining cranberry mixture and pear slices.
5. Crumble the chilled topping over the pears and bake until the topping is golden brown and the fruit is bubbling around the edges, about 30 minutes. Let cool slightly and serve warm, with ice cream or whipped cream if desired.
Copyright © 2004 by Roland Mesnier and Lauren Chattman
APPLE-MANGO CHARLOTTE
Serves 10
Apple-Mango Charlotte is an impressive-looking dessert but simple to make. It is wonderful in winter, when both fruits are available. I love the surprising combination of comforting, warm apples and exotic mango. Lemon Sauce, Vanilla Sauce, or Vanilla Ice Cream finishes off the dish. Crucial to the success of the charlotte is that the bread be nice and brown. Check on it as directed and return it to the oven if it is the least bit pale. The filling just needs to be heated through; the apples are precooked, and you don't want the mango to get too soft.
8 tablespoons (1 stick) unsalted butter, softened
16 slices white bread, crusts removed
Prebaked Apple Chunks made with 7 apples, cooled
1 cup fresh bread or cake crumbs
2 ripe mangoes, peeled and cut into ¾-inch-thick slices
Light Lemon Sauce, Vanilla Sauce, or Vanilla Ice Cream for serving
1. Preheat the oven to 375 degrees. Spread ½ tablespoon of the butter on one side of each of the bread slices. Cut each slice in half lengthwise. Cut 10 of the halves into 2 triangles each; you should have 20 triangles and 22 rectangles.
2. Butter the bottom of a 7½-inch round baking dish with 3-inch sides. Cut out a round of parchment the same diameter as the dish, and place it on the bottom of the dish.
3. Arrange the bread triangles in a circle on the bottom of the dish, buttered side down, so that they overlap slightly and their points meet at the center. Place 1 rectangle in the middle, butter side down, where all the points meet. Arrange the remaining rectangles along the sides of the dish, buttered sides against the dish, so that they stand lengthwise and overlap each other slightly. The slices should reach about 1 inch above the rim of the dish.
4. Mix the apples with the bread crumbs. Spoon a 1-inch layer of the apple mixture into the dish, and press it with the back of a spoon to pack it down tightly. Arrange some mango slices, slightly overlapping, on top of the apples. Continue to layer the apples and mango until all of the fruit is in the dish. It should come just to the rim of the dish and 1 inch below the bread.
5. Fold the standing bread slices toward the center of the dish. Place a pan that is just a little smaller in diameter than the baking dish on top of the dish to flatten the bread, and press on it to compact the contents. Remove the smaller pan.
6. Bake for 15 minutes. Then loosely tent the charlotte with brown paper so it doesn't burn, and bake until the bread is completely brown, about 30 minutes more. Remove the charlotte from the oven and invert it onto a plate. Slowly lift the dish to check on the color of the bread. If it is too pale, put the dish back in the oven for an additional 10 to 15 minutes.
7. Remove the charlotte from the oven and let it cool on a wire rack for 20 minutes. Invert it onto a serving platter, pour the sauce around it, and serve immediately. Or invert the charlotte onto a heatproof serving platter, keeping the baking dish in place, and keep it in a warm (75 degrees) oven for up to 45 minutes. Then remove the dish and garnish with the sauce just before serving.
Copyright © 2004 by Roland Mesnier and Lauren Chattman

---

Excerpted from Dessert University: More Than 300 Spectacular Recipes and Essential Lessons from White House Pastry Chef Roland Mesnier by Roland Mesnier, Lauren Chattman
All rights reserved by the original copyright owners. Excerpts are provided for display purposes only and may not be reproduced, reprinted or distributed without the written permission of the publisher.