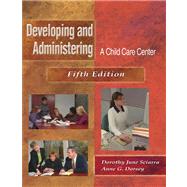 Developing and Administering an Early Childhood Center
by
SCIARRA/DORSEY
Questions About This Book?
What version or edition is this?
This is the 5th edition with a publication date of 7/11/2002.
What is included with this book?
The Used copy of this book is not guaranteed to include any supplemental materials. Typically, only the book itself is included.
Summary
Drawing on the authors' combined experiences, Developing and Administering an Early Child Care Center, 5E presents the basic philosophies and interpersonal aspects of directing and administering an early childhood center. The book bases its chapters on major aspects of developing and administering a program for young children, addressing the core issues while giving consideration to the experiences of those in the field. The chapters are written to read and follow with ease, and provide many features and activities that engage readers in active learning.
Table of Contents
Preface
xiii
1
(20)
1
(1)
1
(1)

| | |
| --- | --- |
| | Administrative Styles and Roles |

2
(2)
4
(1)
4
(1)
5
(4)
9
(1)
9
(1)
9
(1)
10
(1)
11
(1)
12
(1)
13
(1)
14
(3)
17
(1)
18
(1)
19
(1)
19
(2)

| | |
| --- | --- |
| | Developing Interpersonal Relationships |

21
(10)
21
(1)

| | |
| --- | --- |
| | Creating a Positive Climate |

22
(3)
25
(1)
26
(1)
27
(1)
27
(1)
28
(1)
29
(1)
29
(2)

| | |
| --- | --- |
| | Assessing Community Need and Establishing a Program |

31
(22)
31
(1)
32
(3)
35
(2)
37
(4)
41
(1)
42
(1)
42
(1)
43
(1)
44
(1)
45
(1)
46
(3)
49
(1)
50
(1)
51
(1)
51
(2)

| | |
| --- | --- |
| | Licensing and Certification |

53
(42)
53
(1)
54
(5)
59
(1)
60
(1)
61
(1)
62
(1)
63
(1)
64
(1)
65
(1)
66
(1)
67
(9)
76
(12)
88
(5)
93
(1)
94
(1)
94
(1)

| | |
| --- | --- |
| | Organizing Center Structure and Working with a Board |

95
(24)
95
(1)

| | |
| --- | --- |
| | Organization of the Center |

96
(2)

| | |
| --- | --- |
| | The Child Care Center Board |

98
(7)
105
(1)
105
(2)
107
(1)
108
(1)
109
(1)
110
(1)
111
(1)
112
(1)
113
(1)
114
(4)
118
(1)
118
(1)

| | |
| --- | --- |
| | Handling Financial Matters |

119
(30)
119
(1)

| | |
| --- | --- |
| | Balancing Income and Expenses |

120
(2)
122
(5)

| | |
| --- | --- |
| | Other Financial Responsibilities |

127
(5)
132
(1)
133
(1)
134
(1)
135
(1)
136
(1)
137
(1)
138
(1)
139
(1)
140
(2)
142
(1)
143
(1)
144
(1)
145
(1)
146
(1)
147
(1)
147
(2)
149
(24)
149
(1)
150
(1)
151
(4)
155
(3)

| | |
| --- | --- |
| | Shepherding Existing Funds |

158
(1)
159
(1)
160
(1)
160
(1)
161
(1)
162
(1)
163
(1)
164
(1)
165
(1)
166
(5)
171
(1)
171
(2)

| | |
| --- | --- |
| | Developing a Center Facility |

173
(28)
173
(1)

| | |
| --- | --- |
| | Analyzing Space Requirements |

174
(9)
183
(2)

| | |
| --- | --- |
| | Working with Other Professionals |

185
(1)
186
(1)
187
(1)
188
(1)
189
(1)
190
(1)
191
(1)
192
(2)
194
(5)
199
(1)
199
(2)
201
(40)
201
(1)
202
(1)
203
(4)
207
(1)
208
(2)
210
(2)
212
(1)
212
(1)
213
(1)
214
(1)
215
(1)
216
(17)
233
(3)
236
(3)
239
(1)
239
(2)
241
(78)
241
(1)

| | |
| --- | --- |
| | Designing Personnel Policies |

242
(10)

| | |
| --- | --- |
| | Drawing Up Job Descriptions |

252
(11)
263
(1)
263
(1)
264
(1)
265
(1)
266
(1)
266
(1)
267
(1)
268
(1)
269
(2)
271
(1)

| | |
| --- | --- |
| | Director's Resource 10--1 |

272
(23)

| | |
| --- | --- |
| | Director's Resource 10--2 |

295
(8)

| | |
| --- | --- |
| | Director's Resource 10--3 |

303
(5)

| | |
| --- | --- |
| | Director's Resource 10--4 |

308
(2)

| | |
| --- | --- |
| | Director's Resource 10--5 |

310
(1)

| | |
| --- | --- |
| | Director's Resource 10--6 |

311
(3)

| | |
| --- | --- |
| | Director's Resource 10--7 |

314
(1)

| | |
| --- | --- |
| | Director's Resource 10--8 |

315
(2)
317
(1)
317
(2)

| | |
| --- | --- |
| | Publicizing the Center and Selecting the Children |

319
(14)
319
(1)
320
(2)
322
(4)

| | |
| --- | --- |
| | Role of the Director in an Interdisciplinary/Interagency Effort |

326
(1)
326
(1)
327
(1)
327
(1)
328
(1)
329
(1)
330
(1)
331
(1)
331
(2)

| | |
| --- | --- |
| | Grouping and Enrolling the Children |

333
(28)
333
(1)
333
(4)
337
(4)
341
(1)
342
(1)
342
(1)
343
(1)
344
(1)

| | |
| --- | --- |
| | Director's Resource 12--1 |

345
(1)

| | |
| --- | --- |
| | Director's Resource 12--2 |

346
(1)

| | |
| --- | --- |
| | Director's Resource 12--3 |

347
(1)

| | |
| --- | --- |
| | Director's Resource 12--4 |

348
(4)

| | |
| --- | --- |
| | Director's Resource 12--5 |

352
(3)

| | |
| --- | --- |
| | Director's Resource 12--6 |

355
(1)

| | |
| --- | --- |
| | Director's Resource 12--7 |

356
(1)

| | |
| --- | --- |
| | Director's Resource 12--8 |

357
(1)

| | |
| --- | --- |
| | Director's Resource 12--9 |

358
(1)
359
(1)
359
(2)

| | |
| --- | --- |
| | Managing the Food and the Health and Safety Programs |

361
(46)
361
(1)
362
(12)

| | |
| --- | --- |
| | Health and Safety Program |

374
(9)
383
(2)
385
(1)
385
(1)
386
(1)
387
(1)
388
(1)

| | |
| --- | --- |
| | Director's Resource 13--1 |

389
(8)

| | |
| --- | --- |
| | Director's Resource 13--2 |

397
(8)
405
(1)
405
(2)

| | |
| --- | --- |
| | Evaluating Center Components |

407
(28)
407
(1)
408
(1)
408
(1)
409
(7)
416
(1)
417
(1)
418
(1)
418
(1)
419
(1)
420
(1)
421
(2)

| | |
| --- | --- |
| | Director's Resource 14--1 |

423
(5)

| | |
| --- | --- |
| | Director's Resource 14--2 |

428
(3)

| | |
| --- | --- |
| | Director's Resource 14--3 |

431
(2)

| | |
| --- | --- |
| | Director's Resource 14--4 |

433
(1)
434
(1)
434
(1)

| | |
| --- | --- |
| | Providing for Personal and Professional Staff Development |

435
(22)
438
(1)
438
(1)

| | |
| --- | --- |
| | Staff Training/Professional Development |

439
(3)

| | |
| --- | --- |
| | Staff Supervision and Coaching |

442
(4)
446
(1)
447
(1)
448
(1)
448
(2)
450
(1)
451
(1)

| | |
| --- | --- |
| | Director's Resource 15--1 |

452
(4)
456
(1)
456
(1)

| | |
| --- | --- |
| | Working with Families, Volunteers, and the Community |

457
(54)
457
(1)
458
(7)

| | |
| --- | --- |
| | Preparing a Parent Handbook |

465
(1)
466
(1)

| | |
| --- | --- |
| | Organizations and Agencies |

467
(2)
469
(1)
469
(1)
470
(1)
470
(1)
471
(1)
472
(1)

| | |
| --- | --- |
| | Director's Resource 16--1 |

473
(37)
510
(1)
510
(1)
Appendix A
511
(4)
Appendix B
515
(6)
Appendix C
521
(4)
Director's Library
525
(8)
Index
533