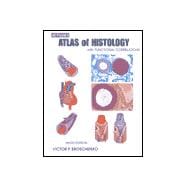 Di Fiore's Atlas of Histology With Functional Correlations
by
Eroschenko, Victor P.
Lippincott Williams & Wilkins
Summary
Univ. of Idaho, Moscow. Brandon/Hill Medical List (#27) and Allied Health first-purchase (#119) selection. Atlas incorporates 59 new photomicrographs and features computer-generated full-color overview art depicting three dimensions for each system. Previous edition: c1996. For students. Softcover, wire-spiral binding also available. DNLM: Histology--Atlases.
Author Biography
Victor P. Eroschenko, PhD: Professor of Anatomy, WWAMI Medical Program, University of Idaho, Moscow
Table of Contents
PART ONE Tissues

| | |
| --- | --- |
| | Introduction Interpretation of Histologic Sections |

3
(2)

| | |
| --- | --- |
| | Planes of Section of a Round Object |

5
(1)

| | |
| --- | --- |
| | Planes of Section of a Tube |

5
(2)

| | |
| --- | --- |
| | Tubules of the Testis in Different Planes of Section |

7
(2)
9
(20)

| | |
| --- | --- |
| | Classification of Epithelial Tissue |

9
(2)

| | |
| --- | --- |
| | Simple Squamous Epithelium: Surface View of Peritoneal Mesothelium |

11
(1)

| | |
| --- | --- |
| | Simple Squamous Epithelium: Peritoneal Mesothelium (transverse section) |

11
(1)

| | |
| --- | --- |
| | Different Epithelial Types: Kidney Cortex |

11
(2)

| | |
| --- | --- |
| | Simple Columnar Epithelium: Stomach |

13
(1)

| | |
| --- | --- |
| | Simple Columnar Epithelium: Cells With Striated Borders and Goblet Cells (Small Intestine) |

13
(2)

| | |
| --- | --- |
| | Pseudostratified Columnar Ciliated Epithelium: Respiratory Passages |

15
(1)

| | |
| --- | --- |
| | Transitional Epithelium: Bladder (contracted) |

15
(2)

| | |
| --- | --- |
| | Stratified Squamous Nonkeratinized Epithelium: Esophagus (transverse section) |

17
(1)

| | |
| --- | --- |
| | Stratified Squamous Keratizined Epithelium: Palm of Hand |

17
(1)

| | |
| --- | --- |
| | Stratified Cuboidal Epithelium: Excretory Duct in Salivary Gland |

18
(3)
19
(2)

| | |
| --- | --- |
| | Unbranched Simple Tubular Exocrine Glands: Intestinal Glands |

21
(1)

| | |
| --- | --- |
| | Simple Branched Tubular Exocrine Glands: Gastric Glands |

21
(2)

| | |
| --- | --- |
| | Coiled Tubular Exocrine Glands: Sweat Glands |

23
(1)

| | |
| --- | --- |
| | Compound Acinar (Exocrine) Gland: Mammary Gland |

23
(2)

| | |
| --- | --- |
| | Comound Tubuloacinar (Exocrine) Gland: Salivary Gland |

25
(1)

| | |
| --- | --- |
| | Compound Tubuloacinar (Exocrine) Gland: Submaxillary Salivary Gland |

25
(2)

| | |
| --- | --- |
| | Endocrine Gland: Pancreatic Islet |

27
(1)
27
(2)
29
(12)

| | |
| --- | --- |
| | Loose Connective Tissue (spread) |

31
(1)

| | |
| --- | --- |
| | Individual Cells of Connective Tissue |

31
(2)

| | |
| --- | --- |
| | Embryonic Connective Tissue |

33
(1)
33
(1)

| | |
| --- | --- |
| | Dense Irregular and Loose Connective Tissue (elastin stain) |

33
(2)

| | |
| --- | --- |
| | Dense Irregular Connective Tissue |

35
(1)

| | |
| --- | --- |
| | Dense Irregular Connective Tissue and Adipose Tissue |

35
(2)

| | |
| --- | --- |
| | Dense Regular Connective Tissue: Tendon (longitudinal section) |

37
(1)

| | |
| --- | --- |
| | Dense Regular Connective Tissue: Tendon (longitudinal section) |

37
(2)

| | |
| --- | --- |
| | Dense Regular Connective Tissue: Tendon (transverse section) |

39
(1)
39
(2)
41
(22)
41
(2)
43
(1)
43
(1)

| | |
| --- | --- |
| | Hyaline Cartilage of the Trachea |

43
(2)

| | |
| --- | --- |
| | Fibrous Cartilage: Intervertebral Disk |

45
(1)

| | |
| --- | --- |
| | Elastic Cartilage: Epiglottis |

45
(1)

| | |
| --- | --- |
| | Hyaline Cartilage: Developing Bone |

46
(1)

| | |
| --- | --- |
| | Elastic Cartilage: Epiglottis |

46
(3)
47
(2)

| | |
| --- | --- |
| | Endochondral Ossification: Developing Long Bone (panoramic view, longitudinal section) |

49
(2)

| | |
| --- | --- |
| | Endochondral Ossification: Zone of Ossification |

51
(1)

| | |
| --- | --- |
| | Endochondral Ossification: Zone of Ossification |

51
(2)

| | |
| --- | --- |
| | Formation of Bone: Secondary (Epiphyseal) Ossification Centers (longitudinal section, decalcified) |

53
(2)

| | |
| --- | --- |
| | Formation of Bone: Development of Osteons (Haversian Systems) (transverse section, decalcified) |

55
(2)

| | |
| --- | --- |
| | Intramembranous Ossification: Developing Mandible (transverse section, decalcified) |

57
(1)

| | |
| --- | --- |
| | Intramembranous Ossification: Developing Skull Bone |

57
(2)

| | |
| --- | --- |
| | Cancellous Bone: Sternum (transverse section, decalcified) |

59
(1)

| | |
| --- | --- |
| | Cancellous Bone: Sternum (transverse section, decalcified) |

59
(2)

| | |
| --- | --- |
| | Compact Bone, Dried (transverse section) |

61
(1)

| | |
| --- | --- |
| | Compact Bone, Dried (longitudinal section) |

61
(1)

| | |
| --- | --- |
| | Compact Bone, Dried: An Osteon (transverse section) |

61
(2)
63
(12)
65
(1)

| | |
| --- | --- |
| | Erythrocytes and Platelets |

65
(1)
65
(2)
67
(1)
67
(1)
67
(1)
67
(2)

| | |
| --- | --- |
| | Hemopoietic Bone Marrow of a Rabbit (section) |

69
(1)

| | |
| --- | --- |
| | Bone Marrow of a Rabbit, India Ink Preparation (section) |

69
(2)
71
(1)

| | |
| --- | --- |
| | Human Blood Smear: Red Blood Cells, Neutrophils, Large Lymphocyte, and Platelets |

72
(1)

| | |
| --- | --- |
| | Human Blood Smear: Basophil, Neutrophil, Red Blood Cells, and Platelets |

73
(1)

| | |
| --- | --- |
| | Human Blood Smear: Monocyte, Red Blood Cells, and Platelets |

73
(2)
75
(12)

| | |
| --- | --- |
| | Smooth Muscle Layers of the Small Intestine |

77
(1)

| | |
| --- | --- |
| | Smooth Muscle: Wall of the Small Intestine (transverse section and longitudinal section) |

77
(2)

| | |
| --- | --- |
| | Skeletal (Striated) Muscles of the Tongue |

79
(1)

| | |
| --- | --- |
| | Skeletal (Striated) Muscles of the Tongue (longitudinal section) |

79
(2)

| | |
| --- | --- |
| | Skeletal Muscle and Motor Endplates |

81
(1)

| | |
| --- | --- |
| | Skeletal Muscle and Muscle Spindle (transverse section) |

81
(2)
83
(1)

| | |
| --- | --- |
| | Cardiac Muscle (longitudinal section) |

83
(2)

| | |
| --- | --- |
| | Skeletal Muscle (longitudinal section) |

85
(1)

| | |
| --- | --- |
| | Cardiac Muscle (longitudinal section) |

85
(2)
87
(24)

| | |
| --- | --- |
| | Motor Neurons: Anterior Horn of the Spinal Cord |

89
(1)

| | |
| --- | --- |
| | Gray Matter: Anterior Horn of the Spinal Cord |

89
(2)

| | |
| --- | --- |
| | Fibrous Astrocytes of the Brain |

91
(1)

| | |
| --- | --- |
| | Oligodendrocytes of the Brain |

91
(1)
91
(2)
93
(1)

| | |
| --- | --- |
| | Peripheral Nerve (transverse section) |

93
(2)

| | |
| --- | --- |
| | Nerve: Sciatic (panoramic view, longitudinal section) |

95
(1)

| | |
| --- | --- |
| | Nerve: Sciatic (longitudinal section) |

95
(1)

| | |
| --- | --- |
| | Nerve: Sciatic (transverse section) |

95
(1)

| | |
| --- | --- |
| | Nerve: Sciatic (longitudinal section) |

95
(1)

| | |
| --- | --- |
| | Nerve: Sciatic (transverse section) |

95
(1)

| | |
| --- | --- |
| | Nerve: Branch of the Vagus (transverse section) |

95
(2)

| | |
| --- | --- |
| | Dorsal Root Ganglion (panoramic view, longitudinal section) |

97
(1)

| | |
| --- | --- |
| | Section of a Dorsal Root Ganglion |

97
(1)

| | |
| --- | --- |
| | Section of a Sympathetic Trunk Ganglion |

97
(2)

| | |
| --- | --- |
| | Spinal Cord: Cervical Region (transverse section) |

99
(1)

| | |
| --- | --- |
| | Spinal Cord: Anterior Gray Horn, Motor Neurons, and Adjacent Anterior White Matter |

99
(2)

| | |
| --- | --- |
| | Spinal Cord: Midthoracic Region (transverse section) |

101
(1)

| | |
| --- | --- |
| | Spinal Cord: Anterior Gray Horn, Motor Neurons, and Adjacent Anterior White Matter |

101
(2)

| | |
| --- | --- |
| | Cerebellum (sectional view, transverse section) |

103
(1)
103
(2)

| | |
| --- | --- |
| | Cerebral Cortex: Section Perpendicular to the Cortical Surface |

105
(1)

| | |
| --- | --- |
| | Central Area of the Cerebral Cortex |

105
(2)

| | |
| --- | --- |
| | Anterior Gray Horn of Spinal Cord: Multipolar Motor Neurons, Axons, and Neuroglial Cells |

107
(1)

| | |
| --- | --- |
| | Dorsal Root Ganglion: Unipolar Neurons and Surrounding Cells |

107
(1)

| | |
| --- | --- |
| | Peripheral Nerve: Nodes of Ranvier and Axons |

107
(4)
PART TWO Organs
111
(12)

| | |
| --- | --- |
| | Blood and Lymphatic Vessels |

113
(1)

| | |
| --- | --- |
| | Large Vein: Portal Vein (transverse section) |

113
(2)

| | |
| --- | --- |
| | Muscular Artery and Vein (transverse section) |

115
(1)

| | |
| --- | --- |
| | Large Artery: Wall of the Aorta (transverse section) |

115
(2)

| | |
| --- | --- |
| | Heart: Left Atrium and Ventricle (panoramic view, longitudinal section) |

117
(2)

| | |
| --- | --- |
| | Heart: Pulmonary Trunk, Pulmonary Valve, Right Ventricle (panoramic view, longitudinal section) |

119
(1)

| | |
| --- | --- |
| | Heart: Purkinje Fibers (Impulse-conducting Fibers) |

119
(1)

| | |
| --- | --- |
| | Heart: Purkinje Fibers (Impulse-conducting Fibers) |

119
(2)

| | |
| --- | --- |
| | Artery and Vein in Connective Tissue of Vas Deferens |

121
(1)

| | |
| --- | --- |
| | Heart Wall: Purkinje Fibers |

121
(2)
123
(14)

| | |
| --- | --- |
| | Lymph Node (panoramic view) |

125
(2)

| | |
| --- | --- |
| | Lymph Node (sectional view) |

127
(1)

| | |
| --- | --- |
| | Lymph Node: Reticular Fibers of the Stroma |

127
(2)

| | |
| --- | --- |
| | Lymph Node: Proliferation of Lymphocytes |

129
(1)
129
(2)

| | |
| --- | --- |
| | Thymus Gland (panoramic view) |

131
(1)

| | |
| --- | --- |
| | Thymus Gland (sectional view) |

131
(2)
133
(1)

| | |
| --- | --- |
| | Spleen: Red and White Pulp |

133
(1)

| | |
| --- | --- |
| | Cortex and Medulla of a Lymph Node |

134
(1)

| | |
| --- | --- |
| | Cortex and Medulla of a Thymus Gland |

135
(1)

| | |
| --- | --- |
| | Red and White Pulp of the Spleen |

135
(2)
137
(14)
139
(1)

| | |
| --- | --- |
| | Thick Skin, Palm: Superficial Layers |

139
(2)
141
(2)
143
(2)

| | |
| --- | --- |
| | Sebaceous Gland and Adjacent Hair Follicle |

145
(1)

| | |
| --- | --- |
| | Bulb of Hair Follicle and Adjacent Sweat Gland |

145
(1)

| | |
| --- | --- |
| | Glomus in the Dermis of Thick Skin |

145
(2)

| | |
| --- | --- |
| | Pacinian Corpuscles in the Deep Dermis of Thick Skin |

147
(1)

| | |
| --- | --- |
| | Thick Skin: Epidermis, Dermis, and Hypodermis of the Palm |

147
(2)

| | |
| --- | --- |
| | Thick Skin: Epidermis and Superficial Cell Layers |

149
(1)

| | |
| --- | --- |
| | Hairy Thin Skin of the Scalp: Hair Follicles and Surrounding Structures |

149
(2)

| | |
| --- | --- |
| | Digestive System: Tongue and Salivary Glands |

151
(26)

| | |
| --- | --- |
| | Lip (longitudinal section) |

153
(2)

| | |
| --- | --- |
| | Tongue: Apex (longitudinal section, panoramic view) |

155
(2)

| | |
| --- | --- |
| | Tongue: Circumvallate Papilla (cross section) |

157
(2)
159
(2)

| | |
| --- | --- |
| | Posterior Tongue Near Circumvallate Papilla (longitudinal section) |

161
(1)

| | |
| --- | --- |
| | Lingual Tonsils (transverse section) |

161
(2)

| | |
| --- | --- |
| | Dried Tooth (panoramic view, longitudinal section) |

163
(1)

| | |
| --- | --- |
| | Dried Tooth: Layers of the Crown |

163
(1)

| | |
| --- | --- |
| | Dried Tooth: Layers of the Root |

163
(2)

| | |
| --- | --- |
| | Developing Tooth (panoramic view) |

165
(1)

| | |
| --- | --- |
| | Developing Tooth (sectional view) |

165
(4)
169
(2)

| | |
| --- | --- |
| | Salivary Gland: Submandibular |

171
(2)

| | |
| --- | --- |
| | Salivary Gland: Sublingual |

173
(2)

| | |
| --- | --- |
| | Tongue: Filiform and Fungiform Papillae |

175
(1)

| | |
| --- | --- |
| | Serous Salivary Gland: Parotid Gland |

175
(1)

| | |
| --- | --- |
| | Mixed Salivary Gland: Sublingual Gland |

175
(2)

| | |
| --- | --- |
| | Digestive System: Esophagus and Stomach |

177
(22)

| | |
| --- | --- |
| | Upper Esophagus: Wall (transverse section) |

179
(2)

| | |
| --- | --- |
| | Upper Esophagus: Mucosa and Submucosa (transverse section) |

181
(2)

| | |
| --- | --- |
| | Upper Esophagus (transverse section) |

183
(1)

| | |
| --- | --- |
| | Lower Esophagus (transverse section) |

183
(2)

| | |
| --- | --- |
| | Esophageal-Stomach Junction |

185
(2)

| | |
| --- | --- |
| | Stomach: Fundus and Body Regions (transverse section) |

187
(2)

| | |
| --- | --- |
| | Stomach: Mucosa of the Fundus and Body (transverse section) |

189
(2)

| | |
| --- | --- |
| | Stomach: Superficial Region of Gastric Mucosa |

191
(1)

| | |
| --- | --- |
| | Stomach: Deep Region of the Mucosa |

191
(2)

| | |
| --- | --- |
| | Stomach: Mucosa of the Pyloric Region |

193
(2)

| | |
| --- | --- |
| | Pyloric-Duodenal Junction (longitudinal section) |

195
(1)

| | |
| --- | --- |
| | Lower Esophagus Wall (transverse section) |

196
(1)

| | |
| --- | --- |
| | Esophageal-Stomach Junction |

197
(1)

| | |
| --- | --- |
| | Stomach: Fundus and Body Regions (plastic section) |

197
(2)

| | |
| --- | --- |
| | Digestive System: Small and Large Intenstines |

199
(20)

| | |
| --- | --- |
| | Small Intestine: Duodenum (longitudinal section) |

201
(2)

| | |
| --- | --- |
| | Small Intestine: Jejunum-Ileum (transverse section) |

203
(1)

| | |
| --- | --- |
| | Intestinal Glands With Paneth Cells and Enteroendocrine Cells |

203
(2)

| | |
| --- | --- |
| | Small Intestine: Ileum With Lymphatic Nodules (Peyer's Patch) (transverse section) |

205
(1)
205
(2)

| | |
| --- | --- |
| | Large Intestine: Colon and Mesentery (panoramic view, transverse section) |

207
(2)

| | |
| --- | --- |
| | Large Intestine: Colon Wall (transverse section) |

209
(2)

| | |
| --- | --- |
| | Appendix (panoramic view, transverse section) |

211
(2)

| | |
| --- | --- |
| | Rectum (panoramic view, transverse section) |

213
(2)

| | |
| --- | --- |
| | Anal Canal (longitudinal section) |

215
(2)

| | |
| --- | --- |
| | Small Intestine: Duodenum (transverse section) |

217
(1)

| | |
| --- | --- |
| | Small Intestine: Jejunum With Paneth Cells |

217
(1)

| | |
| --- | --- |
| | Large Intestine: Colon Wall (transverse section) |

217
(2)

| | |
| --- | --- |
| | Digestive System: Liver, Gallbladder, and Pancreas |

219
(16)

| | |
| --- | --- |
| | Pig's Liver (panoramic view, transverse section) |

221
(1)

| | |
| --- | --- |
| | Primate Liver (panoramic view, transverse section) |

221
(2)

| | |
| --- | --- |
| | Hepatic (Liver) Lobule (sectional view, transverse section) |

223
(1)

| | |
| --- | --- |
| | Liver: Kupffer Cells (India Ink preparation) |

223
(1)

| | |
| --- | --- |
| | Liver: Bile Canaliculi (Osmic Acid preparation) |

223
(2)

| | |
| --- | --- |
| | Mitochondria and Fat Droplets in Liver Cells |

225
(1)
225
(1)

| | |
| --- | --- |
| | Reticular Fibers in a Hepatic Lobule |

225
(2)

| | |
| --- | --- |
| | Gallbladder (panoramic view) |

227
(2)

| | |
| --- | --- |
| | Pancreas (sectional view) |

229
(2)
231
(1)

| | |
| --- | --- |
| | Pancreatic Islet (special preparation) |

231
(2)

| | |
| --- | --- |
| | Bovine Liver: Liver Lobule (transverse section) |

233
(1)

| | |
| --- | --- |
| | Pancreas: Endocrine (Pancreatic Islet) and Exocrine Regions |

233
(2)
235
(16)

| | |
| --- | --- |
| | Olfactory Mucosa and Superior Concha (panoramic view) |

237
(1)

| | |
| --- | --- |
| | Olfactory Mucosa: Detail of a Transitional Area |

237
(2)

| | |
| --- | --- |
| | Epiglottis (longitudinal section) |

239
(2)
241
(2)

| | |
| --- | --- |
| | Trachea (panoramic view, transverse section) |

243
(1)
243
(1)

| | |
| --- | --- |
| | Trachea: Elastic Fiber Stain (sectional view) |

243
(2)
245
(2)
247
(1)
247
(1)
247
(1)

| | |
| --- | --- |
| | Alveolar Walls: Interalveolar Septa |

247
(2)

| | |
| --- | --- |
| | Olfactory Mucosa in the Nose: Transition Area |

249
(1)

| | |
| --- | --- |
| | Lung: Terminal Bronchiole, Respiratory Bronchiole, and Alveoli |

249
(2)
251
(16)

| | |
| --- | --- |
| | Kidney: Cortex and Pyramid (panoramic view) |

253
(2)

| | |
| --- | --- |
| | Kidney: Deep Cortical Area and Outer Medulla |

255
(2)

| | |
| --- | --- |
| | Kidney Cortex: Juxtaglomerular Apparatus |

257
(2)

| | |
| --- | --- |
| | Kidney Medulla: Papilla (transverse section) |

259
(1)

| | |
| --- | --- |
| | Kidney Medulla: Papilla Adjacent to a Calyx (longitudinal section) |

259
(2)

| | |
| --- | --- |
| | Ureter (transverse section) |

261
(1)

| | |
| --- | --- |
| | Ureter Wall (transverse section) |

261
(2)

| | |
| --- | --- |
| | Urinary Bladder: Wall (transverse section) |

263
(1)

| | |
| --- | --- |
| | Urinary Bladder: Mucosa (transverse section) |

263
(1)

| | |
| --- | --- |
| | Kidney: Renal Corpuscle and Juxtaglomerular Apparatus |

264
(1)

| | |
| --- | --- |
| | Kidney: Ducts of Medullary Region (longitudinal section) |

265
(1)

| | |
| --- | --- |
| | Ureter (transverse section) |

265
(2)
267
(16)

| | |
| --- | --- |
| | Hypophysis (Pituitary Gland) |

267
(2)

| | |
| --- | --- |
| | Hypophysis (panoramic view, sagittal section) |

269
(1)

| | |
| --- | --- |
| | Hypophysis (sectional view) |

269
(2)

| | |
| --- | --- |
| | Hypophysis: Pars Distalis (sectional view) |

271
(1)

| | |
| --- | --- |
| | Hypophysis: Various Cell Groups |

271
(4)

| | |
| --- | --- |
| | Thyroid Gland, Parathyroid Glands, and Adrenal Gland |

273
(2)

| | |
| --- | --- |
| | Thyroid Gland: Canine (general view) |

275
(1)

| | |
| --- | --- |
| | Thyroid Gland Follicles: Canine (sectional view) |

275
(2)

| | |
| --- | --- |
| | Thyroid and Parathyroid Glands: Canine (sectional view) |

277
(2)

| | |
| --- | --- |
| | Adrenal (Suprarenal) Gland |

279
(2)

| | |
| --- | --- |
| | Hypophysis: Pars Distalis, Pars Intermedia, and Pars Nervosa (Human) |

281
(1)

| | |
| --- | --- |
| | Thyroid Gland and Parathyroid Gland |

281
(1)

| | |
| --- | --- |
| | Adrenal (Suprarenal) Gland: Cortex and Medulla |

281
(2)
283
(18)
285
(1)

| | |
| --- | --- |
| | Seminferous, Tubules, Straight Tubules, Rete Testis, and Ductuli Efferentes (Efferent Ductules) |

285
(2)

| | |
| --- | --- |
| | Primate Testis: Spermatogenesis in Seminiferous Tubules (transverse section) |

287
(1)

| | |
| --- | --- |
| | Primate Testis: Stages of Spermatogenesis |

287
(2)

| | |
| --- | --- |
| | Ductuli Efferentes and Transition to Ductus Epididymis |

289
(1)
289
(2)

| | |
| --- | --- |
| | Ductus Deferens (transverse section) |

291
(1)

| | |
| --- | --- |
| | Ampulla of the Ductus Deferens (transverse section) |

291
(2)

| | |
| --- | --- |
| | Prostate Gland With Prostatic Urethra |

293
(1)

| | |
| --- | --- |
| | Prostate Gland (sectional view, prostatic glands) |

293
(2)
295
(1)

| | |
| --- | --- |
| | Bulbourethral Gland (sectional view) |

295
(2)

| | |
| --- | --- |
| | Penis (transverse section) |

297
(1)

| | |
| --- | --- |
| | Cavernous Urethra (transverse section) |

297
(1)

| | |
| --- | --- |
| | Testis: Seminiferous Tubules (transverse section) |

298
(1)

| | |
| --- | --- |
| | Tubules of the Ductus Epididymis (transverse section) |

299
(1)

| | |
| --- | --- |
| | Prostate Gland: Prostatic Glands With Prostatic Concretions |

299
(2)

| | |
| --- | --- |
| | Female Reproductive System |

301
(36)

| | |
| --- | --- |
| | Ovaries, Uterine Tubes, and Uterus |

301
(2)

| | |
| --- | --- |
| | Ovary: Dog (panoramic view) |

303
(2)

| | |
| --- | --- |
| | Ovary: Ovarian Cortex, Primary and Growing Follicles |

305
(1)

| | |
| --- | --- |
| | Ovary: Wall of a Mature Follicle |

305
(2)

| | |
| --- | --- |
| | Human Ovary: Corpora Lutea and Atretic Follicles |

307
(2)

| | |
| --- | --- |
| | Corpus Luteum (panoramic view) |

309
(1)

| | |
| --- | --- |
| | Corpus Luteum: Peripheral Wall |

309
(2)

| | |
| --- | --- |
| | Uterine Tube: Ampulla (panoramic view, transverse section) |

311
(1)

| | |
| --- | --- |
| | Uterine Tube: Mucosal Folds (Early Proliferative Phase) |

311
(1)

| | |
| --- | --- |
| | Uterine Tube: Mucosal Folds (Early Pregnancy) |

311
(2)

| | |
| --- | --- |
| | Uterus: Proliferative (Follicular) Phase |

313
(2)

| | |
| --- | --- |
| | Uterus: Secretory (Luteal) Phase |

315
(2)
317
(2)

| | |
| --- | --- |
| | Ovary: Primordial and Primary Follicles |

319
(1)

| | |
| --- | --- |
| | Uterine Tube: Lining Epithelium |

319
(1)

| | |
| --- | --- |
| | Uterine Wall (Endometrium): Secretory (Luteal) Phase |

320
(3)

| | |
| --- | --- |
| | Cervix, Vagina, Placenta, and Mammary Glands |

321
(2)

| | |
| --- | --- |
| | Cervix, Cervical Canal, and Vaginal Fornix (longitudinal section) |

323
(2)

| | |
| --- | --- |
| | Vagina (longitudinal section) |

325
(1)

| | |
| --- | --- |
| | Glycogen in Human Vaginal Epithelium |

325
(2)

| | |
| --- | --- |
| | Vaginal Smears During Various Reproductive Phases |

327
(2)

| | |
| --- | --- |
| | Placenta at 5 Months (panoramic view) |

329
(1)

| | |
| --- | --- |
| | Chorionic Villi: Placenta at 5 Months |

329
(1)

| | |
| --- | --- |
| | Chorionic Villi: Placenta at Term |

329
(2)
331
(1)

| | |
| --- | --- |
| | Mammary Gland During First Half of Pregnancy |

331
(2)

| | |
| --- | --- |
| | Mammary Gland During Late Pregnancy |

333
(1)

| | |
| --- | --- |
| | Mammary Gland During Lactation |

333
(2)

| | |
| --- | --- |
| | Vagina: Surface Epithelium |

335
(1)

| | |
| --- | --- |
| | Mammary Gland During Lactation |

335
(2)
337

| | |
| --- | --- |
| | Eyelid (sagittal section) |

339
341

| | |
| --- | --- |
| | Cornea (transverse section) |

341

| | |
| --- | --- |
| | Whole Eye (sagittal section) |

343

| | |
| --- | --- |
| | Retina, Choroid, and Sclera (panoramic view) |

345

| | |
| --- | --- |
| | Layers of the Choroid and Retina (detail) |

345

| | |
| --- | --- |
| | Inner Ear: Cochlea (vertical section) |

347

| | |
| --- | --- |
| | Inner Ear: Cochlear Duct (Scala Media) |

347

| | |
| --- | --- |
| | Eye: Layers of Retina and Choroid |

349

| | |
| --- | --- |
| | Inner Ear: Cochlear Duct and the Organ of Corti |

349