Note: Supplemental materials are not guaranteed with Rental or Used book purchases.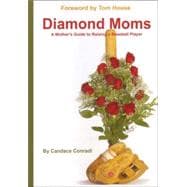 Diamond Moms : A Mother's Guide to Raising a Baseball Player
ISBN13:
9781585189489
by
Conradi, Candace
Summary
In this delightful, inspiring, and engaging book, Candace Conradi examines virtually every aspect of the world of baseball through a mother's eyes. She provides first-time insight and problem identification, as well as ?what-to-do? solutions to many factors that often cause frustration and failure fat the ball park. Ideal for parents and coaches of athletes from T-Ball to college and beyond.
Author Biography
Candace Conradi is an author, entrepreneur, and Diamond Mom. For the past 15 years, Candace has been team mother for a variety of teams, served on her son's high school baseball booster board, worked on baseball fundraisers, and co-founded Legit Sports, Inc., a company that produces a pitcher's training device.Candace has four children ranging in ages from 20 to 33 and is passionate about her role as a mom. When her youngest son, Stephen, was two years old, she noticed extraordinary signs of athleticism. Stephen began playing soccer when he was four years old an did so until he was 10. While he experimented with other sports, such as basketball, football, and golf, it was baseball that caught his attention. By the age of 10, he had fallen in love with baseball. Recognizing his passion and talent, Candace and her husband decided they would do whatever they could to help him develop his natural ability.
Table of Contents
Dedication
3
(1)
Acknowledgments
4
(2)
Foreword
6
(3)
Entering the Diamond
9
(2)
Introduction
11
(4)
15
(4)
19
(12)
31
(4)
35
(10)

| | |
| --- | --- |
| | The Winning Philosophy---Mind Over Matter |

45
(6)
51
(4)
55
(12)
67
(8)
75
(8)

| | |
| --- | --- |
| | Recruiting and Scout Process |

83
(12)
95
(10)

| | |
| --- | --- |
| | It's Not Over Until the Fat Lady Sings |

105
(4)
109
(10)
119
(6)

| | |
| --- | --- |
| | It's Not About Diet, It's About Fuel |

125
(12)
137
(12)
Extra Innings (Epilogue)
149
(2)
Appendix A: Understanding the Basics of the Game
151
(4)
Appendix B: Baseball Lingo
155
(9)
Appendix C: Baseball Abbreviations
164
(3)
Appendix D: Diamond Mom's Equipment Shopping List
167
(4)
Appendix E: Vitamins and Supplements Shopping List
171
(1)
Appendix F: Contacting Colleges and Coaches
172
(3)
Appendix G: Parental Resources
175
(1)
Appendix H: Tom House---Baseball Visionary
176
(3)
Appendix I: Cited References
179
(2)
Appendix J: Recommended References
181
(2)
About the Author
183