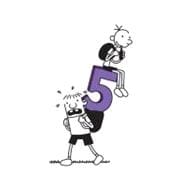 Customer Reviews
diary of a wimpy kid dog days
September 18, 2013
by





diary of a wimpy kid is a nice book i like it because it has pictures that explaine the paragraphs and its really funny i like the part when it said "but i...i...i love u marisa" then gregory said girlfriend u can do much much better than him.Besides that i like when then replace the mans head with their heads and called them a vip lawn service lol with a six pack and printed it and asked rowleys dad can he buy them the supiles they need

Flag Review
---
Very funny book for kids.
May 22, 2011
by





This textbook is the best in the series in my opinion. I would have to give Jeff a big Thank you and congratulations to all of the creativity you were able to think of. I think this textbook is one of the best books I have ever read because it is really funny. My recommendation is that you should read this cheap textbook!

Flag Review
---
Diary of a Wimpy Kid # 5

:
stars based on
2
user reviews.
Summary
Greg Heffley has always been in a hurry to grow up. But is getting older really all it's cracked up to be?
Greg suddenly finds himself dealing with the pressures of boy-girl parties, increased responsibilities, and even the awkward changes that come with getting older—all without his best friend, Rowley, at his side. Can Greg make it through on his own? Or will he have to face the "ugly truth"?
Author Biography
Jeff Kinney is an online game developer and designer, and a #1 New York Times bestselling author. In 2009, Jeff was named one of Time magazine's 100 Most Influential People in the World. He spent his childhood in the Washington, D.C., area and moved to New England in 1995. Jeff lives in southern Massachusetts with his wife and their two sons.