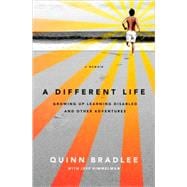 A Different Life: Growing Up Learning Disabled and Other Adventures: A Memoir
by
Bradlee, Quinn
Summary
Ten percent of the population is affected by a learning disability, but few of us understand what being learning disabled (LD) is really like. When he was fourteen, Bradlee was diagnosed with Velo-Cardio-Facial-Syndrome (VCFS), a wide-spread, little-understood disorder that is expressed through a wide range of physical ailments and learning disabilities. In this funny, moving, and often irreverent book, Bradlee tells his own inspirational story of growing up as an LD kidand of doing so as the child of larger-than-life, formidably accomplished parents: long-time Washington Post executive editor Ben Bradlee and bestselling author Sally Quinn. From his difficulties reading social cues, to his cringe-worthy loss of sexual innocence, Bradlee describes the challenges and joys of living "a different life" with disarming candor and humor. By the end ofA Different Lifehe will have become, if not your best friend, one of your favorite people.
Author Biography
Quinn Bradlee
attended Landmark College, American University, and the New York Film Academy. He has made a series of documentary films about children with learning disabilities and rare genetic syndromes, and recently launched friendsofquinn.com, an online community for LD kids and their families. He lives in Washington, D.C.
Jeff Himmelman worked on Bob Woodard's Maestro and Tim Russert's Big Russ and Me, and has contributed to a host of other book projects. His work with Woodward and a team of other reporters helped The Washington Post win the Pulitzer Prize for its post-9/11 coverage. He lives in Washington, DC.
Table of Contents
How It Feels, Take One
p. xii
How It Feels, Take Two
p. 1
The Story
p. 3
My Ancestry
p. 7
Mr. Mellow
p. 17
Porto Bello
p. 29
The Saga of Sparky Crowninshield Bradlee
p. 37
The Discovery
p. 45
Dr. Shprintzen and VCFS
p. 49
After the Diagnosis
p. 57
Transition into High School
p. 61
The Hard Parts
p. 67
Roommates
p. 71
St. Martin
p. 77
End on a Positive Note
p. 85
Testing
p. 87
Shprintzen: What Works
p. 91
Surfing and Snowboarding
p. 95
Transition to College
p. 101
Animal House
p. 105
Film
p. 109
No Cure
p. 113
Learning Outside of School
p. 119
After Landmark
p. 129
Film School
p. 135
Isolation
p. 143
Medication
p. 149
The Documentary
p. 153
Independence
p. 157
Girls
p. 165
How It Feels, Take Three
p. 171
Advocacy
p. 177
Web Site and Book
p. 185
The Future
p. 191
The End
p. 201
The Next Chapter
p. 207
Acknowledgments
p. 217
Dr. Shprintzen: The Foundation, and Success Stories
p. 219
A Little More about FriendsofQuinn.com from the folks at HealthCentral.com
p. 225
Table of Contents provided by Ingram. All Rights Reserved.