Note: Supplemental materials are not guaranteed with Rental or Used book purchases.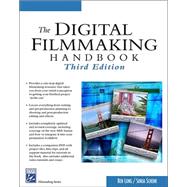 Questions About This Book?
What version or edition is this?
This is the 3rd edition with a publication date of 12/1/2005.
What is included with this book?
The New copy of this book will include any supplemental materials advertised. Please check the title of the book to determine if it should include any CDs, lab manuals, study guides, etc.
Summary
Since the advent of digital video and desktop editing software, scores of independent producers have become equipped to make their own movies. But because filmmaking involves much more than just buying a camera and a computer, there's The Digital Filmmaking Handbook. This one-stop digital filmmaking resource will guide you from your initial idea to getting your finished project "in the can." It will show you how to create shots and effects that are rarely associated with low-budget productions. And it covers everything from writing and pre-production planning to shooting and post-production editing and effects. Now in its third edition, this best-selling book has been completely updated and revised to include detailed information on a number of important new digital video technologies, including both high-end HD video and the new HDV format, and affordable new digital video standard that lets even low-budget producers work in high-definition video. All of the chapters have been revised to cover the latest hardware, software, and production workflows,, and new exercises offer help with everything from writing to special effects. Whether your goal is an industrial project, a short subject for your Web site, or a feature-length movie for a film festival, this book will help you understand the questions you need to ask, so that you will be prepared to solve the myriad problems that will arise.
Table of Contents
1
(12)

| | |
| --- | --- |
| | Digital Video and the Independent Filmmaker |

3
(2)

| | |
| --- | --- |
| | Digital Video in the Home and Office |

4
(1)

| | |
| --- | --- |
| | What Type of Equipment Do I Need? |

5
(1)
6
(2)
6
(2)
8
(2)
10
(1)
10
(1)
10
(1)

| | |
| --- | --- |
| | Part III: Post-Production |

11
(1)
11
(2)
13
(22)

| | |
| --- | --- |
| | Writing for Digital Video |

14
(11)
15
(1)
16
(2)
18
(1)
19
(3)

| | |
| --- | --- |
| | Writing for Corporate and Industrial Productions |

22
(2)

| | |
| --- | --- |
| | Writing for Documentaries |

24
(1)
25
(1)
25
(6)
26
(1)

| | |
| --- | --- |
| | Choosing a Shooting Order |

26
(3)
29
(1)

| | |
| --- | --- |
| | Scheduling for Documentaries |

30
(1)
31
(2)
33
(2)
35
(36)
36
(7)
36
(2)
38
(1)
38
(1)
39
(2)
41
(1)

| | |
| --- | --- |
| | Physical Characteristics of Videotape |

42
(1)
43
(10)
43
(2)
45
(1)
45
(1)
46
(4)
50
(1)
50
(3)

| | |
| --- | --- |
| | Types of Digital Video Files |

53
(1)

| | |
| --- | --- |
| | Video Broadcast Standards |

53
(2)
55
(3)

| | |
| --- | --- |
| | Mono, Stereo, and Surround Sound |

56
(1)
56
(1)

| | |
| --- | --- |
| | Types of Digital Audio Files |

57
(1)

| | |
| --- | --- |
| | High-Definition (HD) Video |

58
(3)
60
(1)
60
(1)
61
(7)
63
(2)
65
(3)
68
(1)

| | |
| --- | --- |
| | Exercise: Look at Some Video Quality Examples |

68
(1)
69
(2)
71
(28)
72
(9)
73
(6)
79
(2)
81
(5)
81
(2)
83
(1)
84
(2)
86
(10)
87
(2)
89
(1)
90
(1)
91
(2)
93
(2)
95
(1)
95
(1)

| | |
| --- | --- |
| | Use Your Director of Photography |

95
(1)
96
(2)

| | |
| --- | --- |
| | Tripods, Steadicams, and Dollies |

96
(2)
98
(1)
98
(1)
99
(26)
100
(12)
102
(7)
109
(1)

| | |
| --- | --- |
| | Camera Diagrams and Shot Lists |

110
(2)
112
(4)
116
(4)
117
(1)
118
(2)
120
(2)
122
(1)
123
(2)
125
(26)
126
(1)
126
(2)
127
(1)
128
(2)
128
(2)
130
(7)
130
(1)
131
(3)

| | |
| --- | --- |
| | Controlling the Quality of Light |

134
(3)
137
(3)
140
(2)
141
(1)

| | |
| --- | --- |
| | Mixing Daylight and Interior Light |

141
(1)
142
(1)
142
(2)

| | |
| --- | --- |
| | Enhancing Existing Daylight |

143
(1)
144
(1)

| | |
| --- | --- |
| | Video and Low-Light Situations |

145
(1)

| | |
| --- | --- |
| | Special Lighting Situations |

145
(4)

| | |
| --- | --- |
| | Using Lights to Create a Scene |

146
(1)

| | |
| --- | --- |
| | Lighting for Video-to-Film Transfers |

146
(2)

| | |
| --- | --- |
| | Lighting for Blue and Green Screen |

148
(1)
149
(1)
150
(1)
151
(28)
152
(23)
154
(12)
166
(2)
168
(4)
172
(3)
175
(1)
175
(2)
175
(2)
177
(1)
178
(1)
179
(26)
180
(2)
180
(1)
181
(1)

| | |
| --- | --- |
| | Putting Plans into Action |

182
(1)
182
(3)
184
(1)
184
(1)
185
(14)
185
(8)
193
(3)
196
(3)
199
(3)

| | |
| --- | --- |
| | Script Supervising for Scripted Projects |

200
(1)
201
(1)
202
(1)
202
(2)
204
(1)
205
(30)
206
(1)
207
(14)
207
(5)
212
(4)
216
(1)
216
(3)
219
(2)
221
(9)
221
(6)

| | |
| --- | --- |
| | Getting the Right Sound for the Picture |

227
(1)
228
(1)
229
(1)

| | |
| --- | --- |
| | Selecting an Audio Mode on Your Camera |

230
(1)
230
(3)
231
(1)
231
(2)
233
(1)
233
(2)
235
(28)
236
(1)
236
(2)
236
(1)
237
(1)

| | |
| --- | --- |
| | Choosing a Video Interface |

238
(6)
238
(3)
241
(1)
242
(2)
244
(16)
246
(1)
246
(1)
246
(3)
249
(1)
249
(3)

| | |
| --- | --- |
| | Building a Macintosh System |

252
(1)

| | |
| --- | --- |
| | Building a Windows System |

253
(2)
255
(1)

| | |
| --- | --- |
| | Edit Controllers and Custom Keyboards |

256
(1)
257
(1)
258
(1)
259
(1)

| | |
| --- | --- |
| | Exercise: Know What You Need |

260
(1)
261
(2)

| | |
| --- | --- |
| | Non-Linear Editing Software |

263
(26)
264
(10)
264
(2)
266
(4)
270
(2)
272
(2)

| | |
| --- | --- |
| | Logging, Capturing, and Importing |

274
(3)
277
(4)
277
(2)
279
(2)
281
(1)
282
(2)
282
(1)
283
(1)
283
(1)
283
(1)

| | |
| --- | --- |
| | Editing Applications Compared |

284
(3)

| | |
| --- | --- |
| | Exercise: Know What You Need |

287
(1)
288
(1)
289
(18)
290
(1)
291
(2)
293
(6)
293
(2)

| | |
| --- | --- |
| | SDI, FireWire, or Analog I/O |

295
(1)
296
(1)
296
(1)
297
(1)
297
(2)
299
(2)
299
(1)
299
(1)
300
(1)
300
(1)
301
(3)

| | |
| --- | --- |
| | Professional Video Monitor Features |

302
(2)
304
(1)

| | |
| --- | --- |
| | Exercise: Hardware Checklist Before You Start |

305
(1)
306
(1)
307
(38)

| | |
| --- | --- |
| | How to Organize Your Project |

308
(3)

| | |
| --- | --- |
| | Create a Numbering System |

308
(1)

| | |
| --- | --- |
| | Make Sure All Your Videotape Has Timecode |

309
(1)

| | |
| --- | --- |
| | Keep a Database of All Your Media |

309
(1)
310
(1)

| | |
| --- | --- |
| | Use the Organizational Tools of Your Editing Software |

310
(1)
311
(4)

| | |
| --- | --- |
| | Drop Frame and Non-Drop Frame Timecode |

311
(1)
312
(1)

| | |
| --- | --- |
| | How Timecode Is Stored on Videotape |

312
(1)

| | |
| --- | --- |
| | Keycode: Timecode for Film Sources |

313
(2)
315
(5)
316
(4)
320
(2)

| | |
| --- | --- |
| | How Good Does Your Project Need to Look? |

320
(1)

| | |
| --- | --- |
| | Digital Online and Offline |

320
(2)
322
(4)
322
(1)
323
(1)
324
(2)
326
(11)
327
(10)
337
(3)
338
(2)
340
(3)
342
(1)
342
(1)
343
(1)
343
(2)
345
(26)
346
(4)
346
(4)
350
(4)
350
(2)

| | |
| --- | --- |
| | Master Shot-Style Coverage |

352
(2)
354
(9)

| | |
| --- | --- |
| | Cutaways and Reaction Shots |

355
(1)
356
(2)
358
(1)
359
(1)

| | |
| --- | --- |
| | Matching Emotion and Tone |

360
(1)
360
(1)

| | |
| --- | --- |
| | Hard Sound Effects and Music |

360
(3)

| | |
| --- | --- |
| | Transitions between Scenes |

363
(1)
363
(1)

| | |
| --- | --- |
| | Dissolves, Fades, and Wipes |

363
(1)
364
(1)

| | |
| --- | --- |
| | Clearing Frame and Natural ``Wipes'' |

364
(1)

| | |
| --- | --- |
| | Solving Technical Problems |

364
(3)
365
(1)

| | |
| --- | --- |
| | Working with Temporary Elements |

365
(1)

| | |
| --- | --- |
| | Working with Low-Res Footage |

365
(2)
367
(4)
368
(1)
368
(1)
369
(1)
369
(1)
369
(2)
371
(32)
372
(2)
374
(1)

| | |
| --- | --- |
| | Editing Sound in Your NLE |

374
(3)

| | |
| --- | --- |
| | Dedicated Sound Editing Apps |

377
(7)
382
(2)
384
(3)
384
(1)
385
(1)

| | |
| --- | --- |
| | Is There Extraneous Noise in the Shot? |

385
(1)

| | |
| --- | --- |
| | Are There Bad Video Edits That Can Be Reinforced with Audio? |

385
(1)
386
(1)

| | |
| --- | --- |
| | Are There Vocal Problems You Need to Correct? |

386
(1)
387
(2)
388
(1)

| | |
| --- | --- |
| | Non-Dialog Voice Recordings |

389
(1)
389
(4)
392
(1)
393
(2)
394
(1)
395
(5)
395
(2)
397
(1)
398
(1)
399
(1)
400
(1)
401
(2)
403
(22)

| | |
| --- | --- |
| | To Compress, or Not to Compress |

404
(4)
408
(15)
409
(1)

| | |
| --- | --- |
| | Too Much of a Good Thing: When Color Correction Goes Too Far |

410
(3)

| | |
| --- | --- |
| | Correcting Bad White Balance |

413
(5)

| | |
| --- | --- |
| | Matching Footage from Different Cameras and Shoots |

418
(2)
420
(1)

| | |
| --- | --- |
| | Using Tracks and Layers to Adjust Color |

420
(2)
422
(1)

| | |
| --- | --- |
| | Correcting Color for Film |

423
(1)
423
(1)
423
(1)
424
(1)

| | |
| --- | --- |
| | Titling and Simple Compositing |

425
(48)

| | |
| --- | --- |
| | Titles and Simple Graphics |

426
(8)

| | |
| --- | --- |
| | Making Titles in Your NLE |

427
(5)
432
(2)

| | |
| --- | --- |
| | Creating Titles in Photoshop |

434
(1)
434
(29)
435
(13)
448
(3)
451
(8)

| | |
| --- | --- |
| | More Sophisticated Mattes |

459
(4)
463
(8)
463
(7)
470
(1)
471
(1)
471
(2)

| | |
| --- | --- |
| | Rotoscoping and More Compositing |

473
(50)
474
(38)
475
(6)

| | |
| --- | --- |
| | Better Rotoscoping through Filters |

481
(3)

| | |
| --- | --- |
| | Rotoscoping an Alpha Channel |

484
(7)

| | |
| --- | --- |
| | Creating Animated Alpha Channels (or ``You, Too, Can Make Travelling Mattes'') |

491
(6)

| | |
| --- | --- |
| | Building Effects with Multiple Layers |

497
(15)
512
(3)
512
(2)
514
(1)

| | |
| --- | --- |
| | Compositing Elements from a 3D Animation Package |

514
(1)

| | |
| --- | --- |
| | Making Your Video Look Like Film |

515
(6)
515
(3)
518
(1)
518
(2)
520
(1)
521
(2)
523
(38)
524
(2)
524
(2)
526
(1)
526
(11)

| | |
| --- | --- |
| | Preparing for a Professional Online Edit |

527
(6)

| | |
| --- | --- |
| | The Do-It-Yourself Digital Online |

533
(4)
537
(3)

| | |
| --- | --- |
| | Preparing for a Professional Audio Mix |

538
(1)

| | |
| --- | --- |
| | Do-It-Yourself Final Mixes |

539
(1)
540
(6)
546
(7)
551
(2)

| | |
| --- | --- |
| | Getting Your 35mm Film Release Print |

553
(4)

| | |
| --- | --- |
| | Film Editing and Cut Lists |

554
(1)

| | |
| --- | --- |
| | The Film Printing Process |

555
(1)

| | |
| --- | --- |
| | Getting Your Video Transferred to Film |

556
(1)
557
(1)
558
(1)
559
(2)
About the DVD
561
(2)
Glossary
563
(20)
Index
583