Note: Supplemental materials are not guaranteed with Rental or Used book purchases.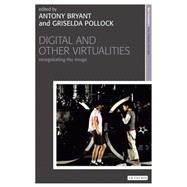 Summary
If virtuality is being celebrated as heralding a radically new era, rich with new possibilities and futures hitherto unimagined through cybernetics, networking and digitalizaton, such claims are also being viewed with deep skepticism and countered by renewed interest in the groundedness and referentiality of the concept of the index. In this transdisciplinary book, major artists, filmmakers, film theorists, philosophers, literary critics, information theorists and cultural analysts examine the twists and turns of the contesting terms of virtuality and indexicality in contemporary cultural theory in relation to history, trauma, sexuality, textuality, anxiety, simulated lives, code, digital cinema, science fiction, and contemporary art. Antony Bryant, Juli Carson, N. Katherine Hayles, Anna Johnson, Mary Kelly, Brian Massumi, Claire Pajaczkowska, Griselda Pollock, Adrian Rifkin, Martha Rosler, Alison Rowley, Trinh T. Minha, Samuel Weber, and Paul Willemen, draw on concrete practices, ranging from film, video and chatrooms to airport spaces, conceptual art and textiles, to offer critically engaged, sometimes sceptical, analyses of contemporary image worlds in the light of a continuing allegiance to grounded histories and critical practice.
Author Biography
Griselda Pollock is Professor of Social and Critical Histories of Art, University of Leeds, and Director of the AHRB CentreCATH project. Her numerous books include Mary Cassatt, Vision and Difference: Femininity, Feminism, and Histories of Art and, as co-editor, Encountering Eva Hesse.
Table of Contents
List of Illustrations
p. ix
Acknowledgements
p. xi
Series Preface-New Encounters: Arts, Cultures, Concepts
p. xiii
Editors' Introduction
p. 1
Traumas of Code
p. 23
Of Mice and Mien: Or Perhaps of Mouses and Mien? (anyway with apologies to John Steinbeck)
p. 42
A Virtual Indication
p. 63
The Future Birth of the Affective Fact: The Political Ontology of Threat
p. 79
For a Comparative Film Studies
p. 93
Night Passage: The Depth of Time
p. 111
Tension, Time and Tenderness: Indexical Traces of Touch in Textiles
p. 134
Look, No Wires! Some Notes Around the Idea of a Sign (1, 2, Nothing)
p. 149
Airport
p. 167
Dossier: Mary Kelly Circa 1968
p. 183
On Fidelity: Art, Politics, Passion and Event
p. 189
Legacies of Resistance
p. 194
Mary Kelly's Ballad of Kastriot Rexhepi: Virtual Trauma and Indexical Witness in the Age of Mediatic Spectacle
p. 200
Nomad-Words
p. 217
Notes
p. 237
Bibliography
p. 264
List of Contributors
p. 277
Index
p. 282
Table of Contents provided by Ingram. All Rights Reserved.