Note: Supplemental materials are not guaranteed with Rental or Used book purchases.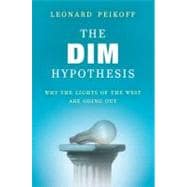 The DIM Hypothesis Why the Lights of the West Are Going Out
ISBN13:
9780451234810
by
Peikoff, Leonard
Summary
With his groundbreaking and controversial DIM hypothesis, Dr. Leonard Peikoff casts a penetrating new light on the process of human thought, and thereby on Western culture and history. In this far-reaching study, Peikoff identifies the three methods people use to integrate concrete data into a whole, as when connecting diverse experiments by a scientific theory, or separate laws into a Constitution, or single events into a story. The first method, in which data is integrated through rational means, he calls Integration. The second, which employs non-rational means, he calls Misintegration. The third is Disintegration-which is nihilism, the desire to tear things apart. In The DIM HypothesisPeikoff demonstrates the power of these three methods in shaping the West, by using the categories to examine the culturally representative fields of literature, physics, education, and politics. His analysis illustrates how the historical trends in each field have been dominated by one of these three categories, not only today but during the whole progression of Western culture from its beginning in Ancient Greece. Extrapolating from the historical pattern he identifies, Peikoff concludes by explaining why the lights of the West are going out-and predicts the most likely future for the United States.
Author Biography
Leonard Peikoff is universally recognized as the pre-eminent Rand scholar writing today. He worked closely with Ayn Rand for 30 years and was designated by her as her intellectual heir and heir to her estate. He has taught philosophy at Hunter College, Long Island University, and New York University, and hosted the national radio talk show "Philosophy: Who Needs It."
Table of Contents
Acknowledgments
p. ix
Preface
p. xi
Epistemology
Integration
p. 3
The Three Archetypes
p. 23
The Two Mixtures
p. 44
DIM and the Hypothesis
p. 64
Dim in Modern Culture
Literature
p. 81
Physics
p. 106
Education
p. 131
Politics
p. 153
Dim in Pre-Modern Culture
Greece
p. 185
Rome
p. 210
The Middle Ages
p. 230
The Future
Identifying a Culture's Essence
p. 251
The West's Modal Progression
p. 266
Secular Modes in the United States Today
p. 287
The Anti-Secular Rebellion
p. 308
What's Next
p. 333
Endnotes
p. 349
General Index
p. 367
Index of DIM Terms
p. 377
Table of Contents provided by Ingram. All Rights Reserved.