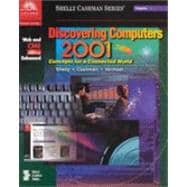 Questions About This Book?
What version or edition is this?
This is the edition with a publication date of 3/1/2000.
What is included with this book?
The New copy of this book will include any supplemental materials advertised. Please check the title of the book to determine if it should include any CDs, lab manuals, study guides, etc.
Summary
With the latest edition of this classroom success, Shelly and Cashman have successfully blended coverage of cutting-edge technology with core computer concepts to make learning about computers interesting and easy. Discovering Computers 2001: Concepts for a Connected World fosters online course development with its integration of the World Wide Web and enhanced end-of-chapter material supported by WebCT and CyberClass.
Table of Contents
Preface
ix

| | |
| --- | --- |
| | Introduction to Using Computers |

1
(1)
2
(1)

| | |
| --- | --- |
| | What is a Computer and What Does it do? |

3
(2)

| | |
| --- | --- |
| | The Components of a Computer |

5
(3)
5
(1)
6
(1)
6
(1)
7
(1)
8
(1)

| | |
| --- | --- |
| | Why is a Computer so Powerful? |

8
(1)
8
(1)
8
(1)
8
(1)
8
(1)
8
(1)
9
(5)
10
(2)
12
(1)
13
(1)

| | |
| --- | --- |
| | Networks and the Internet |

14
(4)
18
(1)
19
(5)
20
(2)
22
(2)
24
(1)
24
(1)
24
(1)

| | |
| --- | --- |
| | Examples of Computer Usage |

25
(11)
26
(2)
28
(2)
30
(2)
32
(2)
34
(2)

| | |
| --- | --- |
| | Computer User as a Provider of Information |

36
(2)

| | |
| --- | --- |
| | Technology Trailblazer --- Bill Gates |

38
(1)

| | |
| --- | --- |
| | Company on the Cutting Edge --- Microsoft |

39
(1)
40
(2)
42
(1)
43
(1)
44
(1)
45
(1)
46
(1)
47
(1)
48

| | |
| --- | --- |
| | Milestones in Computer History |

50

| | |
| --- | --- |
| | Application Software and the World Wide Web |

1
(1)
2
(5)

| | |
| --- | --- |
| | The Role of the Operating System |

2
(1)

| | |
| --- | --- |
| | The Role of the User Interface |

3
(1)

| | |
| --- | --- |
| | Starting a Software Application |

4
(3)
7
(16)
8
(4)
12
(3)
15
(3)

| | |
| --- | --- |
| | Presentation Graphics Software |

18
(3)

| | |
| --- | --- |
| | Personal Information Managers |

21
(1)
21
(1)

| | |
| --- | --- |
| | Project Management Software |

22
(1)
22
(1)

| | |
| --- | --- |
| | Graphics and Multimedia Software |

23
(4)
24
(1)

| | |
| --- | --- |
| | Desktop Publishing Software (Professional) |

24
(1)

| | |
| --- | --- |
| | Paint/Image Editing Software (Professional) |

25
(1)

| | |
| --- | --- |
| | Video and Audio Editing Software |

26
(1)

| | |
| --- | --- |
| | Multimedia Authoring Software |

26
(1)

| | |
| --- | --- |
| | Web Page Authoring Software |

27
(1)

| | |
| --- | --- |
| | Software for Home, Personal, and Educational use |

27
(5)
28
(1)

| | |
| --- | --- |
| | Personal Finance Software |

28
(1)
29
(1)
29
(1)

| | |
| --- | --- |
| | Desktop Publishing (Personal) |

30
(1)

| | |
| --- | --- |
| | Paint/Image Editing Software (Personal) |

30
(1)
31
(1)

| | |
| --- | --- |
| | Home Design/Landscaping Software |

31
(1)

| | |
| --- | --- |
| | Educational/Reference/Personal Computer Entertainment Software |

32
(1)

| | |
| --- | --- |
| | Software for Communications |

32
(3)
32
(1)
33
(1)
34
(1)

| | |
| --- | --- |
| | Browsing the World Wide Web |

35
(7)

| | |
| --- | --- |
| | Connecting to the Web and Starting a Browser |

36
(1)

| | |
| --- | --- |
| | Navigating Web Pages Using Links |

37
(2)

| | |
| --- | --- |
| | Using the Browser Toolbars |

39
(1)
39
(1)

| | |
| --- | --- |
| | Searching for Information on the Web |

40
(2)
42
(2)

| | |
| --- | --- |
| | Application Service Providers |

43
(1)

| | |
| --- | --- |
| | Learning Aids and Support Tools |

44
(2)

| | |
| --- | --- |
| | Technology Trailblazer --- Marc Andreessen |

46
(1)

| | |
| --- | --- |
| | Company on the Cutting Edge --- America Online, Inc. |

47
(1)
47
(1)
48
(4)
52
(1)
53
(1)
54
(1)
55
(1)
56
(1)
57

| | |
| --- | --- |
| | Guide to World Wide Web Sites |

58

| | |
| --- | --- |
| | The Components in the System Unit |

1
(1)
2
(2)
3
(1)
4
(7)
5
(1)

| | |
| --- | --- |
| | The Arithmetic/Logic Unit |

6
(1)
7
(1)
8
(1)
8
(1)

| | |
| --- | --- |
| | Microprocessor Comparison |

8
(2)

| | |
| --- | --- |
| | Processor Installation and Upgrades |

10
(1)

| | |
| --- | --- |
| | Heat Sinks and Heat Pipes |

11
(1)
11
(1)
11
(1)
11
(3)
14
(6)
15
(2)
17
(1)
18
(1)
19
(1)
19
(1)

| | |
| --- | --- |
| | Expansion Slots and Expansion Cards |

20
(1)
20
(1)
21
(5)
23
(1)
23
(1)

| | |
| --- | --- |
| | Universal Serial Bus Port |

24
(1)
24
(2)
26
(1)
26
(1)
27
(1)
28
(1)
28
(1)
29
(1)

| | |
| --- | --- |
| | Technology Trailblazers --- Andy Grove and Gordon Moore |

30
(1)

| | |
| --- | --- |
| | Company on the Cutting Edge --- Intel |

31
(1)
32
(2)
34
(1)
35
(1)
36
(1)
37
(1)
38
(1)
39
(1)
40

| | |
| --- | --- |
| | How Computer Chips Are Made |

41
1
(1)
2
(1)
3
(1)
3
(4)
6
(1)
7
(6)
7
(3)
10
(1)
11
(1)
11
(1)
12
(1)
12
(1)
12
(1)

| | |
| --- | --- |
| | Scanners and Reading Devices |

13
(7)
14
(2)
16
(3)

| | |
| --- | --- |
| | Magnetic Ink Character Recognition Reader |

19
(1)
20
(1)
20
(2)
22
(4)
22
(1)
22
(2)
24
(1)
25
(1)

| | |
| --- | --- |
| | Input Devices for Physically Challenged Users |

26
(1)
27
(1)

| | |
| --- | --- |
| | Technology Trailblazer --- Lou Gerstner |

28
(1)

| | |
| --- | --- |
| | Company on the Cutting Edge --- IBM |

29
(1)
30
(2)
32
(1)
33
(1)
34
(1)
35
(1)
36
(1)
37
(1)
38
1
(1)
2
(1)
3
(1)
3
(8)
3
(1)
4
(2)
6
(2)
8
(2)
10
(1)

| | |
| --- | --- |
| | High-Definition Television |

11
(1)
11
(9)
12
(2)
14
(4)
18
(1)

| | |
| --- | --- |
| | Plotters and Large-Format Printers |

19
(1)
20
(1)
20
(1)
21
(2)
21
(1)
22
(1)
23
(1)
23
(1)

| | |
| --- | --- |
| | Output Devices for Physically Challenged Users |

24
(1)
25
(1)

| | |
| --- | --- |
| | Technology Trailblazers --- William Hewlett and David Packard |

26
(1)

| | |
| --- | --- |
| | Company on the Cutting Edge --- Hewlett-Packard |

27
(1)
28
(2)
30
(1)
31
(1)
32
(1)
33
(1)
34
(1)
35
(1)
36
1
(1)
2
(2)
2
(1)
2
(2)
4
(6)

| | |
| --- | --- |
| | Characteristics of Magnetic Media |

5
(1)

| | |
| --- | --- |
| | Characteristics of a Floppy Disk |

6
(1)
7
(2)
9
(1)

| | |
| --- | --- |
| | High-Capacity Floppy Disks |

9
(1)
10
(6)

| | |
| --- | --- |
| | Characteristics of a Hard Disk |

11
(1)
12
(2)
14
(1)
14
(1)
15
(1)

| | |
| --- | --- |
| | Maintaining Data Stored on a Hard Disk |

16
(1)
16
(7)
19
(1)
19
(4)
23
(1)
24
(1)
25
(2)
25
(1)
26
(1)

| | |
| --- | --- |
| | Enterprise Storage Systems and Data Warehouses |

26
(1)
27
(1)

| | |
| --- | --- |
| | Technology Trailblazer --- Scott McNealy |

28
(1)

| | |
| --- | --- |
| | Company on the Cutting Edge --- Silicon Graphics |

29
(1)
30
(2)
32
(1)
33
(1)
34
(1)
35
(1)
36
(1)
37
(1)
38
1
(1)
2
(2)
4
(2)
6
(4)

| | |
| --- | --- |
| | Internet Service Providers and Online Services |

6
(1)

| | |
| --- | --- |
| | Connecting to the Internet |

7
(1)

| | |
| --- | --- |
| | How Data Travels the Internet |

7
(1)
8
(2)
10
(8)
12
(1)
12
(6)
18
(1)
19
(1)
20
(3)
23
(7)
23
(2)
25
(1)
26
(1)

| | |
| --- | --- |
| | Newsgroups and Message Boards |

27
(1)
28
(1)
29
(1)
29
(1)
29
(1)
30
(1)

| | |
| --- | --- |
| | Using the Internet: Cookies and Security |

31
(2)
32
(1)
32
(1)
33
(1)
33
(1)

| | |
| --- | --- |
| | Wireless Web Communications |

33
(3)

| | |
| --- | --- |
| | Technology Trailblazer --- Tim Berners-Lee |

36
(1)

| | |
| --- | --- |
| | Company on the Cutting Edge --- Yahoo! |

37
(1)
38
(2)
40
(1)
41
(1)
42
(1)
43
(1)
44
(1)
45
(1)
46

| | |
| --- | --- |
| | A Revolution in Merchandising |

47

| | |
| --- | --- |
| | Operating Systems and Utility Programs |

1
(1)
2
(1)
2
(8)
3
(1)

| | |
| --- | --- |
| | Features of Operating Systems |

4
(2)

| | |
| --- | --- |
| | Functions of an Operating System |

6
(4)

| | |
| --- | --- |
| | Popular Operating Systems |

10
(7)
11
(1)
12
(1)
12
(1)
12
(1)
12
(1)
12
(2)
14
(1)
14
(1)
14
(1)
14
(1)
14
(2)
16
(1)
16
(1)
17
(1)
17
(4)
20
(1)
21
(5)

| | |
| --- | --- |
| | Technology Trailblazers --- Steve Wozniak and Steve Jobs |

26
(1)

| | |
| --- | --- |
| | Companies on the Cutting Edge --- Apple Vs. IBM Compatibles --- The Rivalry |

27
(1)
28
(2)
30
(1)
31
(1)
32
(1)
33
(1)
34
(1)
35
(1)
36

| | |
| --- | --- |
| | How to Purchase Install, and Maintain a Personal Computer |

37

| | |
| --- | --- |
| | Communications and Networks |

1
(1)
2
(1)
2
(4)
3
(1)
3
(1)
3
(1)
3
(1)
3
(1)
4
(1)
4
(1)
5
(1)

| | |
| --- | --- |
| | Global Positioning System |

5
(1)
5
(1)
5
(1)
6
(1)

| | |
| --- | --- |
| | Physical Transmission Media |

7
(1)
7
(1)
7
(1)
8
(1)

| | |
| --- | --- |
| | Wireless Transmission Media |

8
(4)
8
(1)
9
(1)
10
(1)
11
(1)
11
(1)

| | |
| --- | --- |
| | Transmission Characteristics |

12
(2)

| | |
| --- | --- |
| | Signal Type: Analog or Digital |

12
(1)
12
(1)

| | |
| --- | --- |
| | Transmission Modes: Asynchronous and Synchronous |

12
(2)

| | |
| --- | --- |
| | Transmission Direction: Simplex, Half-Duplex, and Full-Duplex |

14
(1)
14
(1)
14
(4)
15
(1)
16
(2)

| | |
| --- | --- |
| | Communications Channel Example |

18
(1)
18
(2)
20
(4)
20
(1)
21
(1)
22
(1)
22
(1)
23
(1)
24
(10)
25
(1)
26
(1)
26
(2)
28
(1)

| | |
| --- | --- |
| | Metropolitan Area Network (MAN) |

29
(1)
29
(1)
30
(2)
32
(1)
33
(1)

| | |
| --- | --- |
| | Technology Trailblazer --- Robert Metcalfe |

34
(1)

| | |
| --- | --- |
| | Company on the Cutting Edge --- Novell |

35
(1)
36
(2)
38
(1)
39
(1)
40
(1)
41
(1)
42
(1)
43
(1)
44

| | |
| --- | --- |
| | Databases and Information Management |

1
(1)
2
(1)
2
(1)
3
(1)
3
(1)
4
(5)
5
(1)
6
(1)
6
(1)
7
(2)

| | |
| --- | --- |
| | File Processing Versus Databases |

9
(4)
9
(1)
10
(3)

| | |
| --- | --- |
| | Database Management Systems |

13
(6)
14
(1)

| | |
| --- | --- |
| | Data Maintenance and Retrieval |

14
(4)
18
(1)
18
(1)

| | |
| --- | --- |
| | Relational and Object-Oriented Databases |

19
(3)
19
(1)

| | |
| --- | --- |
| | Object-Oriented Databases |

19
(3)
22
(3)

| | |
| --- | --- |
| | Role of the Data and Database Administrators |

24
(1)
24
(1)

| | |
| --- | --- |
| | Database Design Guidelines |

24
(1)

| | |
| --- | --- |
| | Qualities of Valuable Information |

25
(2)

| | |
| --- | --- |
| | How Managers Use Information |

25
(1)
26
(1)

| | |
| --- | --- |
| | Types of Information Systems |

27
(7)

| | |
| --- | --- |
| | Office Information Systems |

28
(1)

| | |
| --- | --- |
| | Transaction Processing Systems |

28
(1)

| | |
| --- | --- |
| | Management Information Systems |

29
(1)
30
(2)
32
(1)

| | |
| --- | --- |
| | Integrated Information Systems |

33
(1)

| | |
| --- | --- |
| | Technology Trailblazer --- Larry Ellison |

34
(1)

| | |
| --- | --- |
| | Company on the Cutting Edge --- Oracle Corporation |

35
(1)
36
(2)
38
(1)
39
(1)
40
(1)
41
(1)
42
(1)
43
(1)
44

| | |
| --- | --- |
| | Information Systems Development |

1
(1)

| | |
| --- | --- |
| | What is the System Development Life Cycle? |

2
(6)
2
(1)

| | |
| --- | --- |
| | Guidelines for System Development |

3
(1)

| | |
| --- | --- |
| | Who Participates in the System Development Life Cycle? |

3
(1)
4
(1)
5
(1)
6
(1)

| | |
| --- | --- |
| | Data and Information Gathering Techniques |

7
(1)

| | |
| --- | --- |
| | What Initiates the System Development Life Cycle? |

8
(3)

| | |
| --- | --- |
| | Manhattan Construction --- A Case Study |

10
(1)
11
(1)

| | |
| --- | --- |
| | Planning at Manhattan Construction |

11
(1)
12
(9)

| | |
| --- | --- |
| | The Preliminary Investigation |

12
(2)

| | |
| --- | --- |
| | Analysis: Preliminary Investigation at Manhattan Construction |

14
(1)
14
(1)

| | |
| --- | --- |
| | Structured Analysis and Design Tools |

15
(4)

| | |
| --- | --- |
| | The Build-or-Buy Decision |

19
(2)

| | |
| --- | --- |
| | Detailed Analysis at Manhattan Construction |

21
(1)
21
(8)

| | |
| --- | --- |
| | Acquiring Necessary Hardware and Software |

21
(1)

| | |
| --- | --- |
| | Identifying Technical Specifications |

21
(1)

| | |
| --- | --- |
| | Soliciting Vendor Proposals |

22
(1)

| | |
| --- | --- |
| | Testing and Evaluating Vendor Proposals |

22
(2)
24
(1)

| | |
| --- | --- |
| | Design: Hardware and Software Acquisition at Manhattan Construction |

24
(1)
24
(3)
27
(1)
28
(1)

| | |
| --- | --- |
| | Quality Review Techniques |

29
(1)

| | |
| --- | --- |
| | Detailed Design at Manhattan Construction |

29
(1)
29
(2)
29
(1)

| | |
| --- | --- |
| | Install and Test the New System |

29
(1)
30
(1)

| | |
| --- | --- |
| | Convert to the New System |

30
(1)

| | |
| --- | --- |
| | Implementation at Manhattan Construction |

30
(1)
31
(1)

| | |
| --- | --- |
| | Support at manhattan Construction |

31
(1)

| | |
| --- | --- |
| | Technology Trailblazer --- Linus Torvalds |

32
(1)

| | |
| --- | --- |
| | Company on the Cutting Edge --- SAP |

33
(1)
34
(2)
36
(1)
37
(1)
38
(1)
39
(1)
40
(1)
41
(1)
42

| | |
| --- | --- |
| | Program Development And Programming Languages |

1
(1)

| | |
| --- | --- |
| | What is a Computer Program? |

2
(1)

| | |
| --- | --- |
| | The Program Development Life Cycle |

2
(2)

| | |
| --- | --- |
| | What Initiates the Program Development Life Cycle? |

3
(1)
4
(1)
5
(8)
5
(1)
6
(2)
8
(1)
9
(3)

| | |
| --- | --- |
| | Quality Review Techniques |

12
(1)
13
(1)
13
(1)
14
(1)
15
(1)

| | |
| --- | --- |
| | Programming Languages and Program Development Tools |

15
(1)

| | |
| --- | --- |
| | Categories of Programming Languages |

15
(4)
16
(1)
16
(1)

| | |
| --- | --- |
| | Third-Generation Languages |

17
(1)

| | |
| --- | --- |
| | Fourth-Generation Languages |

18
(1)
19
(1)

| | |
| --- | --- |
| | Object-Oriented Program Development |

19
(2)

| | |
| --- | --- |
| | Object-Oriented Programming |

20
(1)

| | |
| --- | --- |
| | Popular Programming Languages |

21
(6)
21
(1)
22
(1)
23
(1)
23
(1)
23
(1)
24
(1)
25
(1)
25
(1)
26
(1)

| | |
| --- | --- |
| | Other Programming Languages |

26
(1)

| | |
| --- | --- |
| | Program Development Tools |

27
(2)
27
(1)
28
(1)

| | |
| --- | --- |
| | RAD Tools: Visual Basic, Delphi, and PowerBuilder |

29
(1)

| | |
| --- | --- |
| | Web Page Program Development |

29
(6)
30
(1)

| | |
| --- | --- |
| | Scripts, Applets, and Servlets |

31
(1)

| | |
| --- | --- |
| | Java, JavaScript, and Perl |

32
(2)
34
(1)
35
(1)

| | |
| --- | --- |
| | Multimedia Program Development |

35
(1)

| | |
| --- | --- |
| | Selecting a Programming Language or Program Development Tool |

35
(1)

| | |
| --- | --- |
| | Technology Trailblazer --- Grace Hopper |

36
(1)

| | |
| --- | --- |
| | Company on the Cutting Edge --- Compaq Computer Corporation |

37
(1)
38
(2)
40
(1)
41
(1)
42
(1)
43
(1)
44
(1)
45
(1)
46

| | |
| --- | --- |
| | Planning, Prerequisites, Potential |

47
1
(1)
2
(6)
3
(1)
3
(1)
4
(1)
5
(1)
6
(1)
7
(1)
8
(12)
8
(1)
9
(1)

| | |
| --- | --- |
| | Web-Based Training (WBT) and Distance Learning |

10
(2)

| | |
| --- | --- |
| | Classroom and Special Education |

12
(1)
13
(1)
13
(1)
14
(1)
14
(2)

| | |
| --- | --- |
| | Entertainment and Edutainment |

16
(1)
16
(3)
19
(1)
19
(1)
20
(5)

| | |
| --- | --- |
| | Multimedia Personal Computer |

20
(2)

| | |
| --- | --- |
| | Televisions and Data Projectors |

22
(1)
23
(1)

| | |
| --- | --- |
| | Scanners, Digital Cameras, and PhotoCDs |

23
(2)

| | |
| --- | --- |
| | Laser Disks and Laser Disk Players |

25
(1)

| | |
| --- | --- |
| | Developing Multimedia Applications |

25
(5)
26
(1)
26
(1)
26
(1)

| | |
| --- | --- |
| | Multimedia Authoring Software |

27
(3)

| | |
| --- | --- |
| | Technology Trailblazer --- Michael Dell |

30
(1)

| | |
| --- | --- |
| | Company on the Cutting Edge --- Macromedia, Inc. |

31
(1)
32
(2)
34
(1)
35
(1)
36
(1)
37
(1)
38
(1)
39
(1)
40

| | |
| --- | --- |
| | Security, Privacy, and Ethics |

1
(1)

| | |
| --- | --- |
| | Computer Security: Risks and Safeguards |

2
(18)
2
(2)

| | |
| --- | --- |
| | Virus Detection and Removal |

4
(2)

| | |
| --- | --- |
| | Unauthorized Access and Use |

6
(3)
9
(1)
10
(2)
12
(2)
14
(2)
16
(2)
18
(1)

| | |
| --- | --- |
| | Developing a Computer Security Plan |

19
(1)
20
(3)

| | |
| --- | --- |
| | Unauthorized Collection and Use of Information |

20
(2)
22
(1)

| | |
| --- | --- |
| | Ethics and the Information Age |

23
(2)
23
(1)
24
(1)

| | |
| --- | --- |
| | Internet Security and Privacy Issues |

25
(1)
25
24
(1)

| | |
| --- | --- |
| | Internet Security and Privacy Issues |

25
(3)
25
(2)

| | |
| --- | --- |
| | Objectionable Materials on the Internet |

27
(1)

| | |
| --- | --- |
| | Technology Trailblazer --- Clifford Stoll |

28
(1)

| | |
| --- | --- |
| | Company on the Cutting Edge --- Network Associates, Inc. |

29
(1)
30
(2)
32
(1)
33
(1)
34
(1)
35
(1)
36
(1)
37
(1)
38
39
APPENDIX CODING SCHEMES AND NUMBER SYSTEMS
A.1
A.1
A.1
A.2
A.2

| | |
| --- | --- |
| | The Decimal Number System |

A.3
A.4

| | |
| --- | --- |
| | The Hexadecimal Number System |

A.4
Index
I.1
Photo Credits
I.24